Chris Paul Vs Scott Foster: James Harden Says Ref Has a "Personal " Issue with CP3 and Rockets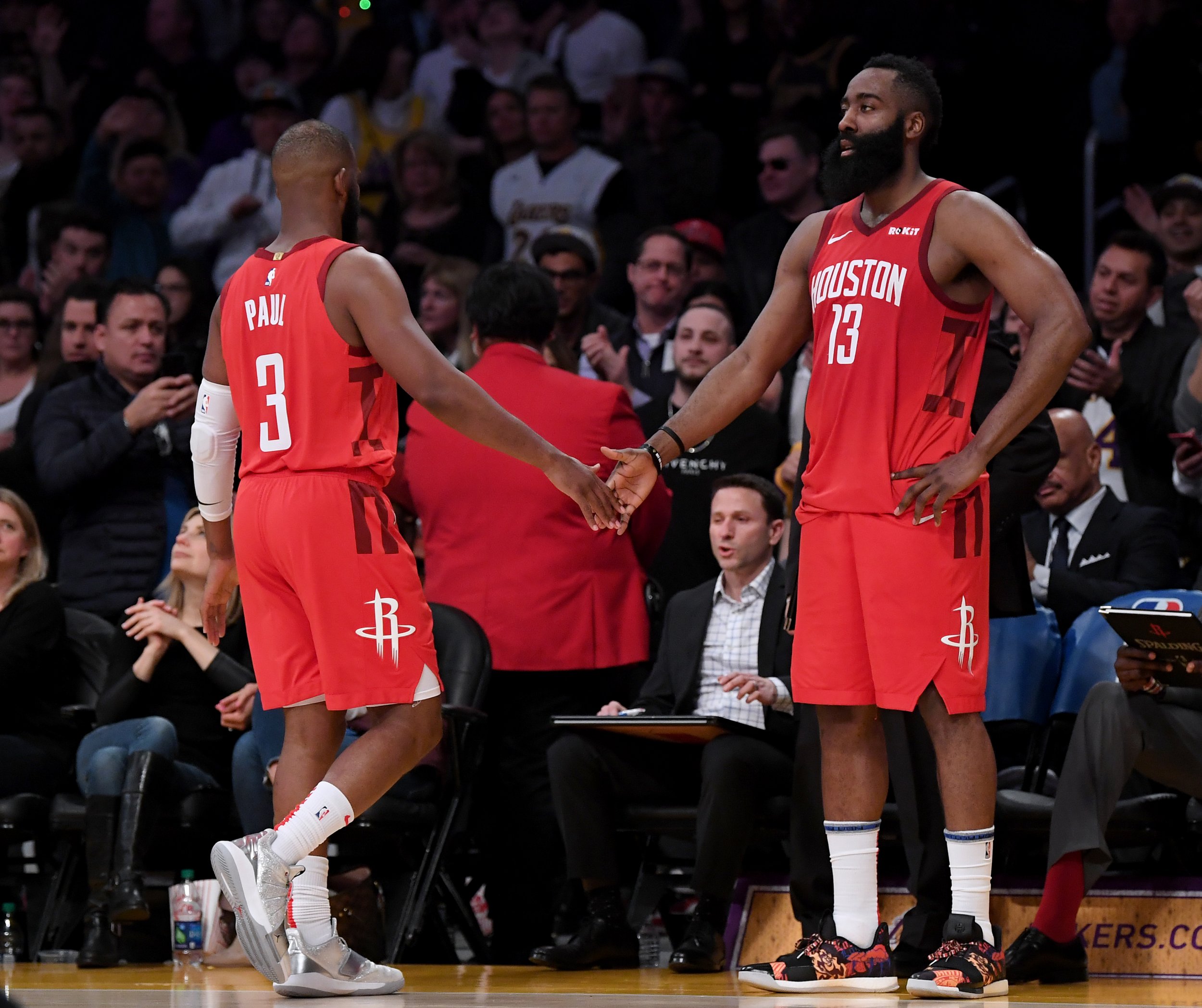 Controversy is never too far away when the Houston Rockets take on the Los Angeles Lakers.
In their first meeting of the season, Chris Paul poked Rajon Rondo in the face, only for the latter to throw a punch towards the Rockets point guard. The altercation between the two sparked a much larger melee, which saw Lakers forward Brandon Ingram sprint from half-court looking to land a punch on Paul.
When the two teams met again, Lakers' head coach Luke Walton was ejected and both teams have complained at length about the officials.
Thursday night's matchup in Los Angeles was no different and it featured Paul unnecessarily yanking LeBron James' arm on a rebound attempt, before being fouled out later in the game.
The Rockets point guard and head coach Mike D'Antoni were both assessed with technical fouls in the fourth quarter, after repeatedly complaining about a series of decisions from the referees.
To make things even worse for the Rockets, James Harden was also fouled out with just over a minute remaining in the fourth quarter.
Paul came across one of his biggest foes in the shape of referee Scott Foster and was left exasperated by the official's decision.
"I don't know what else to do," the nine-time All-Star was quoted as saying by ESPN's Rachel Nichols.
"I've met with the league with him before. I don't know what else to do."
Harden echoed his teammate's frustration and suggested Foster had a problem with Paul.
"It's lingering and it's something that needs to be looked at," he said when asked of the referee's turbulent relationship with the Rockets.
Asked whether he thought Foster had a personal issue with Paul, the reigning MVP replied: "For sure it's personal, for sure. I don't think he should be able to even officiate our games anymore, honestly."
According to ESPN Stats & Info, Foster called a total of 18 fouls – personal or technical – on Thursday night, 12 of which were against the Rockets. Of those 12, seven came in the fourth quarter and included the technical he called on Paul.
The controversy with the referee took the shine off an otherwise excellent performance from Paul, who finished with 23 points, 10 rebounds and nine assists. Harden, meanwhile, added 30 points, 10 rebounds and nine assists and has now scored at least 30 points in 32 consecutive games.
The streak is the second longest in NBA history after Wilt Chamberlain's 65-game run.
Despite the duo combining for 53 points, however, the Rockets lost their second straight game as they relinquished a 19-point lead.
Houston is now fifth in the Western Conference standings with a 33-25 record for the season.