Chris Pratt Reveals 'Super Mario Bros.' Role Is a Boyhood Dream Come True
Chris Pratt is in a celebratory mood, following the announcement that he's set to voice lead character Mario in an animated movie adaptation of the enduring video game Super Mario Bros.
The Guardians of the Galaxy star joins a star-studded cast in the movie, which includes Charlie Day as his brother Luigi, Anya Taylor-Joy as Princess Peach, Keegan-Michael Key as Toad and Jack Black as villainous turtle Bowser.
In an Instagram video shared shortly after the announcement on Wednesday, 42-year-old Pratt revealed that his role as Nintendo's famous Italian plumber comes after a childhood spent being unable to afford to play the arcade game.
Reflecting on his childhood, he said: "So as a kid I lived in Lake Stevens, Washington, and there's this coin-operated laundromat near my house and it had Super Mario Bros., the original arcade game. Oh, I love that game!
"I never had a quarter... I'd either steal them from the wishing well... That's wild. It just dawned on me right now—the quarter I stole out of the wishing well to play Super Mario Bros. has come true that I get to be the voice of Mario.
"But I clearly stole someone else's wish, so just waiting for that row of karma dominoes to come crashing down on me.
"But as it is right now, it's-a-me, I'm Mario!" Pratt continued, using Mario's famous catchphrase, before assuring: "That's not the voice. You'll have to wait to hear the voice. But we were working hard at it.
"I'm really excited to announce that I'm gonna be the voice of that video game that I dreamed about playing as a kid. Dreams come true."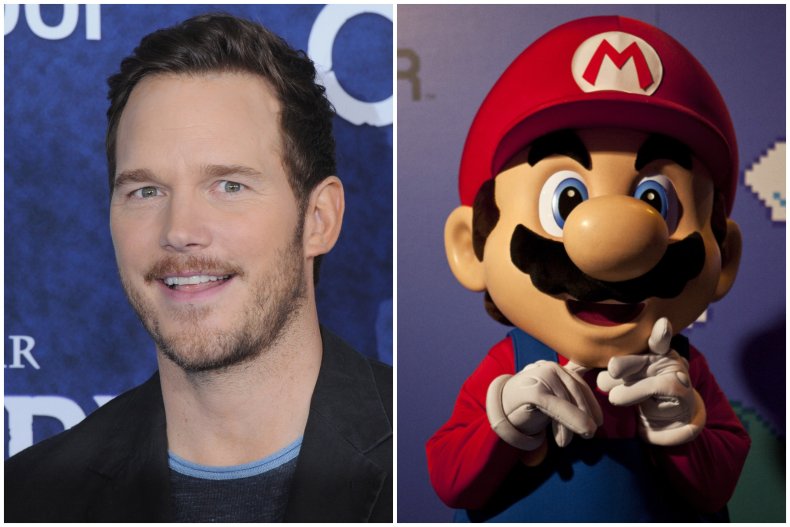 Also included in the cast are Seth Rogen as Donkey Kong and Fred Armisen, who will take on the role of his grandfather, Cranky Kong.
The movie, set to be directed by Aaron Horvath and Michael Jelenic, will be produced by Chris Meledandri for Illumination with Nintendo's legendary video game designer and director Shigeru Miyamoto.
With the cast announced during the streaming event Nintendo Direct, the producers said that the actors were selected for their ability to capture the spirit of each of their characters, per Variety.
Meledandri said during the event: "Mario and Luigi are two of the most beloved heroes in all of popular culture, and we are honored to have the unique opportunity to work so closely with Shigeru Miyamoto and the widely imaginative team at Nintendo to bring these characters to life in an animated movie, unlike any film Illumination has made to date."
Mario on the Big Screen
In his own statement, Miyamoto added: "We are collaborating with Chris [Meledandri] and his experienced team to not just create a character licensed film, but a new piece of entertainment which brings Super Mario Bros. to life on the screen, and allows everyone to enjoy whether or not they know about the game.
"The production so far is constructive and going very well, and both parties are learning a lot from each other. We humbly ask that fans wait just a little longer for the premiere, and we hope they look forward to seeing the unique characters from Super Mario Bros. on the big screen."
The Super Mario Bros. movie adaptation is set to hit screens on December 21, 2022, via Universal Pictures.