Chris Pratt fans are divided as to whether the actor is a Donald Trump supporter or not.
The Guardians of the Galaxy star began trending over the weekend due to a poll posted on social media which asked Twitter users to ditch one of the famous Chris A-listers; Chris Pine, Chris Evans, Chris Hemsworth and Chris Pratt.
Much of the discourse around the four Chris poll has focused on many saying they would ditch Pratt because of his political views and his support for Donald Trump.
The Claim
The 41-year-old has been criticized for allegedly being a Republican and Trump supporter for a while now, with many people on Twitter making the accusations.
In response to the poll, one Twitter user tweeted: "Chris Pratt. Sadly the Trump supporter stuff disqualifies him despite all the of delightful Andy Dwyer/Johnny Karate/Bert Macklin glory."
One response with over 1,300 likes reads: "Pratt. His views are terrible and he supports anti-lgbtq activist churches. Easy."
Another tweet with 42,000 likes reads: "Dammit, I am literally just finding out that Chris Pratt is a trump supporter and I am so messed up behind that."
Another popular post with 13,000 likes added: "remember chris pratt is a trump supporter and a part of anti- lgbtq + church....stan chris evans for clear skin."
The Facts
One thing fans are saying is a major telltale of Pratt's politics is the fact that he is not due to take part in an Avengers fundraiser for Joe Biden.
Some of Pratt's fellow Marvel colleagues—Don Cheadle, Chris Evans, Scarlett Johansson, Paul Rudd, Mark Ruffalo and Zoe Saldana—are due to join the Democratic candidate and vice-presidential hopeful Kamala Harris for a virtual event on October 20 to raise money for the Biden campaign.
Per The Hollywood Reporter, the fundraiser event, called "Voters Assemble," gathers the cast of the Avengers as they "unite for democracy." Pratt's name is missing from the line-up, as are several other Marvel stars.
Pratt has never openly discussed his political views on social media and CNN reports that he donated money to Barack Obama's campaign back in 2012.
However, he is also on record saying he doesn't support either side of the Democrat/Republican divide.
"I don't feel represented by either side," he told Men's Fitness magazine in 2017. "I really feel there's common ground out there that's missed because we focus on the things that separate us."
There are some other factors from Pratt's personal life that many fans think points to him being pro-Trump, including his religious views.
Last year, he was embroiled in a controversy with The Umbrella Academy actress Ellen Page, who accused Pratt's Hillsong Church in Los Angeles of being "anti-LGBTQ."
He responded to the claims saying they were "absolutely untrue." Per the BBC he said: "It has recently been suggested that I belong to a church which 'hates a certain group of people' and is 'infamously anti-LGBTQ.' Nothing could be further from the truth.
"I go to a church that opens their doors to absolutely everyone."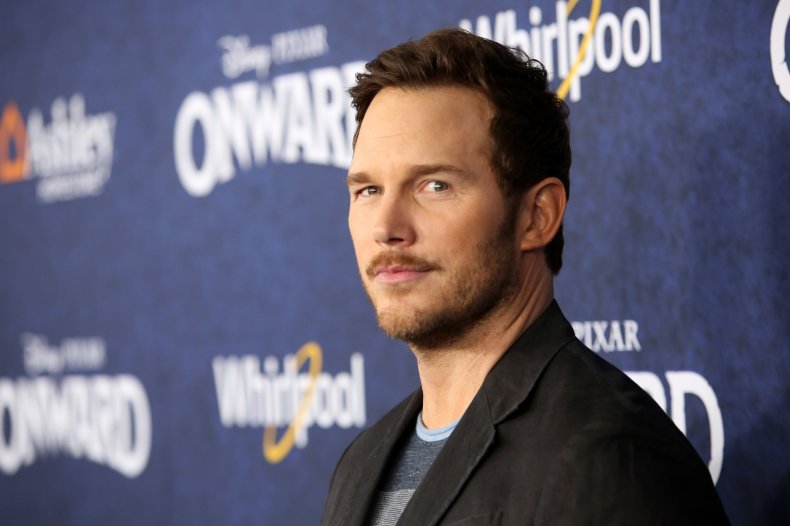 Another controversy Pratt was involved in saw him make headlines for wearing a T-shirt featuring the Gadsden flag, which features an image of a rattlesnake and the words "Don't tread on me."
Originating as a motto of the Revolutionary War, the phrase has had more political connotations when used in recent years. According to Dictionary.com: "In the 2000s, the phrase became associated with a variety of libertarian, conservative, gun-rights, or far-right political groups as way to express their beliefs."
Pratt is married to Katherine Schwarzenegger-Pratt, the daughter of actor and ex-GOP Californian Governor Arnold Schwarzenegger.
Schwarzenegger-Pratt has come out in support of Joe Biden in the upcoming election after she criticized the president for downplaying the coronavirus pandemic. It is not clear however if Pratt shares this support for Biden with his wife.
Pratt has also appeared to make light of other celebrities' posts urging people to vote on election day. Instead of addressing the election, Pratt posted a joke about voting for his new movie, Onward, to win at the People's Choice Awards.
The Ruling
Unknown
We cannot verify if Pratt is a Trump supporter because he hasn't confirmed it either way himself. The Hollywood actor has not shown any support publicly for the president or his Democratic challenger, Joe Biden.