Chris Rock's Brothers Taking Will Smith Slap 'Personally'
Chris Rock's brother has said he and the comedian's other siblings are taking the Will Smith slap "personally."
Kenny Rock, the younger brother of the renowned comedian, even said he wants to take on the King Richard star in a boxing match over the slight.
The world watched as Smith walked on stage at the Oscars last month and slapped Rock across the face over a joke made about his wife, Jada Pinkett Smith.
The incident sent shockwaves through the entertainment industry and is still dominating pop culture discourse three weeks later.
"I'm taking it personally but I'm more like a quiet storm," Kenny Rock, 42, told TMZ this week, and explained that their other brother Tony has also taken the slap personally.
Kenny Rock has signed a deal to be involved in a celebrity boxing fight in June and said he would love to square up against Smith in the ring.
"I should get in the ring with Will Smith," he told the outlet and as for Smith being bigger than him, he added: "I'll let the hands do the talking."
Asked whether he thought he could "take Will down", he responded: "Yes, yes."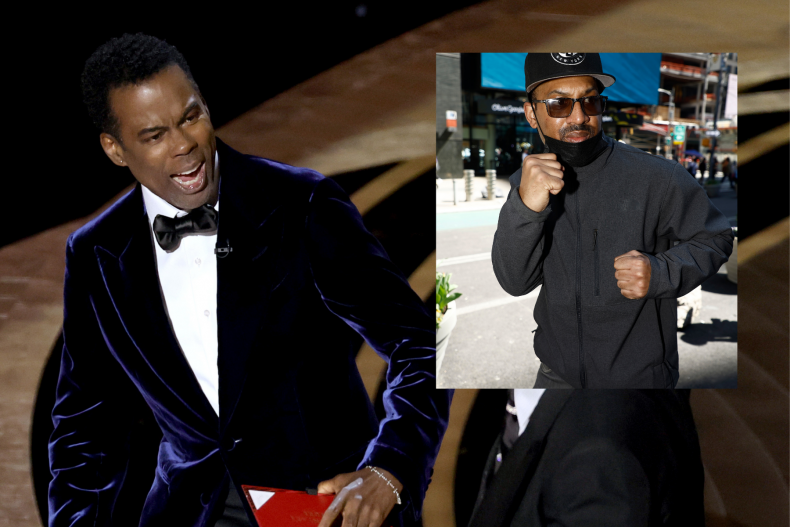 He also admitted that he hasn't seen his brother Chris since the slap but confirmed that he is "doing great."
"He's doing great. I haven't seen him, but we've talked," he said.
As for whether his brother will forgive Smith, Kenny Rock has doubts. He said: "I doubt it, very seriously."
The Academy of Motion Picture Arts and Sciences has banned the Best Actor winner Smith from the Oscars for 10 years following the incident.
Kenny Rock previously said that he believes the King Richard star should have his Oscar revoked.
"It eats at me watching [the slap] over and over again because you've seen a loved one being attacked and there's nothing you can do about it," Kenny Rock told The Los Angeles Times. "My brother was no threat to him and you just had no respect for him at that moment. You just belittled him in front of millions of people that watch the show."
Smith issued an apology for his actions on social media the next day stating that his behavior was "unacceptable and inexcusable," but Kenny Rock feels it was not sincere.
"I don't accept it because I don't think it was genuine," he told the Times. "I think his publicist and the people that work under him probably advised him to do that."
Chris Rock himself embarked on a U.S. tour in the days following the slap and has yet to fully address the situation.
"I'm OK, I have a whole show and I'm not talking about that until I get paid. Life is good. I got my hearing back," the comedian said during his show at Fantasy Springs on Friday night, according to California-based Desert Sun newspaper.