A man attending Chris Rock's first show in Boston after Will Smith slapped the comedian on stage the night of the Oscars was arrested after disrupting the show with his yelling and being physically aggressive to police officers.
The event at Wilbur Theater on March 30 was the first show opening Rock's Ego Death World Tour 2022. The event was completely sold out as ticket sales boomed after the Oscar award ceremony.
Boston Police Department told Newsweek that an officer monitoring the crowd at 246 Tremont Street noticed "a loud disturbance inside the theater" and found that staff of the Wilbur Theater were trying to remove two participants who refused to follow the venue's masking requirement.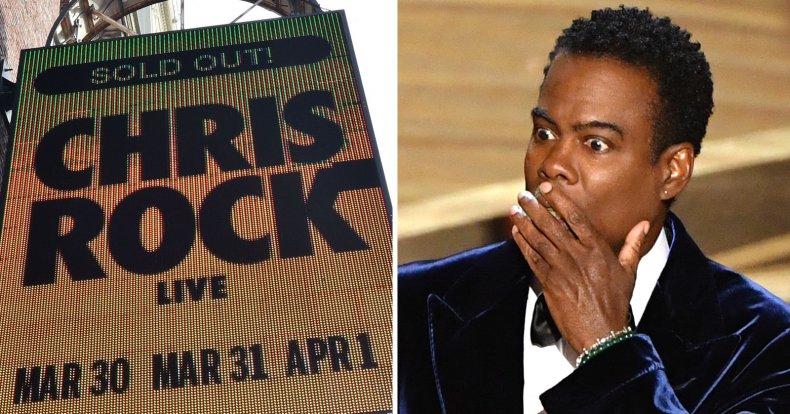 While one of Rock's fans was compliant with the request, police said, the other, 25-year-old Kaleb Anthony Herd, of Quincy, "became increasingly agitated, yelling loudly, disrupting the show, and physically assaultive towards the officer and theater staff."
According to Boston police, Herd pushed the officer and a Wilbur Theater staff member. He also struck the officer in the leg.
Once Herd was brought outside the venue, "the officer deployed department issued O.C. (Pepper) Spray as Herd continued to try to assault the officer."
Herd was then placed into custody without further incident. He is now to be charged with trespassing, disorderly conduct, assault and battery on a police officer resisting arrest, and assault and battery and is expected to be arraigned in Boston Municipal Court.
Rock twice interrupted the show because of disruptions, FOX reported.
It was Rock's first public appearance since the now infamous slapping occurred at the night of the Oscars, when the comedian was slapped in the face by actor Will Smith after joking about Smith's wife Jada Pinkett Smith's haircut.
Rock refused to file a police report against Smith following the slap, according to Los Angeles Police Department. Smith later apologized to both Rock and the Academy.
Talking to the crowd in his first public comment about the incident, Rock asked fans at Wilbur Theater on Wednesday: "How was YOUR weekend?"
He then made clear that he had a prepared show and didn't plan on talking about being slapped by Smith.
"I'm still processing what happened, so at some point I'll talk about that s***," Rock told the crowd, according to Reuters.
"Let me be all misty and s***," Rock said, with tears in his eyes. "I don't have a bunch of s*** to say about that, so if you came here for that...I had written a whole show before this weekend."
Rock, 57, revealed during the 80-minute show that he's planning to get a vasectomy next week, joking that he was inspired by seeing 78-year-old actor Robert De Niro drop off his 11-year-old daughter to school.
Some fans were disappointed by Rock's decision not to mention the incident with Smith, both Reuters and FOX report. Angered fans told FOX that they wanted a refund, saying "I want my money back, I didn't pay $400 to see nothing," and "We didn't come here just for that."
At the end of the show, Rock received a standing ovation from the crowd, Reuters reported.
Update 3/31/22, 10:03 a.m. ET: This article was updated with additional information.