Chris Rock's Mom Says Will Smith Still Hasn't Reached Out After Slap
Chris Rock's mother, Rosalie Rock, has said in a new interview that Will Smith still hasn't reached out to her son after slapping him at the Oscars.
In a moment that overshadowed last month's Academy Awards, Smith struck Rock in the face onstage at Hollywood's Dolby Theatre, after the comedian cracked a joke at the expense of his wife, Jada Pinkett Smith. Smith followed up by shouting that Rock should "keep my wife's name out your f****** mouth."
Several minutes later, Smith returned to the stage to collect an Oscar for his role in King Richard. During his acceptance speech, he issued to an apology to the Academy of Motion Picture Arts and Sciences and his fellow nominees. The following day, he issued an apology to Chris Rock via an Instagram post.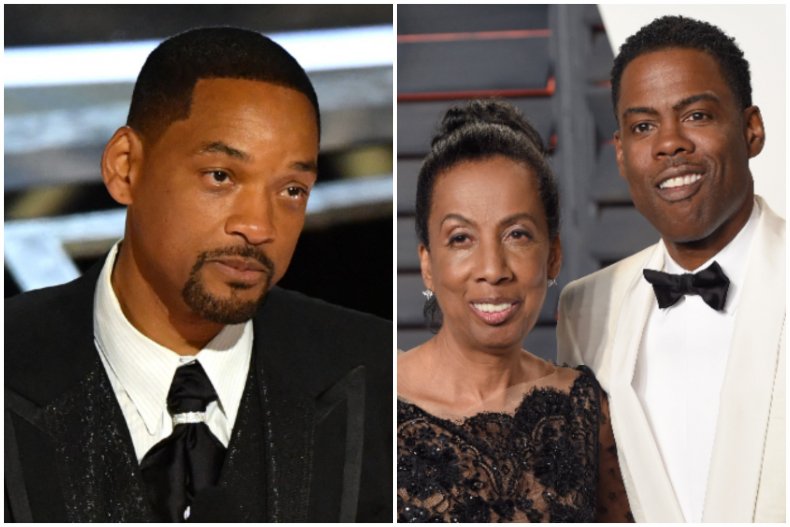 However, with a month now having passed since the incident took place, Rosalie Rock told Columbia, South Carolina, NBC affiliate WIS-TV that there has been no contact between her son and the actor in the aftermath.
"I feel really bad that he never apologized," said the matriarch, who did not attend the event this year. "I mean, his people wrote up a piece saying I apologize to Chris Rock, but you see something like that is personal, you reach out."
Amid questions over why Smith was allowed to remain in the venue and collect his Oscar following the incident, the Academy said that the actor had been asked to leave the ceremony, but refused.
The fallout led to Smith resigning from the Academy. The organization later announced that the screen star has been banned from attending all of its events—both in person and remotely—for the next decade.
When asked for her opinion on how the Academy handled the situation, Rosalie Rock said of Smith. "I wouldn't take his award away, and I don't see any good way they could have taken him out without disrupting."
"When he slapped Chris, he slapped all of us," Rosalie Rock said of Smith's actions, before adding, "he really slapped me."
Newsweek has contacted a representative of Smith for comment.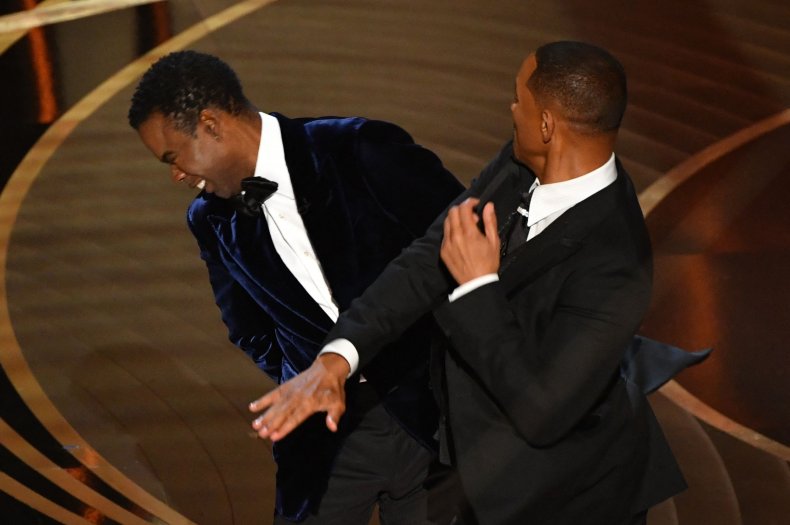 Rosalie Rock went on to state that her son was excited about presenting an Oscar to Questlove for his directorial debut Summer of Soul, though the celebratory moment was overshadowed by what had taken place moments earlier.
"No one even heard his speech," she said. "No one was able to just be in the moment because everyone was sitting there like, 'what just happened?'"
The interview comes after Chris Rock's brother, Kenny Rock, spoke out about the slap, revealing his difficulty in helplessly watching the events unfold.
"It eats at me watching [the slap] over and over again because you've seen a loved one being attacked and there's nothing you can do about it," he told The Los Angeles Times. "My brother was no threat to him and you just had no respect for him at that moment. You just belittled him in front of millions of people that watch the show."
While Smith called his actions "unacceptable and inexcusable" in his public apology to Chris Rock, Kenny Rock said that he didn't believe the actor's apology was sincere.
"I don't accept it because I don't think it was genuine," he told the Times. "I think his publicist and the people that work under him probably advised him to do that."
Smith slapped Chris Rock after he made a joke about Pinkett Smith's close-cropped haircut. Pinkett Smith has spoken in the past about shaving her head after suffering hair loss due to alopecia.
"The joke was funny," Kenny Rock said. "It wasn't hilarious funny, but I know that if he knew that she had alopecia ... he wouldn't make a joke about that. But he didn't know."
Expressing an opposing stance to his mother's point of view, Kenny Rock also said that Smith should have been removed from the venue after striking his brother.
"He should have been escorted out of there," he told the news outlet. "I hold them accountable for that. He could have went up there and did anything you wanted to my brother. It could have been much worse than what he did."