Chris Rock's Restraint After Will Smith Slap Praised by Charlamagne Tha God
Popular radio personality Charlamagne Tha God praised Chris Rock for his restraint after getting slapped by Will Smith during the Oscars.
While appearing on his show The Breakfast Club on Monday morning, Charlamagne Tha God, also known by his name Lenard McKelvey, commended Rock for his ability to continue the Oscars ceremony after the outburst. Furthermore, he compared the comedian to Supreme Court nominee Ketanji Brown Jackson.
"Y'all gave Supreme Court judge nominee Ketanji Brown Jackson a lot of love for showing restraint last week, and she deserved that," McKelvey said, "but can we please drop one of Clue's bombs for Chris Rock? Not only did he show restraint. He kept the show moving."
A "Clue bomb" is a term frequently used on The Breakfast Club that McKelvey and other hosts use to commend someone. It refers to the show's disc jockey, Ernesto Shaw, popularly known as DJ Clue.
The Academy of Motion Picture Arts and Sciences released an indirect statement regarding the controversy. However, it did not say whether any disciplinary action will be taken against Smith, who later won Best Actor for his role as Richard Williams in King Richard.
"The Academy does not condone violence of any form," wrote the Academy on Twitter. "Tonight we are delighted to celebrate our 94th Academy Awards winners, who deserve this moment of recognition from their peers and movie lovers around the world."
"He had commentary, you know, after the incident happened," McKelvey said, describing Rock's reaction. "He never stopped being Chris Rock. He never stopped being a professional, and I respect his restraint because that could have gone a whole different way."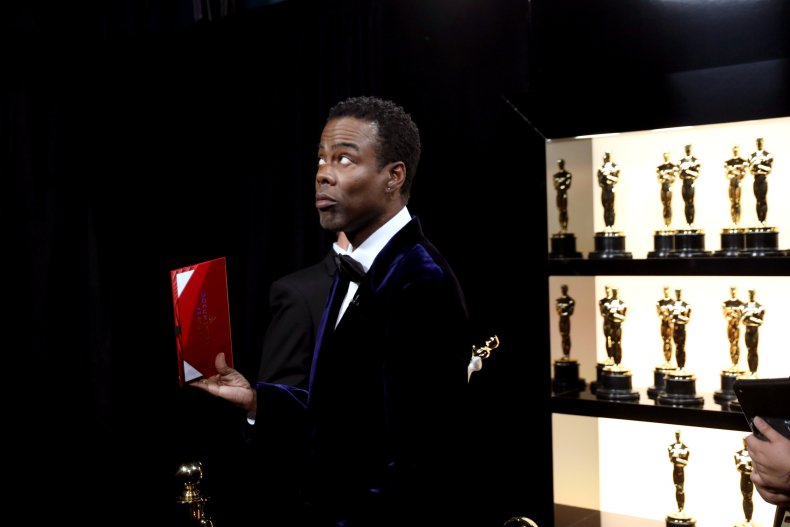 Rock was about to present the Best Documentary Feature award when he made a joke regarding Smith's wife, Jada Pinkett Smith. Although Smith appeared to laugh at the joke, moments later he was seen on stage striking Rock and arguing with him after returning to his seat. Rock eventually presented the award to Ahmir "Questlove" Thompson for his documentary Summer of Soul (...Or, When the Revolution Could Not Be Televised).
"He did that just to get to that moment for Questlove," said McKelvey, "because he knew Questlove was nominated in that category and won. He kept his restraint just to get to that moment."
Newsweek reached out to representatives for McKelvey, the Smiths, Rock, and Questlove for comment but did not receive any responses by publication time.
Update at 3/28/22, 12:05 p.m. ET: This story has been updated to include additional information.