Who is Chris Savino? Nickelodeon Suspends 'The Loud House' Creator After Sexual Harassment Claims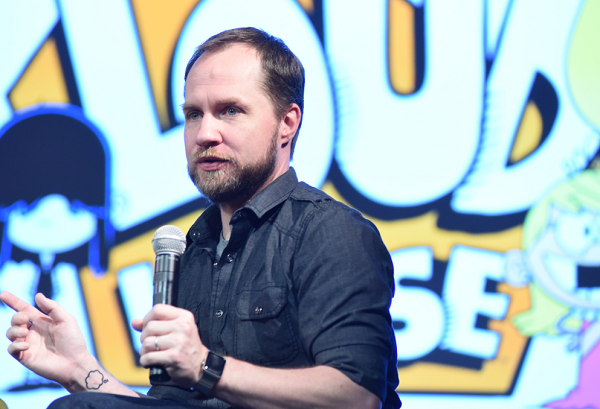 Harassment allegations continue to mount in the entertainment industry. The Loud House animator Chris Savino was suspended by Nickelodeon following claims of sexual harassment, Cartoon Brew first reported on Wednesday, nearly two weeks after Hollywood was rocked by the Harvey Weinstein harassment and assault scandal.
The 46-year-old cartoonist, whose series premiered on Nickelodeon just a year ago, was accused of harassing more than a dozen women, including unwanted sexual advances and threats. Several whom Savino had consensual relationships with also alleged that they had been blacklisted in the industry by Savino after their romances ended.
Savino, who may be most known for his work on Cartoon Network shows like Rocko's Modern Life, The Powerpuff Girls and Dexter's Laboratory, has worked in the animation industry for more than 25 years. However, rumors of Savino's misconduct had been whispered around studios for over 10 years, including one incident in which an artist told Cartoon Brew that her project had been shelved after she refused Savino's advances four years ago.
Although Nickelodeon's parent company Viacom would not confirm Savino's suspension or verify if the action would be permanent, Viacom did issue a statement saying that the company was investigating the allegations.
"Viacom is committed to the safety and well-being of our employees, and to fostering a workplace free from harassment. As a matter of policy, we do not comment on specific employee matters, but we take all allegations of this nature very seriously, investigate them thoroughly and take any necessary actions as a result," the company said.
With writer, director and producer credits on his resume, Savino's Nickelodeon series has been a big hit with kids, scoring ratings that rival the network's long-running Spongebob Squarepants. Since debuting in 1999, Spongebob has been the top cartoon at Nickelodeon, and it drew an average of 984,000 viewers per episode in the 2-11 demographic last December. The Loud House, an instant hit within the same demographic, brought in an average of 950,000 viewers within its first year. And in May—the one-year anniversary of the cartoon—The Loud House became Nickelodeon's number one show across all kid demographics.
The series, which is the first animation created solely by Savino, is loosely based on his childhood while growing up with nine siblings. The main character, 11-year-old Lincoln Loud, is the middle child, with five older sisters and five younger brothers.