Chris Wallace Confronts Jake Sullivan on Afghanistan Withdrawal, Cites Challenges in Iraq
Fox News anchor Chris Wallace confronted Jake Sullivan, President Joe Biden's national security adviser, over the administration's plans to withdraw U.S. troops from Afghanistan by September, pointing to challenges that arose as the U.S. drew down its forces in Iraq.
Biden announced last Wednesday that his administration would bring an end to America's longest war by September 11, marking the 20th anniversary of the terrorist attacks against Washington, D.C. and New York that the U.S. used as justification to invade Afghanistan in 2001. But Biden has received swift pushback from many top Republicans, who have strongly criticized the decision and warned of greater "instability."
On Fox News Sunday, Wallace raised these concerns directly with Sullivan.
"There's been a lot of pushback to the president's decision to pull all U.S. troops out of Afghanistan by 9/11. Senate Republican Leader Mitch McConnell [of Kentucky] says that we're opening the door for the Taliban to come back and raising the possibility that so will terror groups like ISIS and Al Qaeda," Wallace said, playing a clip of McConnell claiming that Biden's decision was "gift-wrapping" the country for terrorists.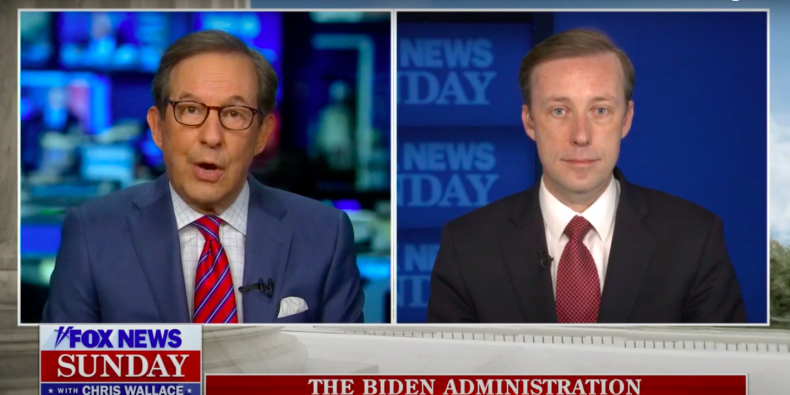 "Why did the president overrule the Pentagon and how can he be certain—given the fact that the Pentagon isn't and the CIA isn't—Al Qaeda and ISIS won't reconstitute a new Afghanistan? And also, what happens to the millions of young Afghan women who were allowed to go to school and live full lives? What happens to them if the Taliban takes over?" the Fox News host asked.
Sullivan responded by saying that Biden "is not going to take his eye off the ball" when it comes to the threat of terrorism. The national security adviser reiterated that Biden plans to "maintain capabilities in the region to be able to deal with any threat that reconstitutes." He noted that the intelligence community has said the U.S. will have "months of warning" ahead of any serious threat from Al Qaeda or other terrorist groups targeting the country.
The White House aide pointed out that the threat from terrorism has shifted in the two decades since 2001, pointing to conflict situations in the Middle East and East Africa.
"To really protect this country from a terrorist threat, we need to reallocate our resources and capabilities across a range of countries and continents, not just focus them on Afghanistan," he said.
Sullivan noted that the Biden administration plans to continue to provide "civilian and humanitarian assistance" to protect women's rights in the South Asian nation as well.
Pushing back, Wallace pointed out that Biden was "just as confident back in 2011 about pulling all U.S. forces out of Iraq." The Fox News host then played a clip of Biden in December 2011 praising the drawdown of U.S. troops from the Middle Eastern nation.
"Jake, you know what happened as well as I do. ISIS grew. Ended up seizing 40 percent of the territory of Iraq and the U.S. ended up having to send back 5,000 troops because they left too early. Can you guarantee that that won't happen in Afghanistan?" Wallace asked.
"I can tell you that President Biden has no intention of sending forces back to Afghanistan," the White House adviser said. "But at the same time he has no intention of taking our eye off the ball. We have the capacity from re-positioning our capabilities over the horizon to continue to suppress the terrorist threat in Afghanistan. I can't make any guarantees about what will happen inside the country. No one can. All the United States could do is provide the Afghan security forces, the Afghan government and the Afghan people resources and capabilities, training and equipping their forces, providing assistance to their government. We have done that and now it is time for American troops to come home and the Afghan people to step up to defend their own country."
Although Republican leaders have strongly criticized Biden's September withdrawal timeline, the plan actually extends the war by several months from the May 1 withdrawal backed by former President Donald Trump under a peace deal signed with the Taliban last year. Meanwhile, progressive lawmakers and some Republicans have praised Biden's decision.
"The commitment to a full withdrawal by September puts the U.S. in a position of strength while ensuring regional actors and internal stakeholders alike share the burden of advancing peace stability in Afghanistan," freshman Representative Peter Meijer, a Michigan Republican and veteran of the Iraq War, said in a statement last week.
"Incredibly encouraging news that @POTUS will be fulfilling his promise to finally end the longest war in America's history. This is such a critical step toward ending forever wars and ushering in global peace," progressive Representative Barbara Lee, a California Democrat who was the only representative to vote against the September 14, 2001 resolution that authorized President George W. Bush to invade Afghanistan, tweeted.
Newsweek reached out to the White House for comment.