Chris Wallace Lambasted After Fiery Donald Trump-Joe Biden Debate
Tuesday night saw the first presidential debate between President Donald Trump and former Vice President Joe Biden, but many on Twitter, from both the right and the left, had harsh words for the moderator, Fox News' Chris Wallace.
The most common sight during tonight's debate was Trump and Biden interrupting and talking over each other. The debate was particularly vitriolic, with Biden referring to Trump as a "clown" and asking him to "shut up, man," while Trump repeatedly accused Biden of making things up about him, including when Biden said Trump wanted to drop nuclear bombs on hurricanes.
Wallace was lambasted on Twitter for being seen as unable to keep the debate on track.
"Chris Wallace needs an air horn. #ShitShowDebate," comedian Wanda Sykes tweeted.
"Hellllo Chris Wallace??? Looking for a moderator here. Jesus Christ what a fricken mess," journalist Soledad O'Brien wrote.
"Chris Wallace has completely lost control of this debate," ex-GOP strategist Steve Schmidt said.
Wallace was also accused of being soft on Biden.
"We've all seen a game where the referee is objectively making bogus calls throughout the game in favor of one team. Chris Wallace was that referee," Jenna Ellis, senior legal adviser to the Donald Trump campaign said.
"Chris Wallace posed questions to Trump aimed at cornering him while posing questions to Biden giving him a chance to explain himself. It was two against one, but one still prevailed #Debate2020," conservative pundit Dinesh D'Souza wrote.
"This needs to be the final straw for Fox News with the Conservative Movement. If they want our ratings, they need to stop giving people like Chris Wallace and Donna Brazile a platform. We need to boycott them or they will keep going left! #Debates2020," ACT For America founder Brigitte Gabriel said.
"Now let's see if Hannity, Tucker, Laura, Gutfeld have the guts to call out the disgraceful performance of their colleague Chris Wallace," podcaster and journalist Gerry Callahan wrote.
"OUTRAGEOUS! Chris Wallace Calls Out Trump to Tell His Supporters to Not Riot!! WTH? What a Disgrace!" Gateway Pundit founder Jim Hoft said.
Others, however, said Wallace could have gone harder against Trump.
"This was a disgusting moment for democracy. Donald Trump made it so, and Chris Wallace let him," James Fallows wrote for a piece in The Atlantic.
"First presidential debate with an open call to arms for fascists to get ready for violence? I guess tonight made its own kind of history. And that Chris Wallace didn't challenge him or even end the debate there, as in just shut it down, is a mark of great shame," Dave Zirin, sports editor of The Nation, tweeted.
When asked what Wallace should have done, MSNBC's Nicolle Wallace replied, "Threaten to stop the debate. Trump needs the airtime. Chris Wallace and Joe Biden do not."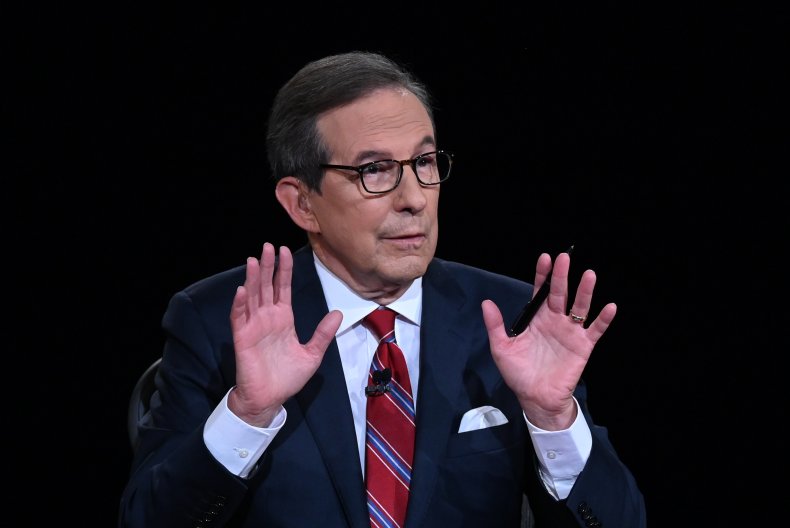 Of course, Chris Wallace had some defenders as well.
"The attacks on Chris Wallace for losing control are quite silly; nobody would have done much better with Trump behaving like that," Kyle Orton, who researches terrorism, wrote.
"Chris Wallace had an impossible job, and he did it," Pulitzer Prize winner Dan Fagin tweeted.
"It is very clear to me that the 100% winner of tonight's presidential debate was Chris Wallace, the #moderator," former director of public affairs for the Hillsborough County, Florida Sheriff's Office, Larry McKinnon wrote.
"Question from Chris Wallace on #climatechange is the first at a presidential debate since 2008, apparently," Voice of America reporter Steve Herman said.
"If you're coming down hard on Chris Wallace, ask yourself: what could a moderator have done given Trump's behavior? (Yes, giving the next moderator-if there is a next debate--the power to cut off a mic wold be helpful)," political analyst Jeff Greenfield tweeted.
"Not one second of the debate prep that Chris Wallace did for this debate could have prepared him for this madness. #Debate2020," Washington Post media critic Erik Wemple wrote.
"Chris Wallace asking Trump to condemn white supremacists was phenomenal," former Democratic presidential candidate Andrew Yang said.
"People are hating on Chris Wallace but I think there was no way to moderate this debate effectively," New York magazine columnist Josh Barro tweeted.
And, as always when Twitter is involved, a number of folks cracked jokes.
"Is there a live stream of Chris Wallace after the debate getting drunk and yelling into a void or...?" Eating History host Josh Macuga wrote.
"I don't care what anyone says. I think it's cool that Chris Wallace moderated tonight's debate in character by replicating Philip Seymour Hoffman's role in 'The Big Lebowski,'" Desus and Mero writer/producer Josh Gondelman tweeted.
"Chris Wallace's debate performance tonight is a great reminder that kindergarten teachers are underpaid. #Debates2020," the official twitter for The Daily Show shared.