Chris Watts Helped the Author of a Book About Murdering His Family Before 'American Murder'
If you thought Netflix's American Murder: The Family Next Door was the most in-depth look into Chris Watts' horrendous crimes that's out there, we've got news for you. The convicted killer actually helped in the writing of a book all about killing his pregnant wife and two daughters, and it's already been published.
Letters From Christopher: The Tragic Confessions of the Watts Family Murders was written by Cheryln Cadle and published in September 2019. Though Cadle is the primary author, she corresponded with Watts in prison about his crimes (hence the "letters" part in the title) in order to publish the book.
The book apparently details the night in August 2018 that Watts murdered his pregnant wife, Shanann Watts, as well as his two young daughters: 4-year-old Bella and 3-year-old Celeste. It claims to include never-before-heard information that "even the FBI doesn't know," but there's been major controversy surrounding the book since its release.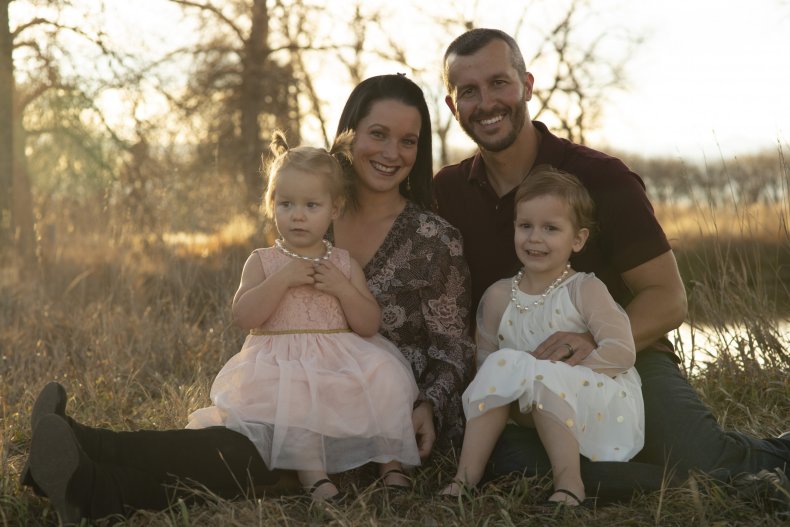 Dr. Oz spotlighted the book in an interview with Cadle, but read an unsettling comment from Shanann's family. Apparently, the family was under the belief that the book would center on Watts' in-prison turn to religion and his "journey to find redemption through Christ," according to a statement. They expressed disappointment to Dr. Oz that the book hit shelves as a true-crime tell-all.
"Mrs. Cadle took advantage of Mr. Watts and willfully deceived a family in mourning over a still very recent and tragic loss," Shanann's family, the Rzuceks, explained in a written statement.
And Shanann's family wasn't the only party that felt deceived. Some readers commenting on Goodreads claim the book has no actual letters from Watts, just retellings of conversations with the convicted murderer. Others have also accused Cadle of plagiarizing another true-crime book, 2018's His Garden: Conversations With a Serial Killer. That title focuses on killer William Devin Howell and was written by Anne K. Howard, who has addressed the plagiarism allegations and agreed with them.
"I bought the book on Kindle and I did a side-by-side comparison of the plagiarized sections and I was just overwhelmed," Howard said in an interview with Attorney Scott Reisch. "I couldn't believe she clipped and pasted my voice and my words and my thoughts and presented them to the public as if they came from her mind. It really did feel like a direct violation."
Newsweek reached out to Howard and to Cadle's publishing company, Dorrance Publishing, for further comment.
Setting aside the criticisms of the book, there are some serious bombshells in Letters From Christopher that aren't featured in the Netflix documentary American Murder. One, which made headlines in 2019, is that Watts claims he felt he'd killed his daughters "twice," since he apparently tried to suffocate them while at home, before he strangled Shanann. The Netflix documentary details how Watts actually killed his daughters at a second location, after he murdered Shanann.
The book also has another heartbreaking admission from Watts, who claims that he tried to force Shanann to miscarry her third, unborn child. A letter from Watts explains that he'd fed her "tablets" secretly in an attempt to make her lose the child, according to The Independent.