Why Chrissy Teigen's Foul-Mouthed Trump Tweet Was Read to Congress Verbatim
Chrissy Teigen was left shocked when an old tweet of hers was read out at a House Oversight Committee hearing on Wednesday.
In a tweet on September 9, 2019, Teigen slammed then-President Donald Trump, writing "lol what a p**** a** b****. tagged everyone but me. an honor, mister president."
The tweet was unearthed for the committee meeting hearing which was investigating claims of censorship over information about President Joe Biden and his son Hunter Biden. Hunter Biden's business operations and whether he abandoned a laptop at a Delaware computer shop have come under scrutiny.
House Republicans have led the investigation into "Twitter's Role in Suppressing the [Hunter] Biden Laptop Story," but during Wednesday's hearing, House Democrats managed to shift the focus onto Trump.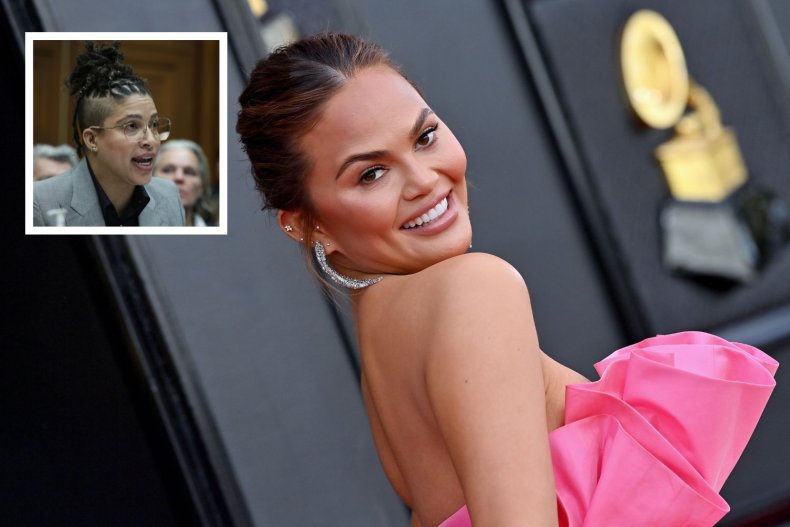 Three former Twitter staff were called to give testimony and Democratic Representative Gerry Connolly asked policy official Annika Collier Navaroli to confirm if Trump had demanded the removal of Teigen's mean tweet.
Navaroli was asked to read the tweet out in full during the hearing and apologized for the language it contained before reading the tweet verbatim.
Navaroli confirmed Twitter "received a request from the White House to make sure that we evaluated this tweet, and that they wanted it to come down because it was a derogatory statement directed toward the president."
Teigen took to Twitter to respond to her 2019 tweet being read out in the committee hearing, writing: "I…oh my god."
Teigen and the former president were no strangers to trading barbs on Twitter during his term in office, including Trump describing her as John Legend's "filthy mouthed wife."
She opened up on her reaction to that tweet during an appearance on The Ellen Show, saying she was "really angry" about what he wrote.
"Think my eyes filled up with water just at the shock of it," she said. "I can't believe this really happened right now. He just goes on these rants, usually very late at night for him. You just wait for him to say something, but you don't think it's going to be you.
"I had so many group chats going that night of just hilarious people and people making funny videos sending to me. So, then you laugh about it."
Two years prior to Teigen's original tweet, the president had blocked her on Twitter.
She responded by writing: "After 9 years of hating Donald J Trump, telling him 'lol no one likes you' was the straw.'"