This Week In Chrissy Teigen News: Panera Bread Soup, Meeting Beyoncé and Kyle's baby bump
Chrissy Teigen had an eventful week—but doesn't she always?
The very pregnant 32-year-old, who is expecting her second child with husband John Legend, was busy in New York City, appearing on The Tonight Show Starring Jimmy Fallon and Watch What Happens Live after experiencing and enviable moment at the 2018 Grammy Awards.
If that weren't enough, she became one of the very few people to ever convince Panera Bread to make a menu change.
Here's a roundup of Teigen's memorable moments: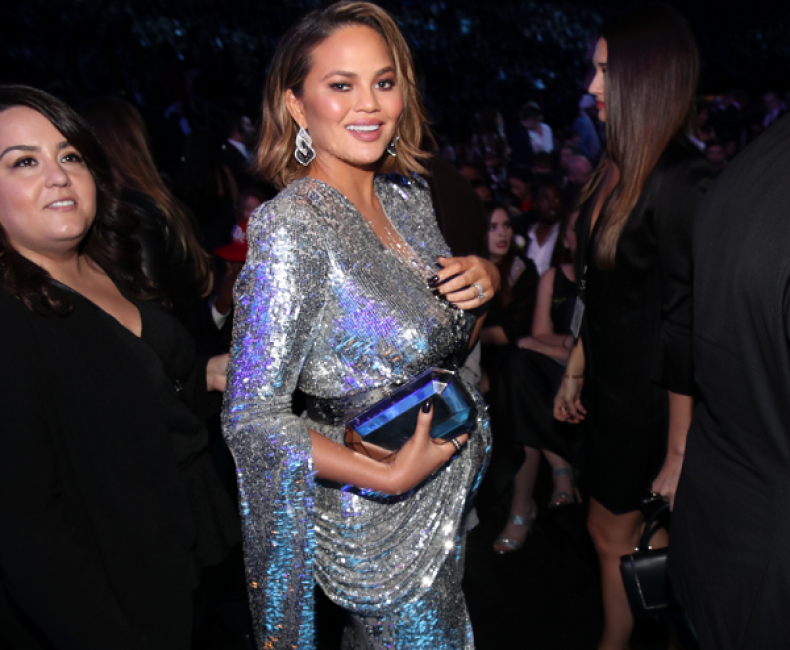 Sunday
Teigen and her baby bump attended the 60th Annual Grammy Awards wrapped in a silver sequin gown that landed the Lip Sync Battle! host on several best-dressed lists—and that was without attending even one of the after parties (which surely would have necessitated a wardrobe change): the very pregnant Tiegen and her man were home by 10:30 p.m.
Tuesday
Teigen's Grammy night included a memorable moment with Beyoncé. While appearing on the Tonight Show, Teigen told host Jimmy Fallon of her encounter with the superstar. "There's nothing like seeing Beyoncé," she said. "I took her hands and I got down on my knees and I was like, 'Sorry to bother you, my queen.'" Did we mention that Teigen is five months pregnant?
Thursday
Teigen loves to engage in Twitter banter, and she's often quick to snap back at critics and haters. But the cookbook author knows how to zip it for certain topics, as when, while visiting WWHL, she avoided confirming Kylie Jenner pregnancy rumors. It's well known that Teigen is close with the Kardashian/Jenner family, but when the show's host, Andy Cohen, asked if she had seen Jenner's pregnant tummy, Teigen dodged. She'd known that Khloé Kardashian was pregant. "I saw her at Kim's baby shower," she said. "And I won't say anything about Kylie."
Friday
Teigen's appreciation of broccoli cheddar soup finally paid off when Panera Bread informed the model that they had taken her suggestion and changed the name of their famous recipe to Delicious Cream Times. The name switch came after Teigen responded to a Good Morning America tweet a week ago regarding Panera's recent request for the FDA to redefine what restaurants can call eggs. (Some food chains use "egg products" instead of real eggs.) Teigen agreed with Panera and replied to GMA's tweet. She also included her idea for a new name, and the chain obliged her. That's what we call power.