Chrissy Teigen Calls Laura Ingraham a White Supremacist Over Time's 100 Most Influential People List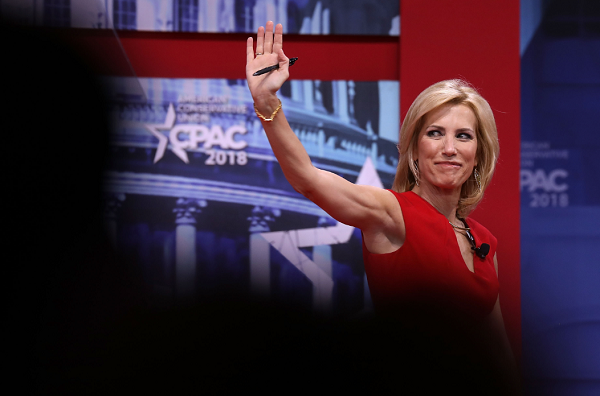 Chrissy Teigen fired off on Laura Ingraham on Twitter on Thursday after the Fox News host criticized Time magazine's inclusion of Teigen on its annual 100 Most Influential People list. Teigen roasted Ingraham using the exact phrase the news anchor condemned her for and additionally accused Ingraham of being a white supremacist.
"Corney monster. There were 1 million other ways to try and take me down and this is what you choose? F**k you," Teigen wrote. "When time comes out with their 100 most influential white supremacists list, I promise I won't question your worthiness, @IngrahamAngle."
Teigen followed up the tweets with a gif of Ingraham seemingly gesturing the Nazi "Sieg Heil" salute.
Teigen's comments come after Ingraham disapproved of Time's "curious choices" included on the 100 list, like the author and TV personality. Claiming Teigen was "known for her vicious attacks on President [Donald] Trump," on Wednesday's taping of Ingraham Angle, the news host suggested Teigen wasn't a proper representation of American women.
"[Teigen] was chosen, according to her profile, because 'all her life Chrissy Teigen has liked to eat. She's not shy about that—or anything else really,'" Ingraham said, mocking a passage written in chef Eric Ripert's profile of John Legend's wife. "Well that's nice and innovative, I guess… eating."
Before cutting to a video of Teigen, Ingraham added: "Do most Americans like her take on female empowerment during last week's Democrat retreat?"
The clip featured Teigen commenting that "women should say f**k you more often," which resulted in Teigen following her own advice and cursing Ingraham.
Ingraham additionally questioned Time's inclusion of Christine Blasey Ford and "Trump hating" comedian Hasan Minhaj.
The exchange isn't the first time Ingraham has been called out. Bill Maher referred to the 55-year-old as a "racist" last year and said she was "not a good person." Her brother, Curtis Ingraham, also accused her of racism in 2018, telling the Daily Beast that "she's a monster."
"She's very smart, she's well spoken, but her emotional heart is just kind of dead," Curtis Ingraham said.
In a 2018 Facebook post, Curtis Ingraham, who is gay, suggested his sister likely picked up her alleged racist views from their father who was "a Nazi sympathizer, racist, anti-Semite and homophobe."
"Like father like daughter?" Curtis Ingraham said.
Laura Ingraham seemingly responded to the accusations against her when she attended the CPAC convention in February.
"African-Americans, Latinos, young people will have more freedom and more economic opportunity in these years than they will have ever had before," she said. "If we aren't afraid to preach this everywhere, to stand defiantly against the critics. Stand defiantly against those who would demonize you, silence you, take snippets of what you say and beam them all over the internet, call you a racist, call you a xenophobe, call you a misogynist, call you every '-ist and '-ism' that could come to mind. Look right back at them and say, 'You're the real racist, you're the real misogynist, you are anti-women because you think all women have to think like you.'"
Newsweek's request for comment from both Ingraham and Teigen was unanswered at the time of this post.