Chrissy Teigen Pregnant With Third Child, Has Been Open About Past IVF
Chrissy Teigen and John Legend are expecting their third child, the model revealed to fans Thursday.
In a surprise to fans, Teigen, 34, unveiled her growing baby bump on Instagram stories and Twitter.
"What is this third baby s***," she joked as she cradled her bump. "What the... Oh my god."
Legend and Teigen are already the parents of daughter, Luna, 4, and son, two-year-old Miles. They wed in September 2013 after dating for a number of years.
The release of Legend's new song "Wild" this week also hinted at the pregnancy in the video as the closing shot is of Teigen cradling her bump.
Legend, 41, is yet to publicly address the news of his growing family.
The couple is beloved on social media, and their millions of combined fans have been basking in their heartfelt pregnancy announcement.
Teigen recently spoke about the postnatal depression she said she experienced after giving birth to her daughter.
"It was a sad existence," she told Glamour magazine. "There were no highs. It was a flatline of life for a few months.
"You hear these horrific stories of people not seeing their child as theirs, or wanting to hurt them, and I never felt that way. That's why I put off getting it checked as I hated myself, not my child."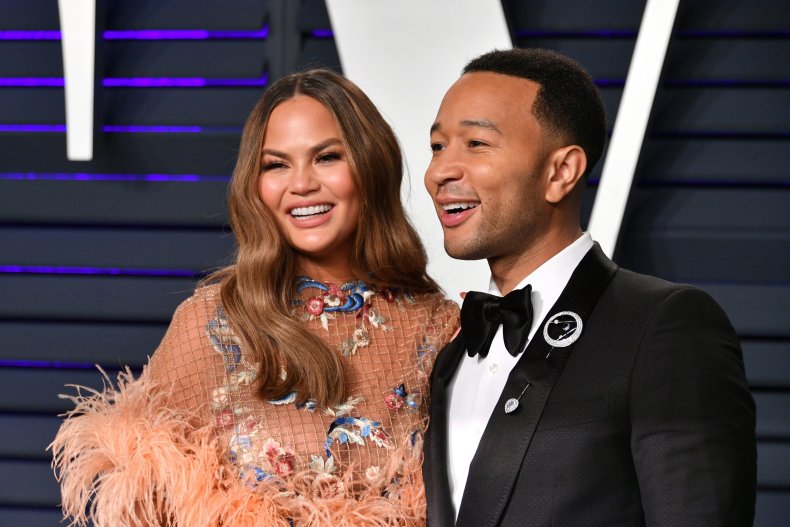 The couple has also been open about undergoing IVF treatment in the past, though it is unclear if this is how their third pregnancy was conceived.
Speaking to The Cut, Teigen said: "You know, we did IVF and it's kind of crazy because even though you do all this planning and preparation, you take progesterone and inject your body and do all this stuff—and when I finally did get pregnant I was like, 'Oh crap, are we ready?'
"I think it kind of doesn't matter whether you do all that preparation or whether it's a surprise. You still wonder if you're ready. But then you hear from enough people that you're never really ready, and you just go for it."
She added: "You hear stories about IVF working the first try. But you'll hear a lot more stories about when it takes a few times. Ours didn't work the first time, and it was devastating. You realize that a lot of it is luck, and you can't blame things on yourself.
"It's so easy to try to figure out what you might have done "wrong" and do the opposite the next time. The first round I did of IVF, when it didn't work, I remember thinking, 'Oh, I was on my feet too much, and that's why.' You just look for anything to blame, especially yourself. I think hearing stories is just really important. You realize there's no right way to do it, or right way to react."