Chrissy Teigen Shows Herself Taking IVF Shots As She Tries for Another Baby
Chrissy Teigen has given her fans an insight into her efforts to conceive another child as she undergoes in vitro fertilization (IVF) treatment.
The model, 36, confirmed in a recent Instagram post that she was in the midst of another round of IVF treatment. She shares daughter Luna, 5, and son Miles, 3, with her husband, John Legend, 43. Their son, Jack, was stillborn in September 2020.
On Tuesday, Utah native Teigen took to her Instagram Stories to share video footage of herself administering her own ovarian stimulation shots.
The injectable hormones are taken to "stimulate the ovaries to produce multiple eggs—rather than the single egg that typically develops each month," according to the Mayo Clinic. "Multiple eggs are needed because some eggs won't fertilize or develop normally after fertilization."
Once the eggs are retrieved and matured, they are fertilized with sperm before being implanted in the lining of the patient's uterus.
Captioning her footage, Teigen wrote: "no it doesn't hurt," before admitting: "the other shot burns a bit (ok a lot)."
Sharing the advice she has been given in the past, Teigen said: "they say to pinch the skin but I feel like that makes it burn more. But listen to your doc lol."
In an Instagram post on Sunday, Teigen revealed that she was "balls deep in another IVF cycle to save as many eggos as I possibly can and hopefully make some strong, healthy embryos. I honestly don't mind the shots ... they make me feel like a doctor/chemist."
However, she said the residual bloating "is a b****, so I humbly beg you to stop asking if I'm pregnant because while I know it's said with excited, good intentions, it just kind of sucks to hear because I am the opposite of pregnant!"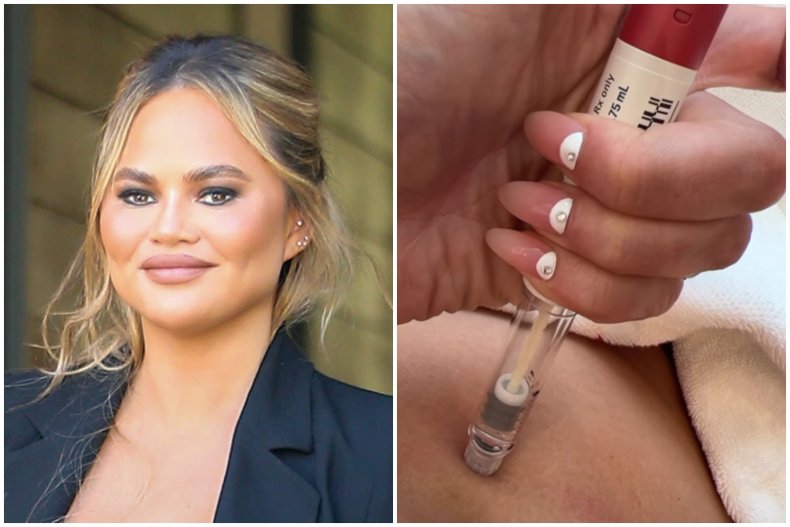 "But also like please stop asking people, anyone, if they're pregnant," she continued. "I said this in the comments and got yelled at because the internet is wild but I'd rather be the one to tell you and not some poor woman who will look you in the eyes through tears and that's how you finally learn."
Teigen has been open about her IVF journey in the past, telling The Cut in 2018: "You know, we did IVF and it's kind of crazy because even though you do all this planning and preparation, you take progesterone and inject your body and do all this stuff—and when I finally did get pregnant I was like, 'Oh crap, are we ready?'
"I think it kind of doesn't matter whether you do all that preparation or whether it's a surprise. You still wonder if you're ready. But then you hear from enough people that you're never really ready, and you just go for it."
She went on: "You hear stories about IVF working the first try. But you'll hear a lot more stories about when it takes a few times. Ours didn't work the first time, and it was devastating. You realize that a lot of it is luck, and you can't blame things on yourself.
"It's so easy to try to figure out what you might have done 'wrong' and do the opposite the next time. The first round I did of IVF, when it didn't work, I remember thinking, 'Oh, I was on my feet too much, and that's why.'
"You just look for anything to blame, especially yourself. I think hearing stories is just really important. You realize there's no right way to do it, or right way to react."