Christian Campus Group Wins Official Recognition by University, Continues Funding Fight
A Christian group has been granted official status as a registered student organization after filing a federal lawsuit against the university it claimed was excluding it from being given the designation.
Ratio Christi, a Christian student organization that aims to equip university students and faculty in apologetics, learned Friday that it is now fully recognized as a registered club at the University of Houston-Clear Lake. That's after attorneys from the advocacy group Alliance Defending Freedom represented the organization in the lawsuit Ratio Christi at the University of Houston-Clear Lake v. Khator filed October 25.
The lawsuit claimed that UH-CL singled out Ratio Christi by denying them RSO (Registered Student Organization) status because the chapter limits its leadership positions to members who "profess a personal relationship with Jesus Christ" and agree to live consistently with their Christian faith. Ratio Christi, which is Latin for "The Reason of Christ," is a global campus ministry.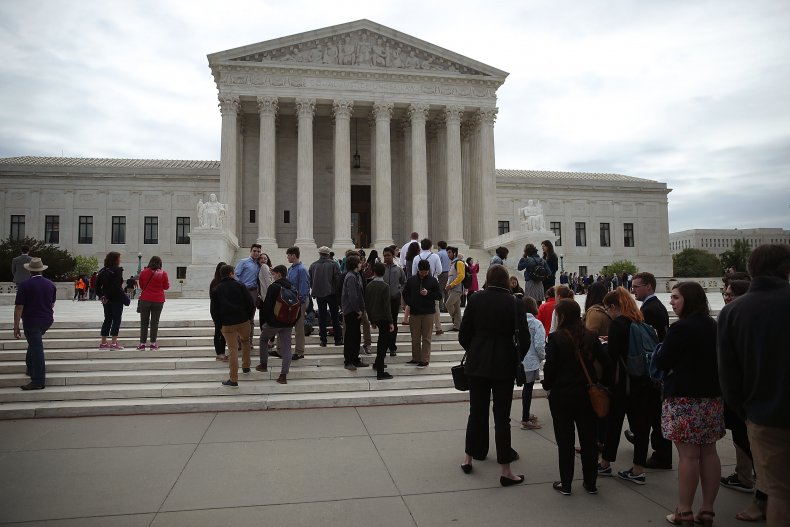 That's as other student groups like the university's Vietnamese Student Association, whose purpose includes serving the common interests of the students in varying concerns regarding the Vietnamese culture, restricts its officer positions to Vietnamese students enrolled at the school.
Another example includes the university's Student Veterans Association, which restricts not only its leadership positions but also full membership status to "veterans, active duty, reserve, guard personnel and/or their surviving members." The group's main purpose concerns "veterans helping veterans," whether that entails easing the transition between military and academic life and/or continuing the tradition of veterans giving to the community and country they swore to protect and defend.
"The university already allows a Vietnamese group whose leaders must be Vietnamese," Tyson Langhofer, senior counsel and director for the Center for Academic Freedom at ADF told Newsweek. "In order to accomplish the goals of each organization all student organizations should be free to choose their own leaders so they can accomplish shared goals."
ADF legal counsel Caleb Dalton called for the university to take the next step and rescind the unconstitutional policies that are still in place used to exclude Ratio Christi because it requires its leaders to agree with its values and mission.
"It's natural and expected that a Christian organization would require its leaders to be Christian; the university allows other organizations to have similar, commonsense leadership requirements...," said Dalton in a statement. "University officials must act consistently with the law to ensure that all students are treated fairly and without discrimination based on their faith."
That's while the university's Associate Vice Chancellor/Associate Vice President of Media Relations Shawn Lindsey noted that the move was in fact not a reversal of a prior decision.
"The University of Houston-Clear Lake has approved Ratio Christi as a registered student organization," he said. "The application was never denied and was still in process when the lawsuit was filed."
Lindsey went on to explain that it was during the registration process that the students asked UH-Clear Lake officials if they could change the UH System non-discrimination statement. They were told "no" because the UH System doesn't allow for the statement—approved by the UH System Board of Regents—to be changed. What resulted was confusion and a lack of clarity about what the students were trying to achieve, according to Lindsey.
While the UH System does not allow for the non-discrimination statement to be changed, University policy does allow for student organizations to append their application with a statement, allowing the officers of student organizations to conform to the tenets of the organization they represent, he explained. Once there was clarity by both parties on the question/issue at hand, it was quickly resolved.
Meanwhile, another case brought against the University of Nebraska-Lincoln by ADF attorneys on behalf of Ratio Christi last week alleged the school discriminated against the group's views by denying a funding request to bring a Christian philosopher to the campus as a guest speaker.
In Ratio Christi at the University of Nebraska-Lincoln v. The Members of the Board of Regents of the University of Nebraska, it's alleged the organization was denied a request of $1,500 in student activity funding to bring Dr. Robert Audi to the school to speak to its members.
According to the suit, the request was denied because the university couldn't promote "speakers of a political and ideological nature" and that the organization would have to "provide another spokesperson with a different ideological perspective." That's while attorneys pointed out that the university spends thousands of dollars each year funding events that are ideological without meeting the same requirement.
While the school's Chief Communication and Marketing officer Deb Fiddelke noted the campus has "had a wide a variety of speakers on our campus, from across the ideological, religious and political spectrum," she also said that "all viewpoints are welcome at the university and that speakers and events are funded by many different sources."
"The Fund Allocation Committee specifically is a student-led process that oversees $10,000 annually, which is a small portion of the funds available from student fees for events. Ratio Christi has been previously funded for speakers and events from other funding sources," said Fiddelke.
But Langhofer noted that the same requirements have not been imposed on other events.
"Universities are supposed to be a marketplace of ideas, so that means there are diverse political and ideological viewpoints," said Langhofer. "When they impose mandatory fees on students, then they must allocate those feels in a viewpoint-neutral manner."