Christian Eriksen Issues Public Message After Collapsing With Cardiac Arrest at Euro 2020
Danish soccer star Christian Eriksen has said he "feels better" and that he "won't give up" after suffering a cardiac arrest on the field during his team's game against Finland on Saturday.
The Inter Milan midfielder collapsed on the field and required 13 minutes of CPR, before being taken to hospital in a stable condition.
From his hospital bed in Copenhagen, the 29-year-old thanked fans for keeping him in his thoughts and vowed to establish what had caused his cardiac arrest.
"Thank you, I won't give up. I feel better now—but I want to understand what's happened," he said on Monday via a statement his agent, Martin Schoots, issued to Italian sport newspaper La Gazzetta dello Sport.
"I want to say thank you all for what you did for me."
Eriksen collapsed in the closing stages of the first half of Denmark's opening Euro 2020 game against Finland. After receiving the ball from a throw-in, he slumped to the ground as players from both teams and referee Anthony Taylor immediately grasped the seriousness of the situation and frantically waved the medical staff onto the field.
Eriksen was quickly attended to by doctors and was given CPR on the pitch, while his teammates formed a human shield around him to prevent TV cameras from looking in.
In distressing scenes, Denmark midfielder Thomas Delaney wiped tears off his eyes, while the stadium fell silent and the Finland players returned to the locker room. Eriksen's wife, Sabrina, meanwhile, made her way onto the field where she was consoled by Denmark captain Simon Kjaer and goalkeeper Kasper Schmeichel.
Eriksen appeared conscious as he left the field on a stretcher and the game was formally suspended after 10 minutes, before eventually resuming following a lengthy delay.
On Sunday, Denmark's team doctor Morten Boesen revealed just how narrow the Danish midfielder's escape had been, explaining the midfielder "was gone" before being resuscitated on the pitch.
"He was gone," Boesen told a press conference.
"We started the resuscitation and we managed to do it. How close were we to losing him? I don't know, but we got him back after one defib [defibrillation], so that's quite fast."
Boesen then praised the medical team at Parken Stadion in Copenhagen for their swift response, which was crucial to saving the player's life.
"How quickly they reacted was decisive I would say," he said.
"The time from when it happens [Eriksen's cardiac arrest] until he receives help is the most important factor. And that was a short period of time. That was decisive.
"They are now doing a series of tests at the hospital that can maybe give some of the answers him and I are looking for. But he is awake and is answering questions clearly. His heart is beating again [...] the tests that have been done so far look fine. We don't have an explanation to why it happened."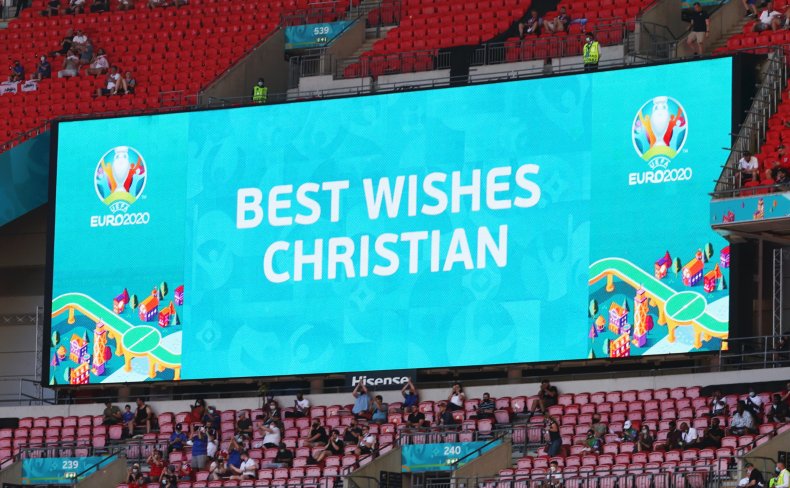 Denmark coach Kasper Hjulmand said Eriksen had been in touch with his teammates via video call on Sunday.
"Christian was concerned about us and his family," Hjulmand explained in a press conference.
"He said, 'I don't remember much, I'm more concerned about how you guys are doing. I think you are feeling worse than I am. I feel as if I'm about to go training now, boys'.
"That's typical Christian. He's a hell of a player, but what a person he is as well."
In his statement, Eriksen even joked he was ready to return to training. Understandably, however, Schoots wanted his client to proceed with caution.
"Now he just has to rest, with him are his wife and parents," he said.
"He will remain under observation. But in any case he wants to cheer on his teammates against Belgium."