A group on the Christian crowdfunding website Give Send Go amassed nearly a half-million dollars for alleged Kenosha, Wisconsin, shooter Kyle Rittenhouse's legal defense - but now they say "Big Tech" has stepped in to halt the fundraising.
The "Friends of the Rittenhouse Family" fundraising group raised $478,000 from nearly 11,500 different donations as of Tuesday afternoon. Lawyers for the Antioch, Wisconsin, 17-year-old who allegedly shot three protesters, two fatally, late last month have argued he clearly acted in self-defense. The Christian fundraising group's effort to donate to Rittenhouse's legal defense fund comes as conservatives and critics of U.S. protests rallied around the teen's cause.
"Kyle Rittenhouse just defended himself from a brutal attack by multiple members of the far-leftist group ANTIFA – the experience was undoubtedly a brutal one, as he was forced to take two lives to defend his own," reads the description of the Give Send Go fundraiser page.
"Now, Kyle is being unfairly charged with murder 1, by a DA who seems determined only to capitalize on the political angle of the situation," the group adds. "The situation was clearly self-defense, and Kyle and his family will undoubtedly need money to pay for the legal fees. Let's give back to someone who bravely tried to defend his community."
Lin Wood, one of Rittenhouse's attorneys, tweeted Monday night that the more than 11,000 individual contributions have been assisting his official nonprofit legal defense fund, the FightBack Foundation. The Give Send Go page features an American flag with a blue line drawn through it which signifies support for U.S. law enforcement.
Newsweek reached out to the creators of the fundraising effort Tuesday afternoon for additional remarks. Last week, the organizers said the payment processor was "shut down" as a result of "Big Tech censorship." The page creator, who has identified himself only as "Rob," posted Wednesday that the effort is being hindered after Discover "cut off the ability of its cardholders" to make payments to the page.
"This development unfortunately follows days of relentless targeting by big tech on the order of Facebook, Twitter, Stripe, and Instagram. Other credit card companies are likekly to follow, unless a strong message is sent to all of these globalist-controlled corporations that we are not willing to sit by while they erase our Freedom of Speech through their un-American accounting practices," reads the September 3 Give Send Go update.
Hundreds of contributions have poured in over the past 24 hours alone, with anonymous donors and named individuals alike detailing their support for Rittenhouse as he faces murder charges in Wisconsin.
Jacob Wells, founder of Give Send Go, told Insider this week the campaign creator asked to remain anonymous and the website was able to verify the disbursement of the funds to his legal defense fund.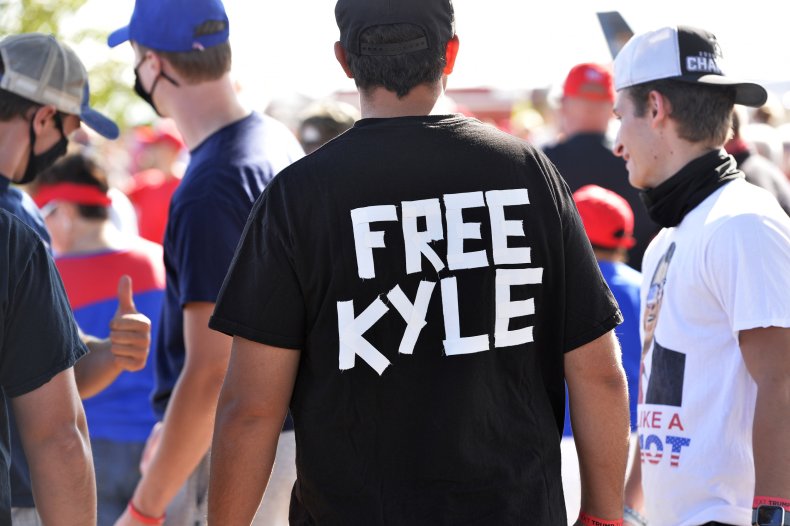 "Please keep Kyle (the victim) out of jail. Please prosecute persons that attacked him especially the one wielding the handgun," reads an anonymous comment from a contributor who donated $94 to the cause Tuesday afternoon.
"There are more people with you than against you!" reads another anonymous $100 donor's comment Tuesday.
Newsweek reached out to Discover for reaction Tuesday afternoon but did not hear back by publication time.