Christian Pakistani Women Sentenced to Death Will Take Case to Highest Court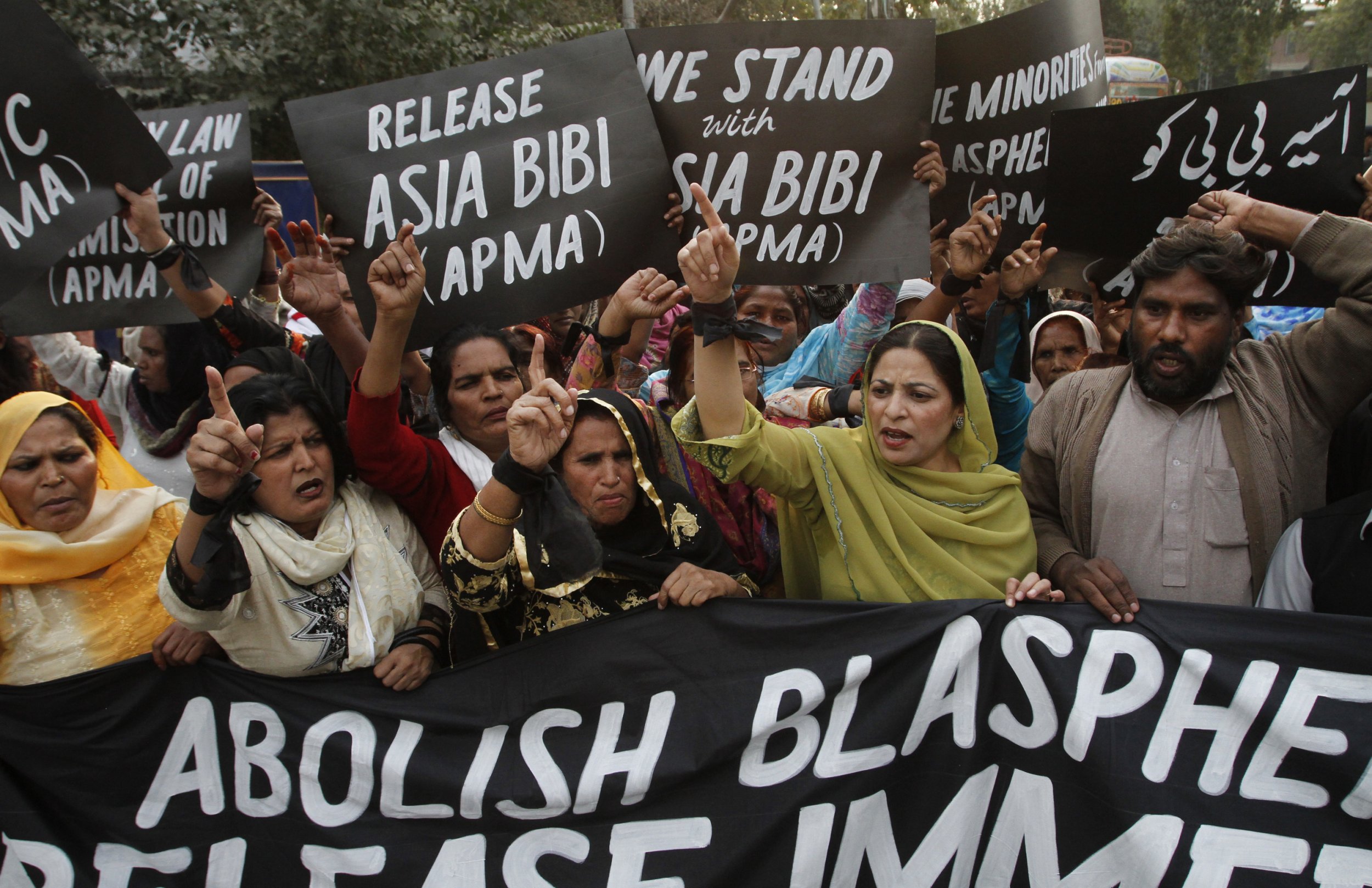 A Pakistani Christian woman sentenced to death for blasphemy is taking her case to the country's highest court after a high court dismissed her appeal for acquittal and upheld her sentence last week.
Asia Bibi was charged with blasphemy in 2010 for allegedly "defiling the name of the Prophet Mohammed during a 2009 argument with Muslim fellow field workers," CNN reports. Bibi, a mother of five from Pakistan's Punjab province, has denied the accusations, saying they stemmed from an argument with her co-workers when they refused to drink from a bucket of water she touched.
Christians are a minority in Pakistan, where 95 percent of the population is Muslim, according to U.S. government data.
Naeem Shakir, Bibi's attorney, said he will file an appeal to the Supreme Court once he receives a copy of the judgment against her.
Pakistan's penal code stipulates that blasphemy is punishable by death or life imprisonment. Bibi was sentenced to death by hanging. Her appeal was dismissed by the Lahore High Court on October 16.
During a 2010 press conference, Bibi said charges against her were fabricated by a "group of women who didn't like her."
"We had some differences, and this was their way of taking revenge," she said at the time.
Between 2007 and 2012, Pakistan sentenced 1,497 prisoners to death and executed 171, according to 2013 data from Amnesty International. Pakistan ranks sixth on the list of 10 countries with the most executions in the world. The United States ranks fifth, with 220 deaths during that time.
Most of those prosecuted for blasphemy cases in Pakistan are Muslims, the BBC reports, and since the 1990s, "scores" of Christians have also been convicted.
"This is a grave injustice. Asia Bibi should never have been convicted in the first place—still less sentenced to death—and the fact that she could pay with her life for an argument is sickening," David Griffiths, Amnesty International's deputy Asia Pacific director, said in a statement released October 16, the day of the court's decision.
The human rights organization noted in its statement that a former governor of Punjab, Salmaan Taseer, was murdered in January 2011 by his security after campaigning for support for Bibi and criticizing Pakistan's blasphemy laws. Another critic of the laws, minorities minister Shahbaz Bhatti, was killed in March 2011 by the Taliban.
"Asia Bibi's case is an example of how Pakistan's vaguely worded blasphemy law has led to discrimination, persecution and murder since its imposition almost three decades ago," Phelim Kine, a spokesman for Human Rights Watch, told CNN.