Christian Pastor Claims Ossoff, Warnock Are 'Demonically Possessed'
Conservative Christian Pastor E.W. Jackson claimed on Monday that Georgia's Democratic Senate candidates Raphael Warnock and Jon Ossoff are "demonically possessed."
Jackson, the 2013 Republican nominee to be Virginia's lieutenant governor, made the remarks during his Wisdom Meditation stream via Facebook. His remarks were first reported by Right Wing Watch.
"If we send those two demonically possessed people—Warnock and Ossoff—if we send them to the United States Senate, we will be cursing our nation," Jackson told his viewers. "Georgians who are listening to me or watching me right now, we will be cursing our nation if we send those two demonically possessed people to the United States Senate. And they are demonically possessed."
The Christian religious leader said that giving Democrats control of the Senate would be bad for the country. "If we allow those folks to enter in the United States Senate and give the likes of [Democratic Senate Minority Leader] Chuck Schumer [of New York] control over the U.S. Senate, we will be bringing a curse on the United States of America," Jackson said.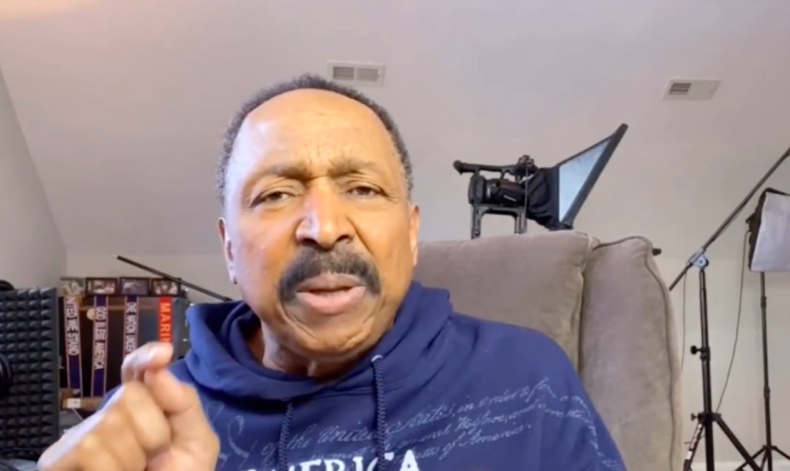 The pastor criticized Warnock and Ossoff last month as well. "If you vote for Warnock or Ossoff and you claim to be a Christian, you really just might as well spit in Jesus' face, because they both have done that," he said in December.
Newsweek reached out to the Ossoff and Warnock campaigns for comment but they did not immediately respond.
Ossoff and Warnock are facing off against incumbent Republican Senators David Perdue and Kelly Loeffler, respectively, in a closely watched runoff that will take place Tuesday. Both Republicans and Democrats have pumped tens of millions of dollars into the races, as they will determine which political party narrowly controls the upper chamber of Congress. Polls show the contests are close, and there is no clear frontrunner in either race.
If Warnock and Ossoff win, the Republican and Democratic caucuses will both have 50 seats in the Senate. That would mean Vice President-elect Kamala Harris, as president of the Senate, giving Democrats a very slim majority, as she would cast the final decision on evenly split votes. But if Republicans manage to win one or both seats, they will maintain narrow control of the Senate and potentially be able to hamper many of President-elect Joe Biden's legislative priorities.
Other right-wing Christian figures have previously accused Democrats and opponents of President Donald Trump of being demon possessed or working with dark forces.
Pastor Paula White, Trump's personal spiritual adviser, delivered an impassioned prayer service on November 4—the day after the general election—in which she claimed demons were trying to steal the election from the president. White called out what she claimed were "demonic confederacies that are attempting to steal the election from Trump."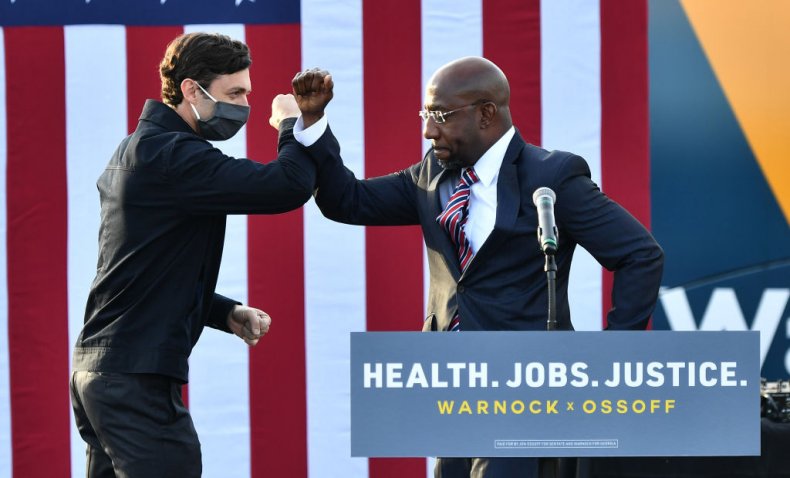 In October 2019, Evangelical Christian Pastor Perry Stone told his followers that Democrats had demons inside of them. "They're trying to place hexes and curses on President Trump," Stone said. "Satan hates this man."
He added: "I have never, in any nation of the world...seen people raised up with demons in them [like] in Washington...They have demons in them. You can look at their eyes when they almost start foaming at the mouth."
Polling conducted by Pew Research Center from September 30 to October 5 showed that the majority of Protestant Christians supported Trump's re-election campaign. While 54 percent said they supported Trump, just 41 percent said they backed Biden. Among Catholic Christians, however, the responses were somewhat reversed. Biden, who is Catholic, was backed by 51 percent and Trump was supported by just 44 percent.