Christian Pastor Insists Trump Isn't a Racist Because He 'Attacks Anybody He Feels Needs It,' Not Just Minorities
Conservative Christian leader and President of the Coalition of African American Pastors Reverend Bill Owens has insisted that Donald Trump is not a racist, defending the president against criticism by saying "he attacks anybody" and not just minorities.
Owens and a group of pastors connected to his coalition met with Trump at the White House on Monday as the president continued to face backlash for his recent attacks on Democratic Rep. Elijah Cummings of Maryland and Civil Rights activist Reverend Al Sharpton. Trump's attacks on Cummings, his city of Baltimore and Sharpton have drawn substantial criticism, with many calling them racist. But Owens disagreed.
"I find President Trump [a] leader of all colors. He attacks who he will. He's his own man. I can't dictate what he should or shouldn't do. But he does not just attack black people. He attacks anybody, and you know it," Owens said during an early Tuesday morning interview with CNN's Don Lemon.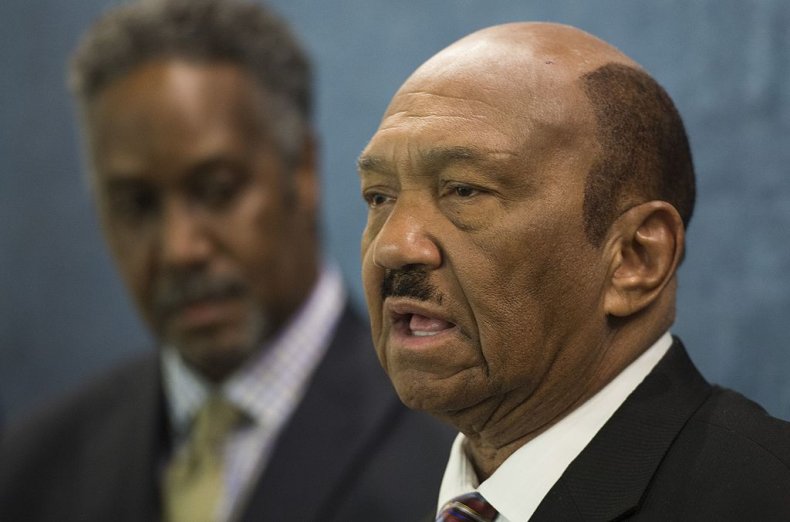 Lemon pushed back, asking: "It sounds like you're condoning attacks? Is that Christianly or Godly?" The pastor then argued that he wasn't "condoning" the attacks.
"I'm just stating a statement of fact," Owens said. "I'm not condoning anything. I'm stating a statement of fact. President Trump does not pick the people he attacks because of color. He attacks anybody he feels needs it."
Asked by Lemon whether he was OK with the president's actions, Owens replied: "Well, I'm not his judge."
Trump has long been accused of being racist due to numerous racially charged and xenophobic remarks he has made. In recent weeks, the criticism has grown after he attacked four Democratic congresswomen, all of whom are women of color, and said they should "go back" to the countries "from which they came." Critics pointed out that there is a long racist history of people telling non-white Americans that they should return to their countries, even when their families have been U.S. citizens for numerous generations.
The Representatives, Alexandria Ocasio-Cortez of New York, Ayanna Pressley of Massachusetts, Ilhan Omar of Minnesota and Rashida Tlaib of Michigan, were all born in the U.S. as American citizens. Omar, who was born in Somalia, immigrated to the U.S. as a young girl. She became a naturalized American citizen nearly 20 years ago.
As the controversy around Trump's criticism continued, he lashed out on Saturday at Cummings and Baltimore, which the congressman represents. "Cumming [sic] District is a disgusting, rat and rodent infested mess. If he spent more time in Baltimore, maybe he could help clean up this very dangerous & filthy place," the president wrote on Twitter. "No human being would want to live there," he added in a follow-up tweet.
Democratic lawmakers and some Republicans defended Cummings, with many leading Democrats calling the president's remarks "racist." Analysts have pointed out that the president's remarks are yet another attack against a black American leader, as well as his largely minority district.
Trump then attacked Sharpton, who has been a frequent critic of the president. He accused the prominent Civil Rights leader of being someone who "Hates Whites & Cops! " Sharpton responded by saying: "He can say what he wants. Calling me a troublemaker. Yes, I make trouble for bigots. I'm going to keep making trouble for bigots."
Despite the criticism, Owens and other members of his coalition have continued to defend the president, arguing that his economic policies and criminal justice reform benefit minorities. Alveda King, the niece of iconic Civil Rights leader Dr. Martin Luther King Jr., also attended the Monday meeting with Trump. In an interview with Fox News on Tuesday morning, she argued that the president is "not a racist, absolutely is not."
"And the programs that he has moved forward, the higher job market is helping African Americans," she argued. "The criminal justice reform, helping African Americans."