Christian Pastor Says a Man Decides How Many Kids a Woman Should Have
A video of Texas preacher Jonathan Shelley questioning why a husband would ask his wife when she wants to have children has begun to circulate on social media.
In the clip, that has so far been viewed more than 70,000 times, the controversial pastor from Stedfast Baptist Church in Texas questioned whether a person who asked his wife such a question could be called a man or a Baptist Christian.
Author and atheist activist Hemant Mehta shared the clip to his Twitter page on Monday.
He captioned the video: "Christian hate-preacher Jonathan Shelley says a woman should have no say in how many kids she has."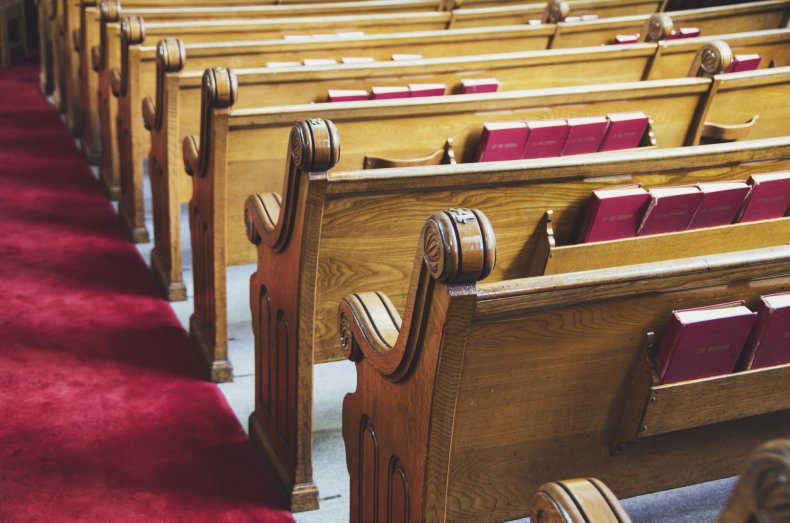 Shelley made the comments in a January 8 sermon titled "Postpartum and Pediatricians" according to a report in the publication Church Leaders.
In the video, Shelley said: "I heard an independent fundamental Baptist preacher, he's like, 'You know it is not right for me to tell my wife when we are going to have kids, you know I need to ask her permission, or ask when it's OK to start having kids."
While looking confused and pulling faces, Shelley continued: "And I'm like, 'Are you a man? Are you a Baptist?
"You're a fundamental Baptist preacher and you're going to ask your wife it it's OK to have children? I'm like, what planet am I living on?
"How effeminate is that, to let your wife tell you when she's gonna have kids or not? I mean that is feminism."
Shelley's remarks in the video drew strong opposition from followers of Mehta's Twitter feed, with one saying: "I cannot imagine my husband telling me how many kids I am going to have. The person with a uterus decides when she has had enough." Another added: "If it wasn't for the fact I escaped a church like this, I'd have a hard time believing it exists."
Shelley has often found himself at the center of controversy.
Last year, he drew booing when he called Pride Month an "abomination" during a meeting of the Arlington City Council.
In 2019, he was quoted as saying rebellious public school students and "lazy gamers" should be stoned to death as part of a societal lesson in obedience.
In response to a request for comment on the latest video, Shelley defended his sermon while quoting scripture.
He told Newsweek: "I believe the Bible clearly teaches for men and women to 'Be Fruitful and Multiply' as taught in Genesis 1:22.
"Additionally, the New Testament emphasizes that husbands and wives do not have control over their own body but must show 'Due Benevolence' (1 Cor 7:3) at the request of their spouse.
"Considering that God opens and closes the womb it is impossible for married couples to fully control when, if, or how many children God blesses them with. I believe we must follow God's commandments in marriage and allow God to provide us with children at his discretion."
Shelley also defended his criticism of feminism and of women leading relationships.
"While it is important to consider a wife's opinion, advice, feelings, and health, husbands should make all the decisions of the family.
"My wife gives me great advice and wisdom all the time and helps me with every day decisions, however, ultimately I have to lead and I have the final say in all matters. Men who allow their wives to lead the family or overrule their decision-making would be 'effeminate'.
"I also believe it would be unscriptural for a husband to deny his wife children or to prevent her from having the children that God would bless her with. Ultimately, Christians should submit to God's will for their life and not take everything into their own hands and understanding."