Christian Petition Against Marjorie Taylor Greene Signed by Thousands
Over 13,000 people have signed a petition by online Christian activist group Faithful America against Marjorie Taylor Greene.
The petition asks for the Republican congresswoman's former minister Rev. Andy Stanley of North Point Community Church in Georgia to denounce her divisive rhetoric or ask her to resign.
Launched less than a week ago on February 28, the petition mentions Greene's recent call for a "national divorce" between red and blue states in the country.
On February 20, the Georgia congresswoman wrote on Twitter: "We need a national divorce. We need to separate by red states and blue states and shrink the federal government. Everyone I talk to says this. From the sick and disgusting woke culture issues shoved down our throats to the Democrat's traitorous America Last policies, we are done."
Greene later doubled down on her comment. She added that Republicans should be granted a national divorce if President Joe Biden isn't impeached for his military and financial support to Ukraine.
In a February Rasmussen Reports survey, 34 percent of 1,000 likely voters approved of Greene's call for a national break up and 57 percent disagreed.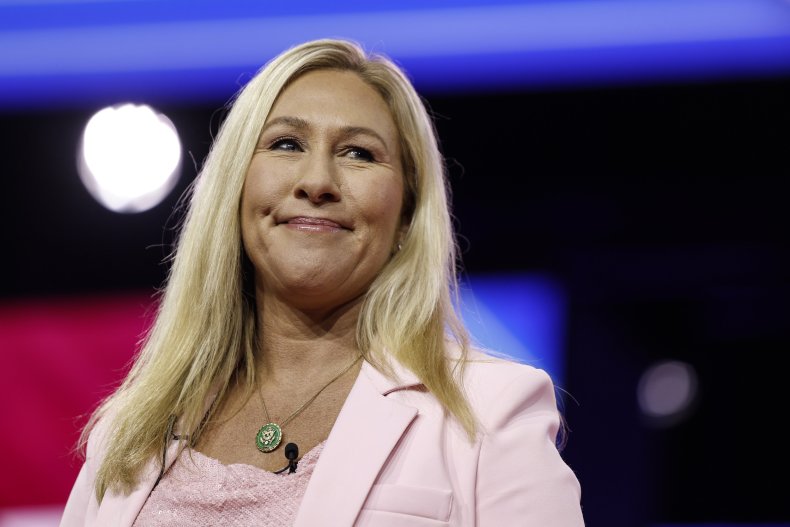 Faithful America, a left-of-center group that has often criticized conservative policies, criticized Greene for "advocating for the division of the United States into separate, hostile nations of supposedly red and blue states."
In a post accompanying the launch of the petition, the group wrote that Greene's comments shocked and outraged many across the political world. However, it added that "the person who should be the most horrified by Greene's twisted proposal is her former minister: the Rev. Andy Stanley of North Point Community Church in Georgia."
The Republican congresswoman was baptized in Stanley's congregation and attended church there for many years, Faithful America wrote.
With its petition, which seeks to collect a total of 15,000 signatures, the group called on Stanley to "use his public platform to denounce her toxic rhetoric and actions now." It added: "Pastor Stanley has a long history of preaching about the importance of Christian unity—especially when it feels hard. [...] Greene's 'national divorce' proposal runs contrary to everything Stanley teaches about love and unity."
The petition asks Stanley to use his past association with Greene and his prominence in the Church to denounce her "divisive proposal specifically and Christian nationalism more generally, and call on Greene to embrace unity or resign from office."
Faithful America mentions fear that Greene's comment might be a "precursor to civil violence"—a concern that's been raised by Democrats and anti-Trump Republicans in the wake of her comment.
"Our members are sick and tired of seeing power-hungry politicians like Greene twist our Christian faith for power, fear and division—and they're eager to see more church leaders like Pastor Stanley pushing back against Christian nationalism," Karli Wallace Thompson, Faithful America digital campaigner, told Newsweek.
"So we'll continue to call out politicians who use religion as a tool to gain power and to call in religious leaders because rhetoric like Greene's is as damaging for the church as it is our democracy."
Responding to a request for comment from Newsweek, a spokesperson for Greene said: "We don't respond to attacks from left-wing fundraising operations."
Update 03/06/23, 11:15 a.m. ET: This article was updated to include a comment from Greene's spokesperson.
Update 03/07/23, 4:19 a.m. ET: This article was updated to include a comment from Faithful America.