Christian Pulisic Chelsea Debut: Expert Verdicts on USMNT Star's Premier League Chances Ahead of First Start
As far as introductions to the Premier League go, Christian Pulisic's couldn't come on a grander stage.
The 20-year-old is expected to make his first competitive start for Chelsea when the Blues face Manchester United at Old Trafford on Sunday.
Along with Mateo Kovacic, Pulisic was the only player Chelsea managed to sign this summer, before a year-long embargo kicked in.
While the transfer ban has complicated Frank Lampard's homecoming at Stamford Bridge, it could see Pulisic feature regularly in the team as Chelsea must make do with its current crop of stars until next year.
That is not to say there will be no pressure on the American's shoulders, who has emerged as one of the most promising young players in European soccer. Pulisic's price tag could soon become a burden were he to struggle to settle in England. At $73 million, the fee Chelsea paid for the 20-year-old almost tripled the previous record for a USMNT player.
In four seasons in Germany with Borussia Dortmund, Pulisic racked up 127 appearances, scoring 19 goals and providing 26 assists.
Chelsea fans will hope he can provide a similar output and fill the void left by Eden Hazard's departure for Real Madrid.
So far, the signs are good. Pulisic scored twice as Chelsea beat Red Bull Salzburg 5-3 in the penultimate game of its preseason, making a good impression on Lampard.
"I was very impressed with the way that he took the goals," the Chelsea boss told reporters. "As a winger in the Premier League, he has to adapt to that league. He is young but with huge potential, and I am happy for him."
So, how will Pulisic fare in the Premier League?
Here's what some experts expect from the American.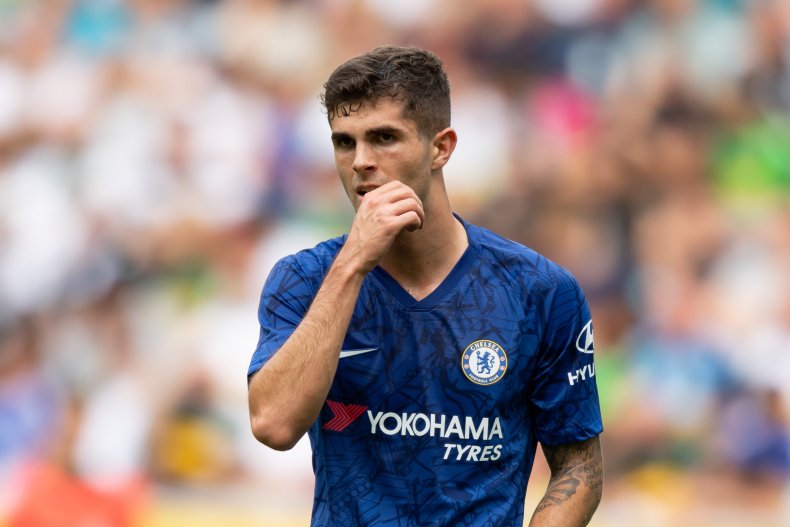 Sam Borden—ESPN
Borden believes Pulisic has the chance of writing his name in U.S. sports history if he's successful at Chelsea.
"The enthusiasm is warranted," he said.
"Christian Pulisic is the most talented player in American soccer history. And, should he pull it off, what he is about to do—that is, play for Chelsea in the English Premier League—will be one of the most impressive feats in American sports history."
Jacob Steinberg—The Guardian
Steinberg believes Pulisic will need time to adjust to the Premier League and with Eden Hazard now at Real Madrid he has big shoes to fill.
"The 20-year-old will need time to settle and the unfortunate truth for [Frank] Lampard is that his attack looks far less daunting without [Eden] Hazard."
Doug McIntyre—Yahoo Sports
Chelsea has a new manager in Frank Lampard this season and McIntyre believes the former England international will be a better fit for Pulisic than his predecessor.
"He [Pulisic] seems significantly better positioned to do well immediately than he did when he first signed," he wrote.
"[Maurizio] Sarri is gone, having been replaced by club legend Frank Lampard. Lampard may have just one season on the sidelines under his belt—he led second-tier Derby County to the brink of Premier League promotion in May—but he's probably a better fit for Pulisic than the 60-year-old Italian."
Landon Donovan—USMNT 2000-2014
Donovan expects Pulisic to be successful but warns the 20-year-old won't be afforded much leeway.
"I can see it being a massive home run for him, [but] Chelsea spends a lot of money on a lot of players," he told ESPN.
"They have money forever. They can spend $70 million to bring in Pulisic, and if it doesn't work right away, it's no problem. They can move on to the next player."
Thomas Delaney—Pulisic's team at Borussia Dortmund
Delaney played with Pulisic at Dortmund and expects his former teammate to settle quickly in the Premier League.
I'm pretty sure he will be a success," he told Goal.com. "He's got big shoes to fill in terms of Eden Hazard, of course, but as far as I know him, he's a hungry player with a high level, and it seems like he has the support from the manager and the club, which every player needs.
"This guy can pull things out of the hat at any time, which is always a great skill to have. I think the Premier League will enjoy him."