Christian Radio Host Says 'Gay Gestapo' Bullied Hallmark Into Caving Over Same Sex Couple Ad
Bryan Fischer, a Christian radio host on the American Family Radio network, tweeted Monday that the "Gay Gestapo" forced the Hallmark Channel to reinstate an advertisement showing a lesbian wedding scene.
"The Gay Gestapo bullies Hallmark into submission," Fischer tweeted. "Homosexuality uber alles."
On his radio show, Fischer talked about the Hallmark Channel's reversal on their decision, saying the channel "folded in about 48 hours."
"The Gay Gestapo, the bullies of the homosexual movement," Fischer said, "and remember, their theme is homosexuality uber alles. Homosexuality trumps everything. So they got a hold of Hallmark. They started getting in, getting after it, getting on Hallmark and they folded in about 48 hours."
"They've completely reversed," Fischer continued. "Now they're apologizing all over themselves for supporting normative sexuality. They completely reversed, fielding another victory for the Gay Gestapo."
Newsweek attempted to contact Crown Media, the Hallmark Channel's parent company, but did not receive a response in time for publication.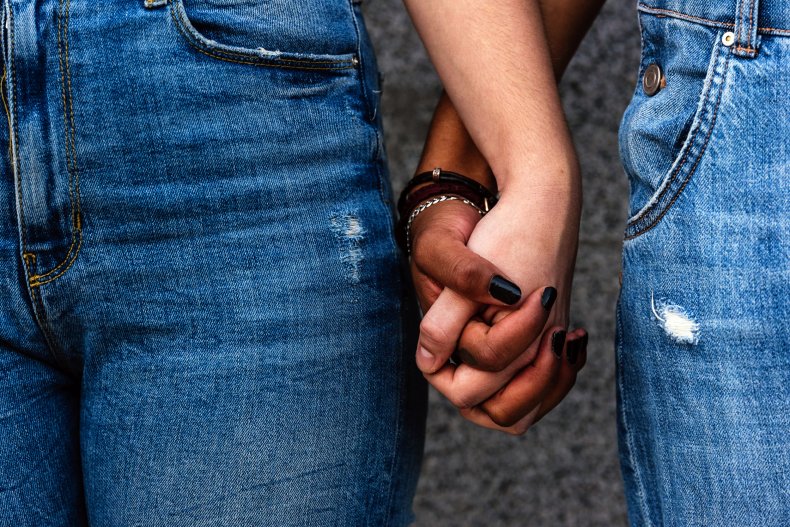 As previously reported in Newsweek, the Hallmark Channel decided to pull an advertisement by wedding planning company Zola which showed two women kissing after receiving complaints from conservative groups, including One Million Moms.
As part of its online campaign to stop the advertising, One Million Moms said, "Please reconsider airing commercials with same-sex couples, and please do not add LGBT movies to the Hallmark Channel. Such content goes against Christian and conservative values that are important to your primary audience. You will lose viewers if you cave to the LGBT agenda."
The Hallmark Channel's decision to stop showing the ad drew fire from LGBTQ groups, including GLAAD.
"The Hallmark Channel's decision to remove LGBTQ families in such a blatant way is discriminatory and especially hypocritical coming from a network the claims to present family programming and also recently state they are 'open' to LGBTQ holidays movies," said GLAAD president Sarah Kate Ellis in a statement to Newsweek.
"As so many other TV and cable networks showcase," the statement continued, "LGBTQ families are part of family programming. Advertisers on The Hallmark Channel should see this news and question whether they want to be associated with a network that chooses to bow to fringe anti-LGBTQ activist groups, which solely exist to harm LGBTQ families."
The decision to air LGBTQ programming and advertising was announced with a statement on Sunday.
"The Crown Media team has been agonizing over this decision as we've seen the hurt it has unintentionally caused," said President and CEO of Hallmark Cards Mike Perry in the statement. "Our mission is rooted in helping all people connect, celebrate traditions, and be inspired to capture meaningful moments in their lives. Anything that detracts from this purpose is not who we are. We are truly sorry for the hurt and disappointment this has caused."
Hallmark is expected to begin airing advertising from Zola again. The company will also be working with GLAAD "to better represent the LGBTQ community across our portfolio of brands."