"I Did What I Had to Do": CNN's Christiane Amanpour Forces Saudi Minister to Hear Details of Khashoggi Murder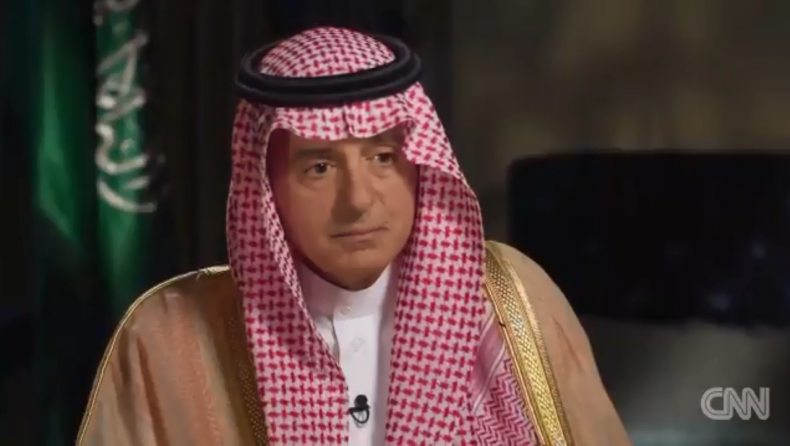 The Saudi minister of state for foreign affairs was forced to listen to CNN's chief international anchor Christiane Amanpour recount the morbid details from Wednesday's United Nations report on the murder of journalist Jamal Khashoggi, which concluded there was "credible evidence" to further investigate Saudi Crown Prince Mohammed bin Salman for the killing. Western intelligence agencies have determined that the crown prince himself ordered the killing, according to multiple reports.
"I want to ask you what you think when you hear the following words," Amanpour told Saudi Minister Adel al-Jubeir in a sit-down interview. "Saudis go into the consulate. 'We will take you back,' they say to Khashoggi. 'This is an order from Interpol.' Khashoggi says, 'There isn't a case against me,' and warns him that people are waiting outside."
Al-Jubeir dismissed Amanpour's review of the report and asked to "let me first respond to your first question about holding to account people who committed Abu Ghraib."
Amanpour interrupted him, insisting that he respond to the graphic details of the U.N. report reviewing Khashoggi's murder.
Reflecting on the tense exchange to Newsweek, Amanpour said: "I did what I had to do."
"I was never going to get an admission," she acknowledged. "Therefore it was important to read out loud and get reaction to the gruesome details of our colleague Jamal [Khashoggi's] brutal murder and dismemberment."
Al-Jubeir claimed that the execution was "a rogue operation that was not authorized," placing the blame on lower-level Saudi officials.
"We know that a crime was committed," he told Amanpour. "We have people in jail, and they are on trial as we speak."
But she did not accept that response alone, and proceeded to read from intelligence reports documenting how Khashoggi's body was dismembered.
"Khashoggi says, 'There's a towel here, are you going to give me drugs?'" she read. "And they say, 'We will anesthetize you.' And then there's a struggle, and then a man asks whether Khashoggi is passed out. And then another one, or the same one, says, 'He raises his head!' Another one says, 'Keep pushing, push here. Don't remove your hand.'"
Khashoggi, who was a columnist for The Washington Post, was slain at the Saudi consulate in Istanbul in October 2018. While once subscribing to more moderate views about the Kingdom, Khashoggi became an increasingly high-profile dissident in recent years and fled to the United States in 2017. Turkish authorities obtained audio recordings of the incident, which were subsequently shared with Western intelligence partners.
Eventually, U.S. intelligence agencies concluded that orders to carry out the murder were handed down from the Saudi crown prince. The Kingdom has provided shifting explanations for what happened but has consistently denied the involvement of its highest-level officials.
"It's a gruesome murder that happened outside authorities, and for which the people who committed it will be punished," al-Jubeir told Amanpour in a somewhat muted tone. "That's why there's a trial. That's why there's an ongoing investigation. This should never have happened."
Amanpour continued to demand that al-Jubeir listen to the full accounting of how Khashoggi was treated, recalling that "a Saudi official asked whether it would be possible to put the trunk of the body in a bag."
She relayed the ensuing discussion: 'First time I cut on the ground. If we take plastic bags and cut it into pieces, it will be finished. We will wrap each of them.'
Al-Jubeir looked on expressionlessly, blinking a handful of times as Amanpour recounted Khashoggi's dismemberment.
Amanpour began this segment of the conversation by remembering how she and al-Jubeir first met during the First Gulf War, when he was "in charge of us, the press."
"Nobody's ever in charge of the press," al-Jubeir countered.
"Well, you were," she fired back, observing that Khashoggi was a member of the press "and a Saudi patriot."
This article has been updated to include a statement from CNN's Amanpour.