Thousands of Christians are chiming in to demand Apple remove former President Donald Trump's Truth Social app from its App Store.
Faithful America, an online grassroots Christian organization, launched the petition shortly after Google announced it removed the app from the Google Play store. Nearly 15,000 Christians have signed the petition. According to a press release from Faithful America, Apple is the largest distributor of the app. The petition denounced violent threats posted on Truth Social, as well as "anti-democracy lies" and "Christian nationalism."
The petition addressed Apple CEO Tim Cook and urged him to follow Google's lead in banning the app.
"Truth Social was created to circumvent Twitter's rules against inciting violence, and there is ample evidence that its moderators frequently allow threats of violence against entities they deem enemies of Donald Trump," the petition said. "Apple has an obligation to its customers and to society to do its part to stop the spread of hateful threats and harmful actions. By promoting Truth Social, Apple is making it easier for those who seek to commit right-wing violence to organize and encourage one another. For the sake of the common good, please remove Truth Social from your App Store immediately."
Newsweek reported that Google removed Truth Social from its store after warning the media platform that it violated Google's policies. Truth Social issued a statement that said it was "building a vibrant, family-friendly environment that works expeditiously to remove content that violates its Terms of Service."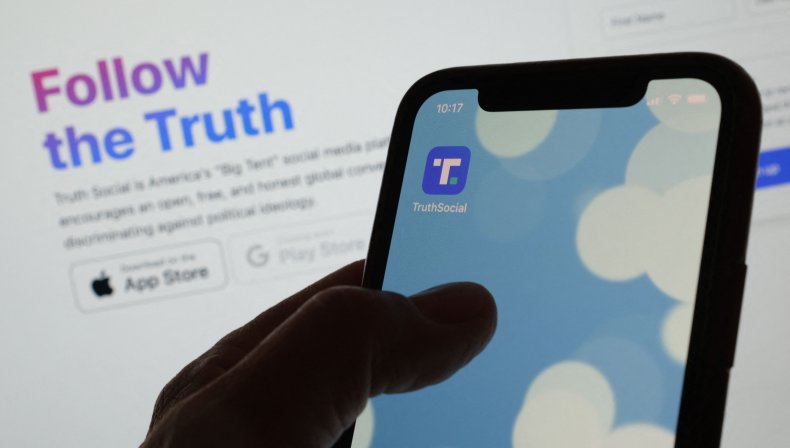 Following the removal from the Play Store, several individuals and organizations have encouraged Apple to take similar steps, including lawyers and various advocacy groups, such as the Center for Employment Justice and Citizens for Responsibility and Ethics.
"Apple spends millions of marketing dollars positioning itself as the global leader in user privacy and security, insisting that the safety of its customers is its highest priority," said Karli Wallace Thompson, campaigner for Faithful America, in a press release. "But a company cannot boast of its commitment to the common good while at the same time knowingly permitting the open incitement of armed violence to spread on its platform."
Newsweek reported that Truth Social allowed threatening posts against the FBI allegedly from a gunman who attacked the FBI field office in Cincinnati. According to the Faithful America petition, the Truth Social post from the gunman wasn't deleted until after he attacked the FBI office.
Thompson accused similar apps, such as Parler, of creating a space for people to plan and coordinate extreme attacks, such as the 2021 insurrection on the U.S. Capitol.
"We don't need to speculate about what can happen when an app with a large user base of extremists is allowed to spread without oversight because we've already witnessed it," Thompson said. "Apple imposed a ban on that [Parler] only after the attack on the Capitol. Whether or not they have learned from that mistake remains to be seen."
When reached for comment, Faithful America told Newsweek that it had not received a response from Apple.
Newsweek also reached out to Truth Social and to Apple for comment.