Christians Are Given Hijabs by Muslims in Marawi to Help Them Escape ISIS Militants
Muslims have been helping Christians to escape ISIS-affiliated Maute Group attackers in the devastated city of Marawi in the southern Philippines. More than three weeks after the fighting started, around 1,000 residents remain trapped in the besieged cities as fighting rages between the Philippine Army and Islamist rebels.
Fighters from local groups including the Maute Group and Abu Sayyaf killed and kidnapped Christians in Marawi, injuring others in crossfire. In the initial siege, Christians and a Catholic priest were taken as hostages and used as human shields.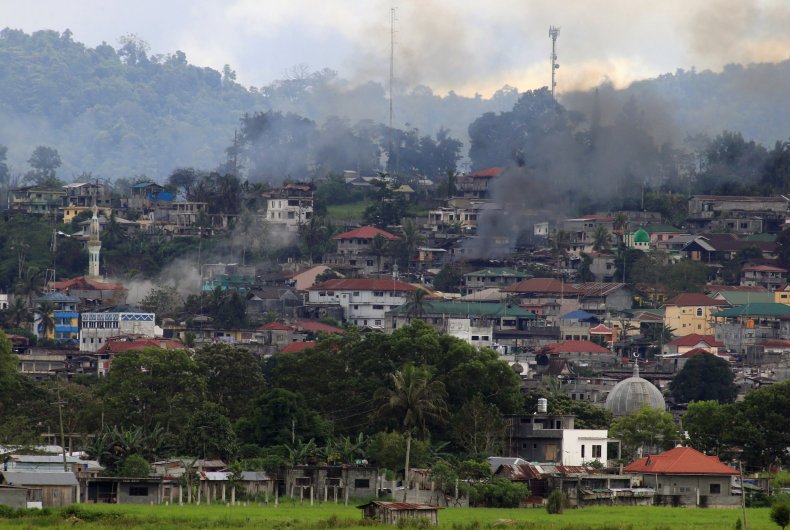 Throughout the conflict, Christians have been killed by the rebels that are affiliated with the Islamic State militant group known as ISIS. Government investigators told local Filipino press that eight Christians were shot dead for refusing to recite the Muslim creed.
ABS-CBN news reported that the military said 290 people have died in the fighting so far including 206 militants, 58 soldiers, and 26 civilians. A politician helping with the relief work, Zia Alonto Adiong, said: "Dead bodies, at least 100, scattered around the encounter area."
There have been attempts at implementing a ceasefire to get the last 1,000 people out of the city, but it's been broken by the rebels, who are using mosques and underground tunnels to hide in.
Reports of starvation abound. Adiong reported that one family, texting him for help, said "they [had] started to eat their blankets" because they had no food left.
Adiong told reporters on Monday that people will die in gunfire leaving the city or die inside hiding from it from starvation, because they have no other choice. He said at least 100 people have fled the city on foot braving sniper fire. Relief workers report that people have swum across the river and lake to safety to escape the attacks.
"Some of the stories that stuck were Muslims helping protect Christian workers by letting them borrow a hijab," said Dr. Gioia Ancheta, head of the psychosocial therapy team.
The conflict began after dozens of gunmen swarmed across the Muslim-majority city of Marawi after the Philippine security forces tried to arrest Isnilon Hapilon, known as the local leader of ISIS.