In a Bid for Relevance, Christie Lays Out Foreign Policy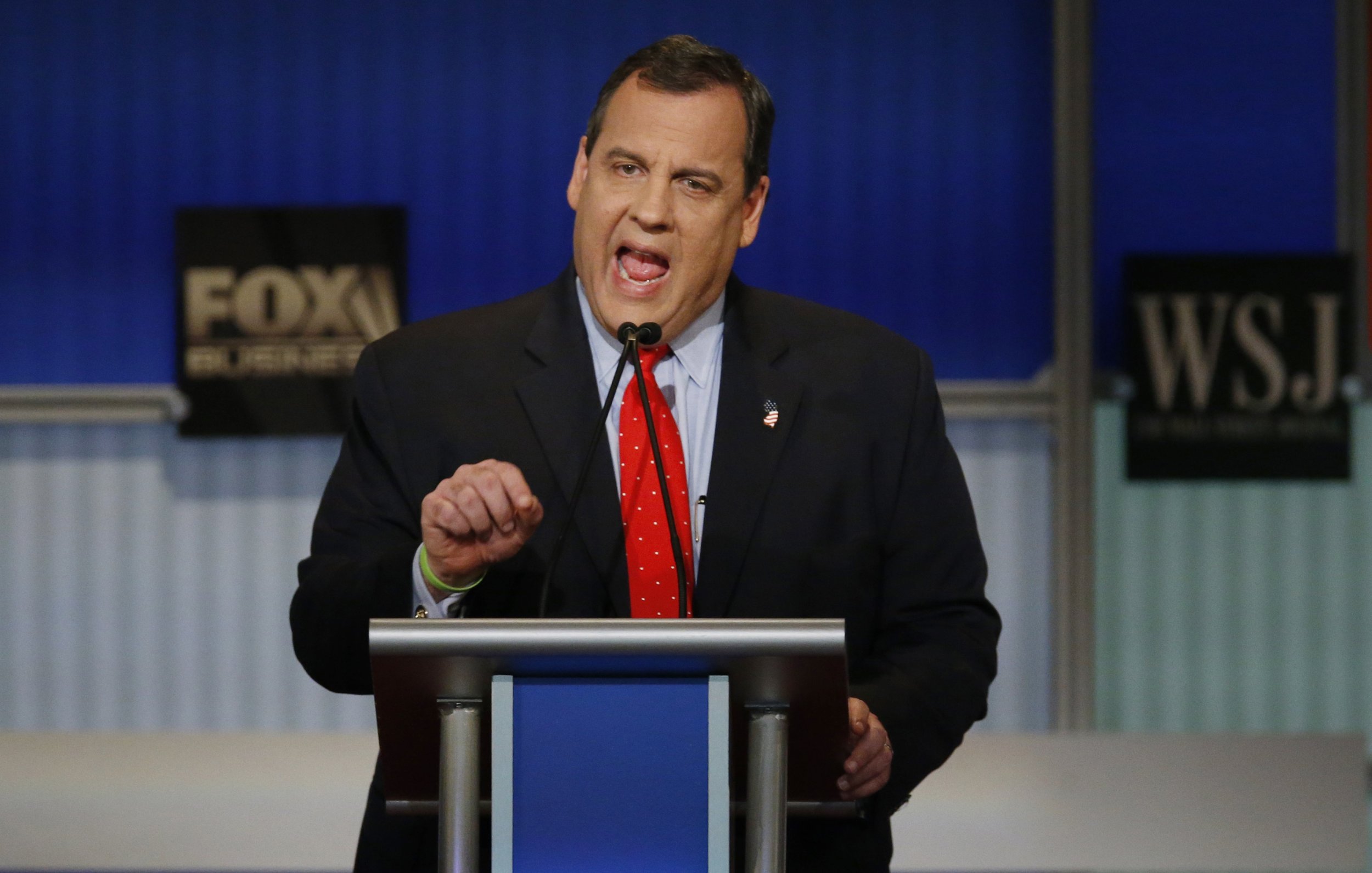 Soft-spoken is not an adjective often used to describe New Jersey Governor Chris Christie. But in a foreign policy speech before the Council on Foreign Relations on Tuesday, the frequently bombastic governor assumed a quiet, somber tone, part of his bid to climb back into the 2016 presidential race by painting himself as a seasoned leader in a field full of amateurs. But Christie, himself, was remarkably light on specifics when it came to combating the chaos in the Middle East that's now disrupting the West.
Asked by the moderator what his response to the November 13 attack in Paris would be, the two-term governor gave a rambling, vague reply (that sounded like many other counterterrorism prescriptions given by the candidates in recent days). "A Christie administration," he pledged, "would work with the NATO alliance to bring the full effect that we can have both diplomatically but also militarily and from an intelligence perspective to be able to do what we need to do to bring ISIS to a conclusion."
And Christie didn't directly answer a follow-up question about whether that meant Western boots on the ground or whether such a ground war would play into ISIS's hands. "This has to be done really carefully" was all he said. "That's why I think working with NATO is not the only thing we need to do. I think we need to work with our Arab allies in the Middle East as well."
Christie was emphatic that Syria's embattled strongman, President Bashar al-Assad, has to go, but he didn't have an answer for which potential replacement the U.S. and its allies should empower instead. President Obama, he explained, "has left us with a situation that is...too complex and too problematic for a two-minute answer, and one that's going to take a lot more time to figure out."
As a governor, Christie doesn't have much experience overseas, but he does have a background in homeland security, having worked as a federal prosecutor handling terrorism cases after September 11. He emphasized that record in his remarks, as well in his personal ties to those impacted by the attacks on the World Trade Center 14 years ago. Rehashing the stump speech he's given in town halls and house parties across New Hampshire recently, Christie recalled his fears that his wife, who worked in New York's financial district, wasn't coming home after the twin towers came down, as well as the suffering of New Jersey neighbors who lost spouses or parents.
"I fear that this administration and many parts of this country have forgotten" the impact of September 11, he said. "I can't forget because terrorism is not theoretical to me."
Christie had plenty more criticism for the White House's foreign policy and the president's response to his critics. But he avoided some of the most heated rhetoric coursing through the campaign trail and conservative media since Paris. His manner, instead, was akin to a parent telling a child, "I'm not mad. I'm just disappointed."
"The president, I believe, has lost his focus in an attempt to justify a failed policy, maybe in an attempt to curry favor with those he's hoping to curry favor with around the world," Christie lamented. "But he's lost focus, and that's why he's lost support."
"We can't afford to elect another president without the requisite experience and values," Christie said at another point. "Less than one term in the United States Senate has proven to be woeful training, woeful training, for the Oval Office"—a not-so-subtle knock on three of his GOP 2016 rivals, first-term senators Marco Rubio, Ted Cruz and Rand Paul.
Christie has focused much of his campaign on New Hampshire, the nation's first primary state. Yet he's at just 5 percent in the latest survey of the state, conducted by CBS News and YouGov. Also, earlier this month, he was dropped to the lower-tier "happy hour" debate in Milwaukee. Real estate tycoon Donald Trump is far ahead in New Hampshire with 32 percent of likely GOP primary voters there, followed by Rubio, retired neurosurgeon Ben Carson and Cruz, who are all in the low single digits. Christie also faces competition for establishment support in New Hampshire from experienced former and current governors, including Jeb Bush of Florida and John Kasich of Ohio, although they're struggling too. Like Christie, Bush and Kasich are hoping the renewed focus on national security draws the GOP electorate away from political newcomers like Trump and Carson and back toward veteran politicians.
There may be an opening: Just 5 percent of GOP voters in a recent Boston Globe–Suffolk University poll said Carson is the candidate best equipped to respond to the Islamic State militant group, better known as ISIS. However, Christie fared only slightly better at 7 percent. Trump, in contrast, was tops at 25 percent.
"Always in political campaigns there's this emphasis on new.... New can be wonderful. It's shiny, it's perfect, it's untouched," Christie said Tuesday. "But it's untested. New is not necessarily reliable. New seems fabulous until the moment comes when you need experience."