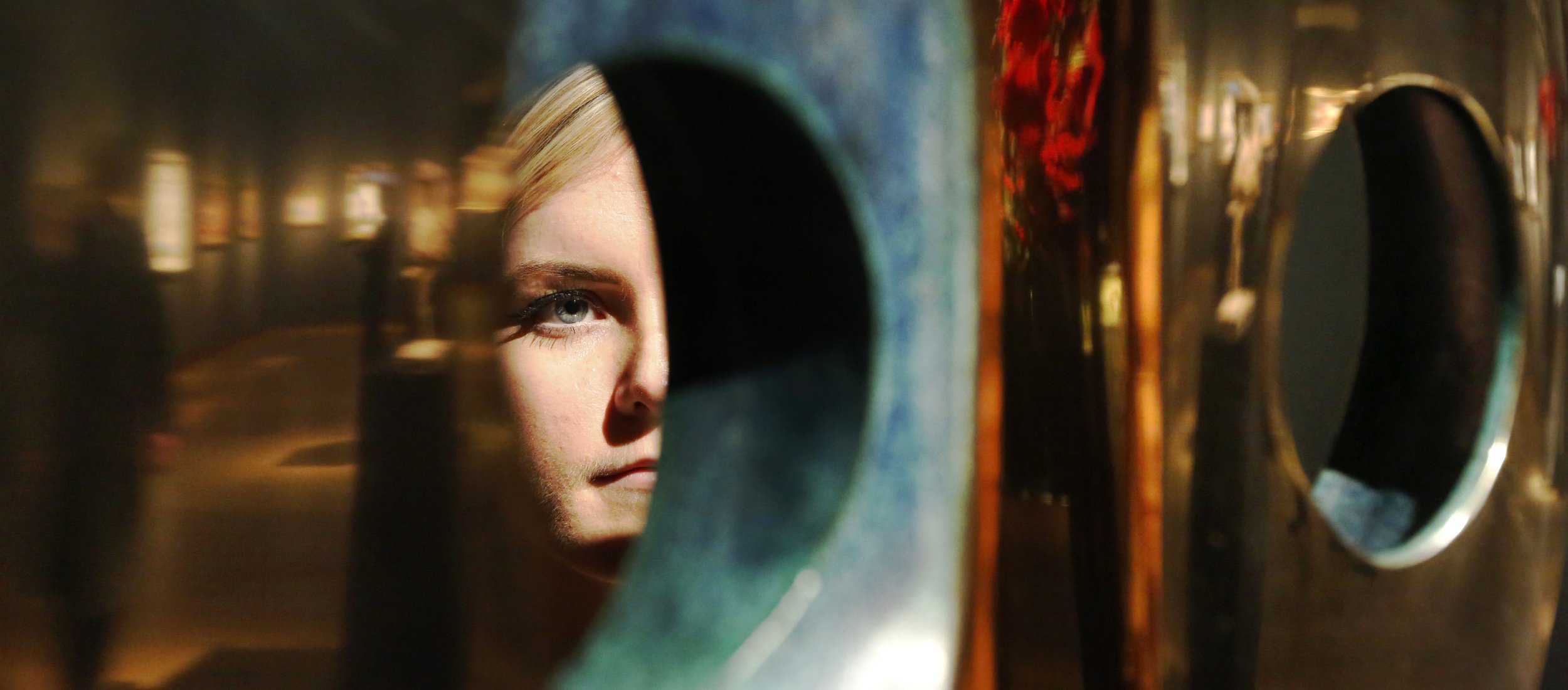 On November 12, Christie's, the largest auction house in the world, set a record by selling $691.6 million worth of art in a single night. The lots included a gnarled, surreal $142.4 million triptych portrait of the painter Lucian Freud by Francis Bacon and a $58.4 million bright-orange fiberglass balloon dog sculpture by Jeff Koons, the highest price ever paid for a work by a living artist. But despite the staggering numbers, the company is looking for even more. They're going to get it by embracing the secretive tendencies of the art market.
In a serene meeting room on the top floor of Christie's Rockefeller Plaza offices, Marc Porter, the baronial chairman and international head of private sales for the American department of the auction house, recently outlined its plan to take over the part of the art market it doesn't already control: behind-the-scenes deals made between collectors exchanging work that has already been sold out of artists' studios.
These private sales, which the art world calls the secondary market, were previously controlled by major commercial galleries like New York's Gagosian or David Zwirner. The sales provided a way for collectors to keep their buying and selling habits secret as well as creating a much-needed backdoor business for dealers whose expenses are high and profit margins on selling work by new artists low. But that system could be disrupted as auction houses step into the picture.
Dressed in a tightly tailored blue suit worthy of David Hockney, striped purple socks and a woven red tie speckled with orange spots, Porter stated Christie's ambitious goal: "We intend to be the largest secondary market art dealer in the world with the best artists on view, the broadest global network…and the best intelligence about who's in the market."
Christie's was founded in 1766 by James Christie, whose first auction included chamber pots and pillowcases alongside works of art. Christie made a name for himself as a conduit for major art deals, like the sale of politician Sir Robert Walpole's collection to Catherine the Great in 1778 for $64,000, or around $1 million in today's dollars.
The business has grown to more than 40 countries – it launched its first auction in India in December – and generated $3.68 billion in sales during the first half of 2013. Christie's private sales department has also grown from $185 million in sales in 2000 to $1 billion in 2012, or 16 percent of its overall business, according to statistics provided by the company. "There have always been privately negotiated sales at Christie's," Porter said. "About 50 percent of the market is traded privately," he said.
The notoriously unregulated art market is built on trust and reputation rather than hard contracts. Private sales can be an appealing way to protect those intangibles. "Collectors are inclined to sell privately when they don't want anyone to know they're divesting," Sarah Thornton, a sociologist and the author of Seven Days in the Art World, wrote in an email to Newsweek. A collector might be friends with the artist whose work he is offloading, or might want to flip a piece quickly for more than he paid without damaging his relationship with a dealer – and Christie's is more than happy to help him do so when galleries may balk.
Dealers want to protect their territory. "There's an implicit understanding between our clients and us that they will offer us work if they're interested in reselling it," said James Cohan, the founder of the James Cohan Gallery, a large space in New York's Chelsea art neighborhood with a branch in Shanghai that shows internationally acclaimed artists like Yinka Shonibare and Trenton Doyle Hancock. "It's about loyalty to the gallery, and like any business relationship… if people are loyal to us, we'll be loyal back to them," he said.
While galleries like James Cohan have the ability to offer collectors premier works by the artists they represent, auction houses have other advantages. They can reach the widest network of interested buyers with their auction research, may be able to net higher prices, and don't discriminate as much as a gallery would in selecting the perfect collector for a work. "Our commitment is to a very particular vision.… The soul of the gallery matters," Cohan said. Auction houses "come closer to treating the work of art as an asset class than we do."
However, that market-driven attitude might be to the auction house's advantage as the taste for high-end art buying grows beyond its niche beginnings (Jay-Z, Leonardo DiCaprio, and Steve Martin are all collectors). Galleries can be too intimidating and exclusive for outsiders. "Neophyte collectors feel reassured by the Christie's and Sotheby's brand names," Thornton explained. "They may not have cultivated relationships with private dealers."
As actor Daniel Radcliffe, an avowed art collector, discovered, it can be difficult to buy a piece even if you can afford it. Radcliffe was turned away from purchasing a Jim Hodges work by a New York City art dealer, who said he was "waiting for a more prestigious collector to take that." Now, Radcliffe can give Porter's team a call and have them hunt one down for him.
Or, Radcliffe could just go shopping. To capitalize on private sales, Christie's is also expanding its program of "selling exhibitions" where the work on display is discretely available to purchase. In late November, Christie's hosted an exhibition in London called When Britain Went Pop!, exploring the lesser-known British side of the Pop Art movement. The show included BDSM-inspired furniture-sculptures by Allen Jones, collage by Peter Blake, and Derek Bosher's Special K, an expressionistic riff on the cereal's iconic logo.
Unlike a normal museum show, one fourth of the 142 pieces on display were for sale. Of course, as the august art patron J.P. Morgan once purportedly said of the cost of his yacht, if you have to ask the price, you can't afford it. The works in When Britain Went Pop! ranged from $32,000 to six figures and beyond, according to Christie's.
Both Christie's and Sotheby's, the world's second-largest auction house, have dabbled in launching brick-and-mortar galleries to show and sell artists' work, but the results have been mixed. Christie's acquired Haunch of Venison gallery in 2007, to negative reviews, but shut it down earlier this year and folded it into the private sales department. Sotheby's S2 gallery, launched in 2011 in New York and 2013 in London, continues to provide a platform for the company's private sales. In 2012, Sotheby's reported $906.5 million in private sales, 17 percent of its total $5.4 billion.
As the two auction houses compete in an arms race to gather and sell the dwindling supply of modern art masterpieces left in the hands of private collectors, they are looking for every possible area of new market development. This is particularly the case with Sotheby's, which remains under pressure from its largest shareholder, hedge fund manager Dan Loeb. Private sales could provide the decisive advantage, making it easier for auctioneers to convince collectors that now is the time to sell while ensuring that their names don't appear in any headlines in the process.
Yet art collecting is ultimately driven by passion. For the auction houses, it could be difficult to cultivate collectors and nurture artists in the way that individual dealers do while focusing on economics and dealing with the bureaucracy of their large corporate structures. And without that feeder into the market, no future masterpieces would be made. "It's hard to have a gallery without a face," Cohan critiqued. "The soul of the gallery matters."
Soul or not, auction houses are still trying their best to corner the private sales market. With Christie's bringing its formidable resources to bear, galleries will find it increasingly hard to stop it from becoming the go-to clearinghouse for international art deals, a kind of Walmart for the most luxurious of luxury goods. "When buying or selling art," Porter said, we want people to call Christie's first."