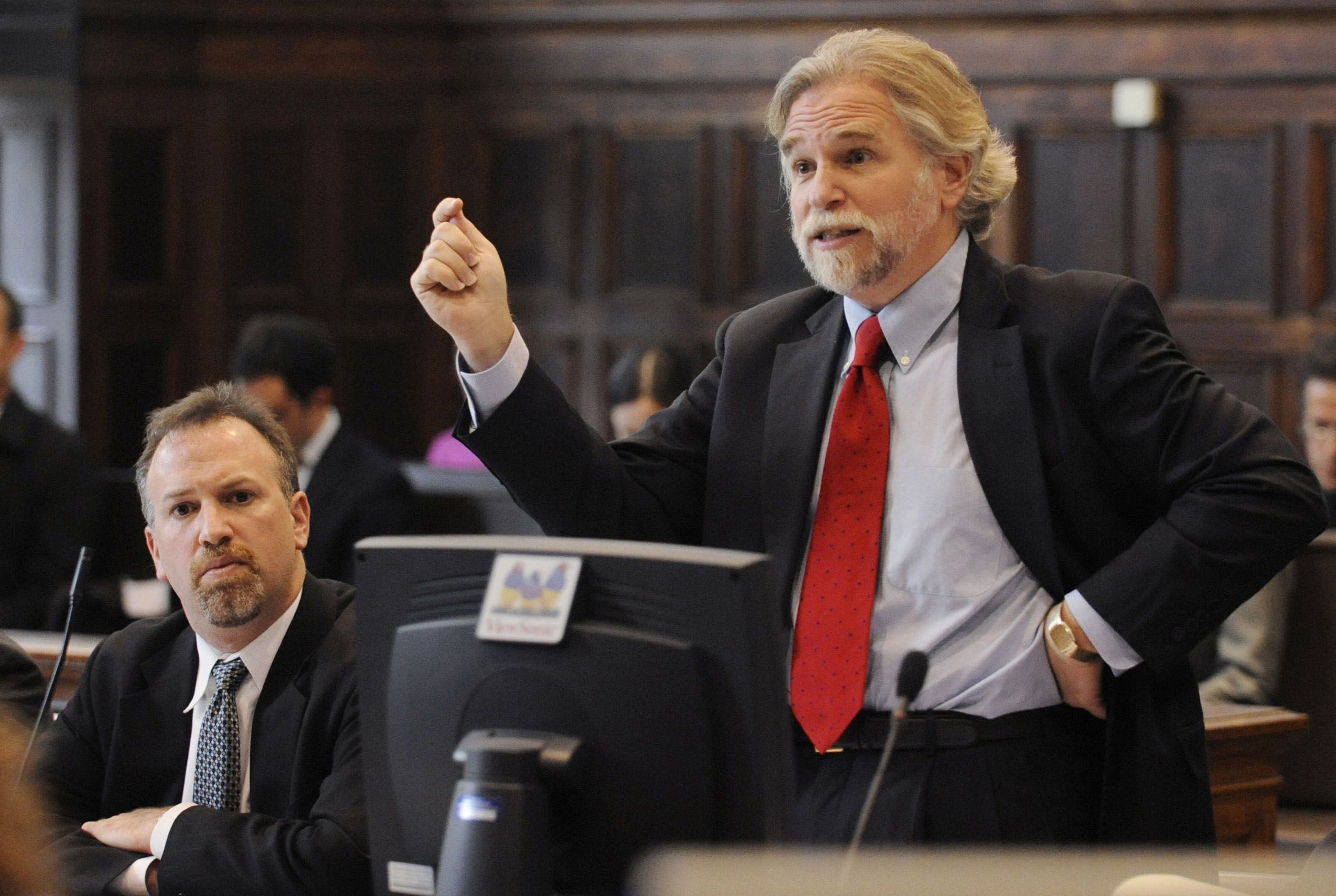 While vowing to "cooperate with all appropriate inquiries" into the politically motivated lane closures on the George Washington Bridge last fall, embattled New Jersey Gov. Chris Christie hired a lawyer last week to "assist with the internal review" into Bridgegate.
Christie's office announced Thursday that he had hired top-tier law firm Gibson, Dunn & Crutcher to "bring an outside, third-party perspective to the situation." Leading Gibson, Dunn & Crutcher's perspective-bringing will be Randy Mastro, a partner at the firm and co-chair of its Litigation Practice Group. Mastro, once an assistant U.S. attorney in the Southern District of New York, served as former New York Mayor Rudy Giuliani's chief of staff and deputy mayor for operations. Under Giuliani, Mastro cracked down on mob involvement in the Fulton Street Fish market and garbage disposal—and reportedly received death threats for his efforts. Of late, Mastro--said in the New Yorker to have occasionally "wielded a baseball bat during meetings, to accentuate a point" during his Giuliani days--has made headlines for his representation of Chevron in a landmark racketeering case against Ecuadorean environmental activists and their American lawyer, Steven Donziger.
Chevron alleges that Donziger's team -- which secured a $9.5 billion pollution judgement against the oil giant in Ecuador -- criminally conspired to defraud the oil giant. Mastro employed a novel use of an anti-mob statute, the Racketeer Influenced and Corrupt Organizations Act (RICO), to argue that Donziger's camp used extortionary tactics to wage their campaign against Chevron, similar to the way an organized crime ring would conduct business.
A judge has yet to rule on the case, but Mastro's recent cross-examination of Donziger gives some hints as to why he has a reputation as an aggressive litigator. When Donziger took the stand in what's been described as a "showdown," Mastro greeted him with a theatrical "We meet again… " and asked him how much money he could make from a victory against Chevron "to erode Donziger's professions of self-sacrifice," according to Bloomberg Businessweek, which said Mastro conducted a "blistering" cross with "palpable relish."
Christie, the former New Jersey Attorney General, has a rolodex full of good, tough lawyers, but this choice isn't a big surprise—Gibson, Dunn & Crutcher has been described in the New York Times as having "long served as Mr. Christie's private counsel" and as "lifeboat lawyers" for hard-to-win cases. And Mastro has a well-deserved reputation as an adept and pugilistic litigator who is loyal to friends and clients. By one count, Mastro is "at least the eighth Giuliani staffer to join Team Christie over the years." (The only surprising thing, perhaps, is that Mastro also represented the Port Authority in a 2011 lawsuit about toll hikes, prompting the agency to protest his appointment, according to the Wall Street Journal.)
Mark Green, New York City's first public advocate, says he often tangled with Giuliani and Mastro during his time in the mayor's office. "Rudy was a very muscular mayor in terms of log-rolling and menacing people he thought were against him on particular matters," recalls Green. "Randy was a leading enforcer of Rudy's political M.O., which brings us to Chris Christie. Because of Randy's proven smarts and skills, as well as his familiarity with 'My way or the highway' chief executives, he's a perfect choice to defend Christie in this matter."
Though Mastro is clearly a Giuliani guy, it's hard to pin down his political leanings. In 1998, when Mastro was leaving the mayor's office to return to practicing law, he told the Times: "I'm a Democrat working for a Republican who defies political stereotypes and who himself is an independent voice for New York City.'' According to voter registration data matching Mastro's listed address, he is still a registered Democrat.
Mastro has represented many rich clients, ranging from K-Mart to Anna Kournikova to a for-profit K-12 school chain, but he's also done high-profile pro bono work–plenty of it on cases that have kept his name in the papers.
In one pro bono case, he sued the left-leaning Working Families Party on behalf of the Staten Island Republicans. Mastro also introduced politically influential opponents of the Prospect Park West bike lane (including Iris Weinshall, one time New York City transportation commissioner and U.S. Senator Charles Schumer's wife) to another lawyer at his firm, Jim Walden, who then fought the bike lane pro bono.
Mastro also repeatedly sued the administration of the last mayor of New York, Michael Bloomberg, opposing its plan to build a stadium on the West Side of Manhattan; Mastro also unsuccessfully fought the implementation of taxi-hailing apps.
Mastro was the third biggest bundler for Democratic mayoral contender Bill Thompson in New York City's 2013 primary, raising $61,250. (Thompson bombed in the primary to the very left-leaning Bill deBlasio.) Mastro also bundled $27,300 for Republican candidate in the general election Joe Lhota, who got stomped by deBlasio.
According to campaign finance data, Mastro also made personal donations to Thompson and Lhota's campaigns, and even dropped a check on deBlasio ($4,950, $4,950 and $2,000, respectively.)
Those who have worked politics with Mastro told Newsweek they're not surprised by his range of clients nor donation recipients. Several think he's hedging his bets to smooth a potential return to a political post. (There are even rumblings that his name has been floated as a potential Republican opponent to Democrat New York Attorney General Eric Schneiderman, who is up for re-election next year, according to Daily News reports.)
"Randy is not a tea party ideological warrior," Green says. "Instead, he's a legal warrior who smartly wants to get along with major players on both sides of the aisle, hence his party affiliation and his Giuliani affiliation.
"He's not a left-wing guy or a right wing guy: He's a Mastro guy."
Neither Christie's office nor Mastro are commenting on the Gibson Dunn hiring.