Christie's Legal World of Woe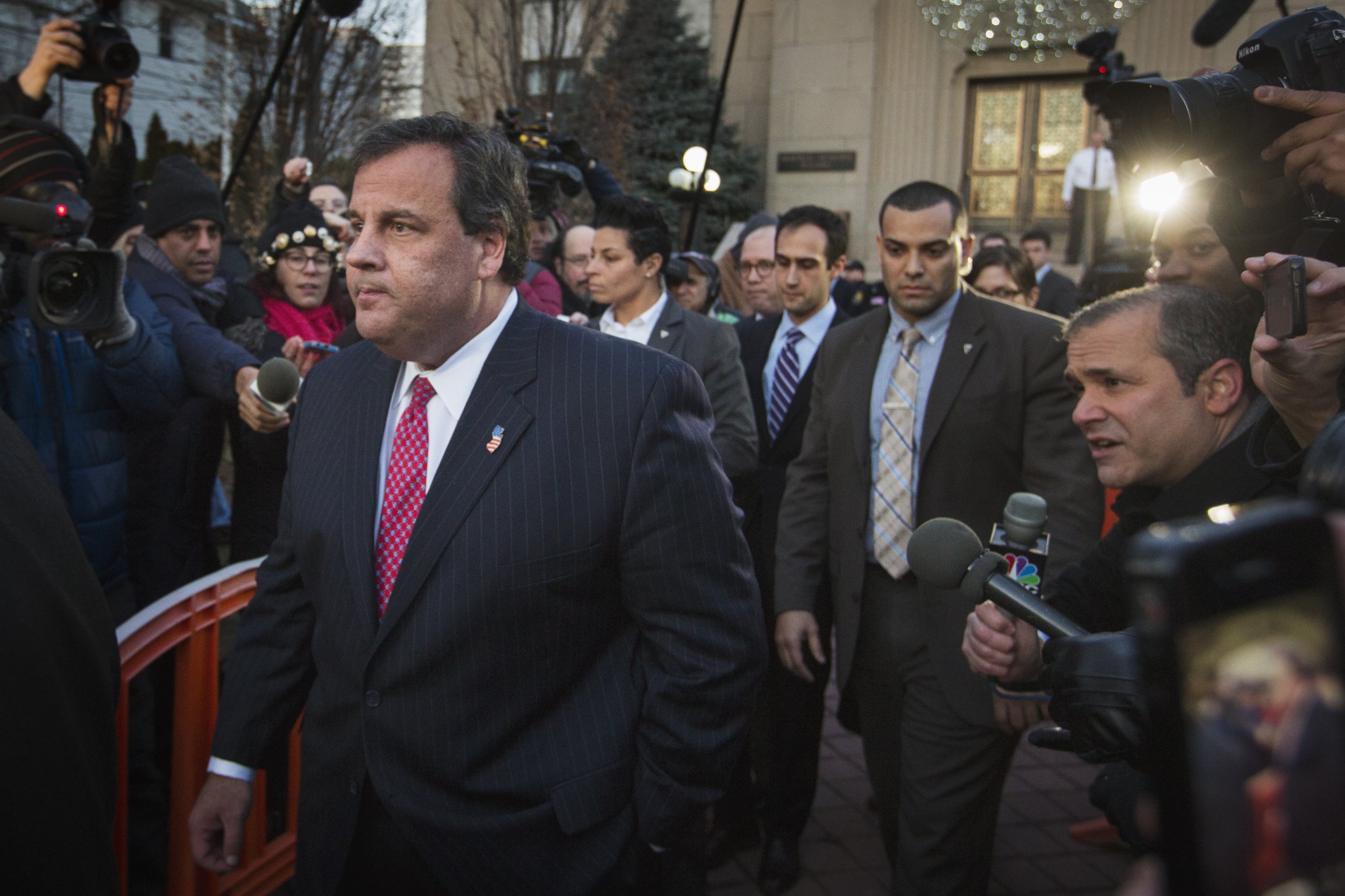 Chris Christie may have expressed many times how "sad" he feels about the punitive George Washington Bridge traffic jam, but, having been pulled over, he has a long way to go before he is given a green light to resume his presidential bid.
The Bridgegate incident is a legal quagmire for the New Jersey governor and his close aides, who are likely to find themselves facing both federal and state criminal investigations into the lane closures that stopped traffic in Fort Lee, New Jersey for four days in September, allegedly because the town's Democratic mayor refused to endorse Christie's reelection bid.
The full legal ramifications of the Bridgegate scandal took center stage Thursday when former Port Authority official David Wildstein, a Christie ally at the center of the scandal, refused to answer questions before a state Assembly committee hearing by pleading the Fifth.
"If the Attorneys general for New Jersey, New York and the United States were all to agree to clothe Mr. Wildstein with an immunity, I think you might find yourselves in a far different position with respect to information he can provide," Wildstein's attorney, Alan Zegas, told the committee.
It may be bad politics to invoke the Fifth Amendment right against self-incrimination, but it was the smart thing to do. "Any lawyer who was worth his or her salt would have advised him to do that," said Stephen A. Saltzburg, a criminal law professor at the George Washington University Law School. "Which tells you there is definitely concern here about a criminal investigation."
While there is political pressure to bring federal criminal investigations over the incident, whether or not charges may be laid against individuals is another question. While the United States attorney's office for New Jersey is known to be looking into the matter, nailing public officials for the lane closures will be difficult to achieve under federal criminal fraud statutes.
"There really is no general criminal offense of abuse of political power," said Stuart P. Green, a criminal law expert at Rutgers School of Law. "There's really no obvious basis for a criminal prosecution based on what we know today."
Going after abuse of power used to be easier under a legal notion called "honest services fraud," which allowed prosecutors to go after political officials who were denying constituents the services they were entitled to. It was a weapon Christie himself wielded in the days when he was a prosecutor who liked to bring corruption charges against politicians.
But in 2010, the Supreme Court threw out the "honest services" concept as too vague and problematic. Now, unless there are bribes or kickbacks involved -- which does not appear to be the case in Bridgegate -- it will be hard to mount a federal corruption charge.
"This looks like an abuse of power, but it's the kind of abuse of power that's meant to be dealt with in the political process rather than through the prosecution of a criminal case," Green said.
[Cartoon: Christie in the Corner]
The most likely way to get a criminal conviction under federal law -- and the way these sorts of political scandals tend to typically go -- is if there is evidence of a cover up. "If somebody destroys documents or lies to investigators, sometimes you get a prosecution for perjury or obstruction of justice down the road," Green said. "That's the way a lot of political scandals tend to unfold."
Already, officials at the Port Authority of New York and New Jersey involved in the scandal have heavily redacted communications released to investigating committees. Bill Baroni, the deputy executive director of the Port Authority who resigned last month, told lawmakers that the lane closures were the result of a traffic study. Even though he wasn't under oath, he could be guilty of attempting to obstruct justice if it turned out that the "traffic study" was a pretext and that he had therefore lied to lawmakers.
But there are other ways for the law to be brought against perpetrators of a politically motivated crime. Perhaps the most dramatic charges could be brought under federal conspiracy statutes. "I suspect there's going to be an investigation into conspiracy to retaliate against people for their voting, interfere with their right to vote for and support the candidate of their choice. I could even see a federal civil rights investigation into this," Saltzburg said. "That's very serious."
"It's a form of bribery, attempted bribery, attempting to get people to support you by threatening them," Saltsburg said. "Unless you give me your support, your town isn't going to get any benefits."
And there is more. Even if Christie, his aides and appointees dodge the federal conspiracy charges, they could be looking at malfeasance charges under New Jersey state law. "Misuse of public resources, the closing of resources for no reason other than personal gain in the sense of political gain, and that's malfeasance," Saltzburg said.
Under New Jersey law, official misconduct includes the "unauthorized exercise" of an official function "knowing that such act is unauthorized or he is committing such act in an unauthorized manner" for the "purpose to obtain a benefit for himself or another or to injure or to deprive another of a benefit." An expert in federal rather than state law, Green said that, on its face, that statute could certainly apply in this case.
Outside the criminal courts, New Jerseyans can sue their state in civil court for damages caused by the lane closures -- and at least one attempt has already been launched. On Thursday, six New Jersey residents filed a federal lawsuit against Christie, the state and the Port Authority over the traffic jams.
The best case outcome for Christie and those implicated in the scandal is that investigators decide that the governor has appropriately handled the situation and drop their investigations.
The worst case scenario, Saltzburg says, is a "criminal prosecution for conspiracy to violate voting rights or a prosecution for misusing public office -- or both."