Christie's Three-Step Comeback Plan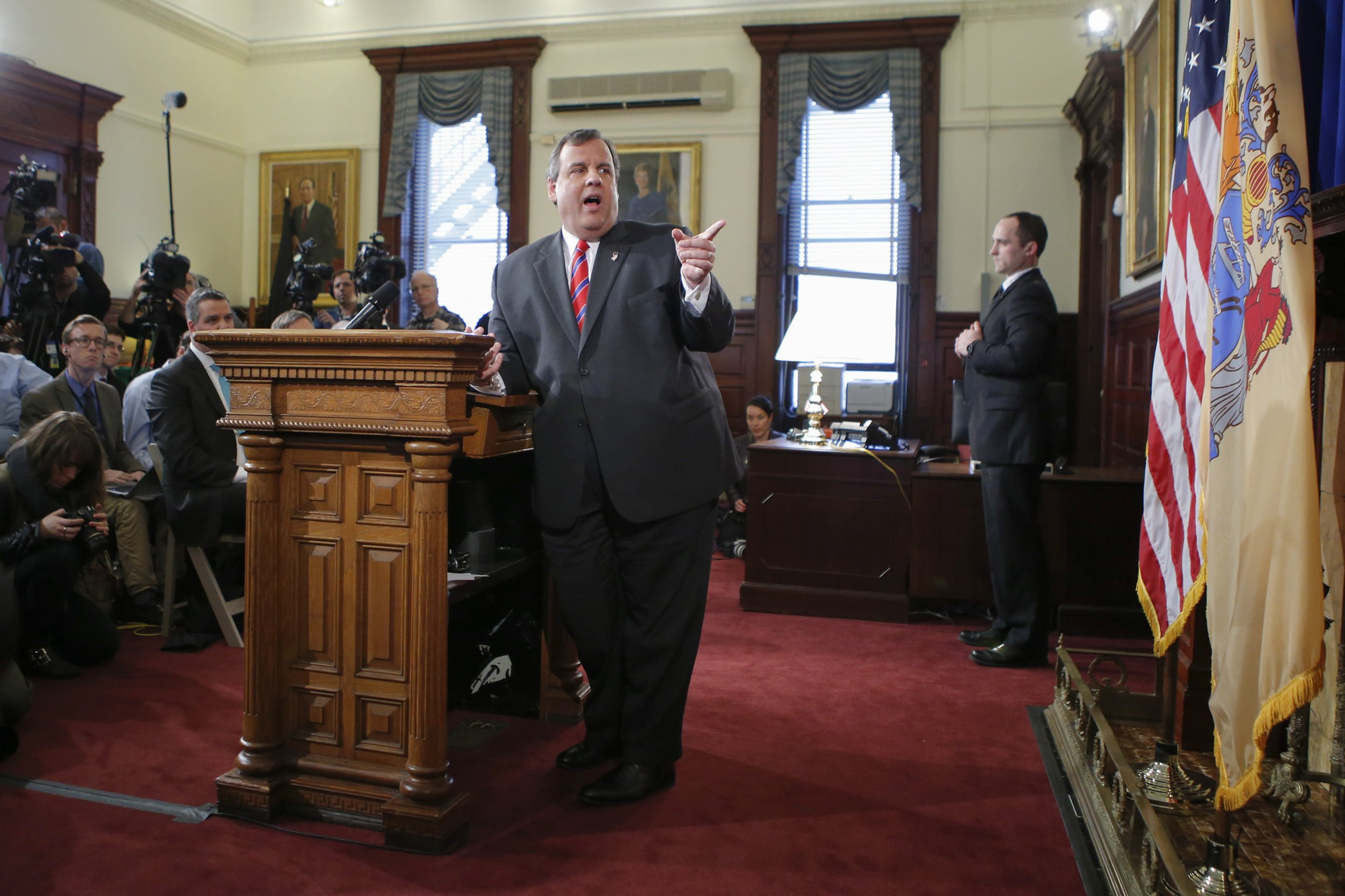 It's been a rough few months for New Jersey Governor Chris Christie. Once a Republican presidential hopeful, he saw his star start to wane in January when his top staffers and advisers were caught up in the scandal called Bridgegate.
His deputy chief of staff, his campaign adviser and his allies at the Port Authority for New York and New Jersey orchestrated a four-day traffic jam in Fort Lee, New Jersey, ostensibly as payback against the town's Democratic mayor. The scandal has led to a federal investigation and one from the legislature, while speculation swirls about whether Christie himself played a hand.
But Christie has a comeback plan. First, Christie's office released an internal report exonerating the governor of any role in the scandal. Next, Christie sat down for an interview with ABC's Diane Sawyer. Finally, on Friday he held a press conference to tout the report.
Step One: On Thursday, Christie's office released a 360-page report clearing the governor and his entire current staff of any wrongdoing regarding the George Washington Bridge jam. Top defense lawyer Randy M. Mastro led a team of lawyers in combing through the emails and phone records of the governor's staff, including access to Christie's own iPhone, phone records and private email accounts, according to the New York Times.
Sounds good for Christie. But Democrats and political observers are approaching the report warily. For one thing, it was commissioned by Christie and cost taxpayers at least $1 million.
Second, the high profile law firm that conducted the review, Gibson Dunn & Crutcher, enjoys close ties to the governor.
Third, despite conducting over 70 interviews in their investigation, the lawyers did not get around to interviewing the three key players in the scandal: Bridget Anne Kelly, who as deputy chief of staff to Christie sent the infamous email ordering "time for some traffic problems in Fort Lee"; David Wildstein, the former Port Authority official who received Kelly's email instruction and replied "got it"; and William Stepien, Christie's close adviser and campaign manager who was also mentioned on the lane closure emails.
Even without bothering to interview them, the report concluded that Kelly and Wildstein had orchestrated the scandal on their own. The report essentially exonerated Stepien, saying there was no indication he knew it was a political stunt rather than a traffic study, which was the Port Authority's pretext for the lane closures.
In addition to Bridgegate, Mastro also reported on allegations that the Christie administration withheld Superstorm Sandy relief funds for political reasons, as alleged by the mayor of Hoboken, New Jersey, calling the claims "unsubstantiated, demonstrably false and unbelievable."
Gibson Dunn & Crutcher's best efforts did not impress the New York Times's editorial board, which called the report a "whitewash."
Norm Ornstein, a fellow at the conservative American Enterprise Institute think tank, agreed. "The idea that this is an independent report and that [Randy Mastro is] not basically a lawyer for the defense I found almost laughable," he said on Friday on MSNBC.
Step Two: On Thursday night, Christie gave his first television interview since the Bridgegate scandal erupted, blaming his former underlings for the lane closures.
"Sometimes, people do inexplicably stupid things," he told Sawyer. The interview, which aired Thursday night on "World News," took place in the governor's home.
"It makes me feel taken advantage of. More importantly, I feel I let people down," said Christie, who has portrayed himself as a victim in the scandal. "But I do believe that what doesn't kill you makes you stronger."
Step Three: On Friday afternoon, Christie held his first press conference since his apologetic and chaotic presser on the lane closings on January 9. Christie, who answered questions for over an hour, appeared to be back to his pre-Bridgegate self: defensive, confident and quick to insult the press.
"I don't know whether you can't take notes or you can't listen," Christie told one reporter, before calling his question "awful and beneath the job you hold."
"You have to get the facts right if you're going to ask me a question," Christie snapped to another, cutting off her question.
Christie has a reputation for being bombastic, but some commentators read more than a return to form in the attitude he was displaying before the press. Namely, that if the press were seen to be going after Christie too avidly, that would endear him to Republican voters if -- assuming he is cleared of all charges -- he decides to run for the presidency.
"It's the liberal press corps and the liberal Democrats who are out to get me" theme, said Ornstein. "It's the best route he has if he's going to pursue national ambitions."
If Christie was hard on the press, he went out of his way to be kind to the Mastro's team of lawyers. Christie said he thought the well-regarded lawyers who authored would not have dared sacrifice their good reputations "to do some type of slipshod job for me."
He also defended his decision to hire Mastro and how the report was put together: "It is exhaustive and it is thorough and I don't have any second thoughts about who we selected for the process."
So how does Christie explain the conspiracy by his closest aides that brought him down? "I don't know if we will ever know what the motive is," Christie said. But he did admit that, to the extent his underlings felt free to commit a crime as heinous as causing the four days of needless traffic jams in Fort Lee that caused such misery to so many New Jersey residents, "That's my failing too."
So, what's next for Christie? He will fly to Las Vegas where he will address the Republican Jewish Coalition on Saturday. More importantly, he is expected to meet with conservative billionaire and mega-donor Sheldon Adelson, who, according to the Washington Post, spent $93 million on Republican candidates in the 2012 presidential election.
The likely meeting is part of what has been dubbed the "Adelson Primary," in which 2016 Republican presidential hopefuls try to win the affections of the free-giving casino magnate and his family. Christie was asked about a one-on-one meeting with Adelson during Friday's press conference but claimed he didn't know what his Las Vegas schedule entailed.
After Nevada, Christie, who continues to serve as the head of the Republican Governors Association (RGA), will attend the annual RGA gathering with donors in Park City, Utah.