As Britney Spears continues her legal campaign to be released from her conservatorship after 13 years, one of her oldest friends in the industry has vowed to keep supporting her.
Christina Aguilera, who has known Spears since they both appeared in Disney's The All-New Mickey Mouse Club in 1993, has reiterated her support for the 39-year-old pop star in an interview with the Los Angeles Times, after previously speaking out on Twitter.
On June 28—five days after Spears told a judge, "I just want my life back" in testimony that made headlines around the world—Aguilera posted a photo of the two singers as young girls.
She added the comment: "These past few days I've been thinking about Britney and everything she is going through. It is unacceptable that any woman, or human, wanting to be in control of their own destiny might not be allowed to live life as they wish."
Aguilera went on: "While I am not behind the closed doors of this very layered & personal yet public conversation – all I can do is share from my heart on what I've heard, read and seen in the media.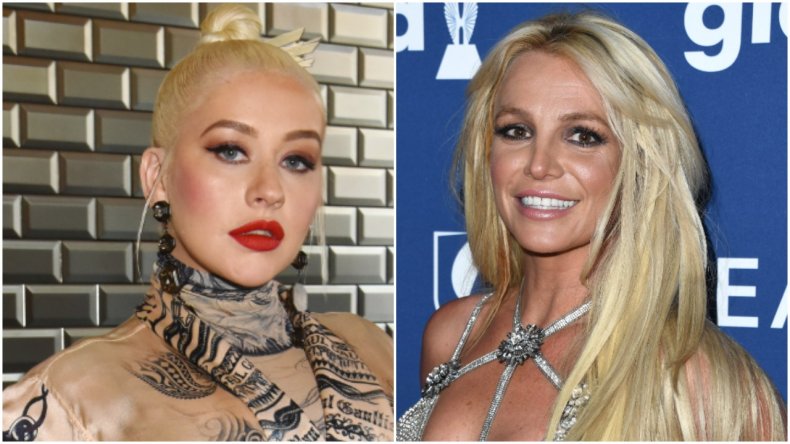 "The conviction and desperation of this plea for freedom leads me to believe that this person I once knew has been living without compassion or decency from those in control.
"To a woman who has worked under conditions and pressure unimaginable to most, I promise you she deserves all of the freedom possible to live her happiest life," she added. "My heart goes out to Britney. She deserves all the TRUE love and support in the world."
In Aguilera's interview with the Los Angeles Times, which was published on Thursday, the "Beautiful" singer was asked when the photo she posted on Twitter had been taken.
"It was from our days in the Mickey Mouse Club," she replied. "We were 11 or 12, babies in the business together, which is so amazing to come full circle—to both be able to have the success that we've had.
"It was a beautiful thing to look back at those pictures; there's such a glow in our eyes. It was a great experience to have, not only with the two of us but all the kids—Justin [Timberlake] and Ryan Gosling and all of us came up together on that show. What a casting director. But shoot—we've been working since we were little kids."
Aguilera concluded: "We all deserve some happiness. I'll always be supportive of Britney."
She is one of a number of stars who have spoken in Spears' defense as the singer seeks to be released from the legal arrangement that has allowed her father, Jamie Spears, to control her personal and financial affairs since 2008.
On Wednesday, the "Toxic" singer was granted permission to appoint her own attorney. She is now represented by Matthew Rosengart, a high-profile Hollywood lawyer.
"I'm here to get rid of my dad and charge him with conservatorship abuse," Britney Spears told Judge Brenda Penny on Wednesday, adding that she was "extremely scared" of her father and that "this conservatorship has allowed my dad to ruin my life."
"I am not perfect, but their goal was to make me feel crazy, and I'm not and that's not OK," added the mother of two.
Jamie Spears' lawyer Vivian Thoreen said he had no intention of resigning as conservator, adding: "Many of her [Britney Spears'] characterizations and memories are just incorrect."