Christina Aguilera Lip Injection Rumors Swirl After Whitney Houston Tribute at AMAs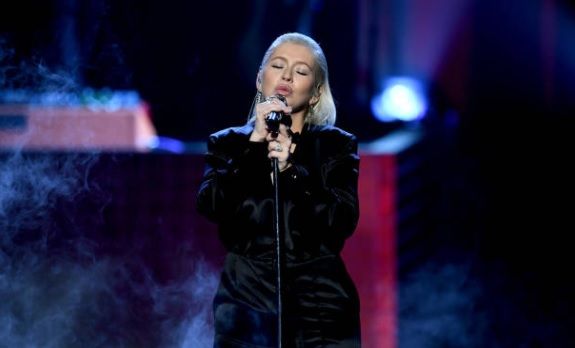 All eyes were on "Your Body" singer Christina Aguilera at the 2017 AMAs on Sunday—and not for the right reasons. While some people accused Aguilera of being off tempo during her tribute to Whitney Houston, others couldn't get past her pout, which looked larger than usual.
Viewers took their speculation to Twitter, where many accused the vocalist of enhancing her lips with injections. Aguilera didn't immediately respond to the criticism.
Instead, she took to Instagram to post a picture of herself in bed. The singer wrote she was "still reeling" from honoring Houston. Aguilera sang a medley of hits from Houston's legendary film The Bodyguard, belting "I Will Always Love You," "I Have Nothing" and "Run to You," and finished with "I'm Every Woman."
Aguilera's photo was liked more than 161,000 times by her 4.3 million followers. Some argued whether she did a good job with her performance, while others questioned if she'd cosmetically enhanced her face.
While fans debated about the singer's lips, Pink denied that she shaded Aguilera. When Aguilera took the stage, she struggled to find the right key to "I Will Always Love You." It looked like Pink cringed—and the Internet went viral with memes. But Pink, who'd had a feud with Aguilera in the 2000s, quickly shut down the gossip.
"Yes. THIS. Christina fucking killed it tonight for one of our favorite singers ever. This [is] about Whitney, and I am in awe of Christina's talent. Show the clip where I'm in tears, you negative Nancys," she tweeted on Sunday.
The singers ended their famous feud last year. "She's so talented, and deep down I've had bad days too," Pink said in October on Watch What Happens Live with Andy Cohen. "She's a really sweet person. We made up on The Voice. I mean, it was funny, I laughed. I hadn't seen her in years and years and years."
The stars worked together on "Lady Marmalade" and reportedly fought over who would get the best verse in the song. The feud got so tense that Aguilera reportedly tried to take a swing at Pink in a bar. "We were super young and super new at the whole thing, and I think I'm an alpha, and she's an alpha," Pink said. "I'm used to taking my altercations physical, and she's used to having them verbal. We're just very different, we're very different. And we were very young and new.
"You have to learn—women have to learn how to support each other," she continued. "It's not taught to each other in the playground."
Christina Aguilera Lip Injection Rumors Swirl After Whitney Houston Tribute at AMAs | Culture