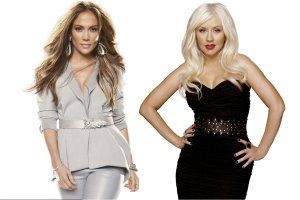 Her movie career was basically over. Her music made tweens yawn. She was so jinxed, she even fell onstage in front of millions. Then she signed a deal to appear on a talent show, and the buzz began again about how wonderful she looked.
Three months after Jennifer Lopez turned to American Idolto fix her broken career, Christina Aguilera is trying the same trick. She debuts this week on NBC's The Voice, which is based on a Dutch hit talent show where celebrities judge contestants without seeing what they look like. "There's a much happier, confident woman portrayed on the show than you ever thought," says Carson Daly, The Voice's version of Ryan Seacrest.
Viewers are already relishing the prospect of a diva face-off, as NBC tries to win over Idol fans with a younger panel of star judges that includes Cee Lo Green, Adam Levine, and Blake Shelton. Underscoring the potential rivalry: both J. Lo and Aguilera will themselves be singing on their respective shows.
On American Idol, J. Lo quickly shed her frosty-diva persona to become television's emoter in chief. She nurtures the contestants, laughing amiably between sugarcoated critiques. She even cries on cue when the contestants are voted off. It's a far cry from the tantrum-throwing clotheshorse the tabloids tormented.
Mark Burnett, who's worked with J. Lo before and is now executive producer of The Voice, has only nice things to say about the competition. "People love Jennifer Lopez," he says. It's not her that's changed, it's the perception. "If millions of people are with you as a viewer every week, they get to know you better." Aguilera comes to this week's debut with similar problems. She got a divorce. Her debut movie, Burlesque, wasn't even campy enough to be the next Showgirls. And then she forgot the lyrics to the national anthem at the Super Bowl.
Aguilera is coy about comparisons to Lopez. She says she's never seen Idol before and can't even name all the judges—despite the fact that she made a guest appearance just last year. "This is a really interesting time to show my own personal side that my friends get to see," she says. Aguilera says she plans to talk about some of her travails on the new show. "I've definitely gotten stronger in light of everything that's happened," she says. "I'm so proud of myself to get through these things, to get back on my feet…This is a new beginning for me."
Audiences will be the ultimate judge of which, if either, star sustains the comeback. And Lopez already has a big head start: Idol's ratings are up since her arrival, and her new single, "On the Floor," has sold an impressive 1.2 million downloads. Of course, one word of caution. About a decade ago, another struggling diva remade herself on a hit TV series. Has anybody heard from Paula Abdul lately?