Christina Hendricks on NBC's 'Good Girls' and How She Felt Like a Pioneer on 'Mad Men'
Christina Hendricks went against the advice of her agents when she accepted a role on a show about an ad agency set in the 1960s on AMC, a cable channel that at the time had never done a scripted show. That show was Mad Men, and it changed television, elevating it to cinematic status and solidifying cable channels as major players on TV. Now Hendricks is setting out to bring network TV into the cinematic realm with NBC's Good Girls, now in its third season.
"I sort of felt like a pioneer with Mad Men," Hendricks told Newsweek Conversations about the moment she decided to do Good Girls. "So I thought, why not go back to network and change it over there?"
Good Girls, which also stars Mae Whitman and Retta, follows three women down on their luck who turn to crime to make ends meet. Hendricks plays Beth, the leader of the group.
"I think a lot of people just sort of feel like they would be friends with us, and they would come along for the ride," Hendricks said, describing why she thinks fans respond so positively to the show. "It's this sort of release because it's fantasy. It's sort of like, 'Oh man, I wish I could just go in and rob a grocery store and take it all.'"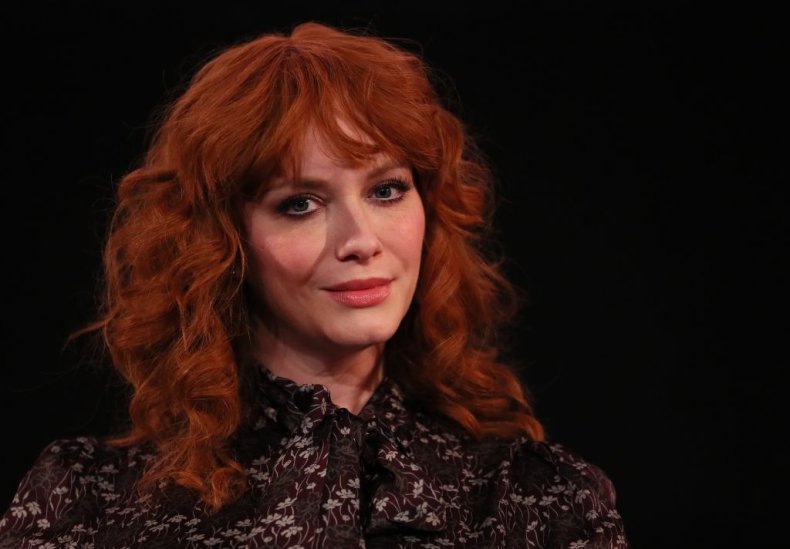 Each season has seen the women grow and become more comfortable with their criminal double life. At first, the women messed up "all the time," Hendricks said. 
"We continue to mess up. We don't know what we're doing, and it's fun to watch."
But all that changes in season three.
"Season three would be, 'well, we're already in it. We might as well be really good at it,'" Hendricks said.
For a show entirely led by women (from the cast to the show creator, Jenna Bans), one thing that makes the show stand out from others is that it came about at the height of the #MeToo movement.
"It was timely for our show because we were sort of addressing some of these things in our show," Hendricks said. She said she does notice "changes in the industry" and hopes shows "think out of the box" like they have on Good Girls.
"Find those talented women that are out there and give them the chance because they can't get experience unless you give them the chance. I hear it every day and I've seen it in action. I think there's a long way to go, but I really, truly believe that people are definitely making moves to change."
Good Girls airs Sundays on NBC.
Watch the full interview with Christina Hendricks on Newsweek Conversations.