Who are Christina Koch and Jessica Meir? NASA Launches First All-Female Spacewalk
On Friday morning, Jessica Meir and Christina Koch are set to make history by completing NASA's first-ever all-women spacewalk.
The women are set to make history beginning around 7:50 a.m. ET, when they venture out of the International Space Station to replace a power controller that went out of commission over the weekend. The all-female spacewalk was originally scheduled for October 21, but NASA pushed the date forward to address the urgent repair to the power system.
It will be Koch's fourth spacewalk and Meir's first. Here are some things to know about each woman: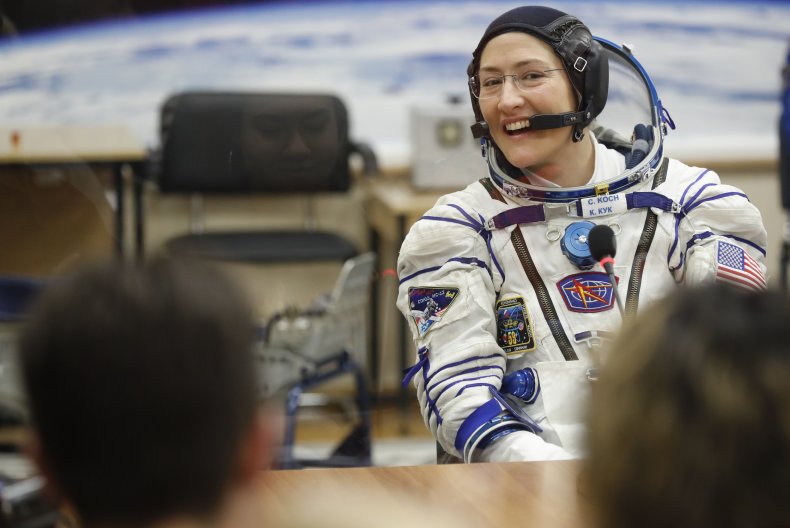 Christina Koch
Koch, 40, is an American astronaut who was born in Grand Rapids, Michigan. She is an engineer with a bachelor's degree in electrical engineering and physics and a master's degree in electrical engineering, both from North Carolina State University.
She was selected by NASA in 2013 and took her first spaceflight as part of Expedition 59, 60 and 61. Koch is on track to set a record for the longest single spaceflight by a woman, with an expected 328 days, according to NASA's website.
On Tuesday, Koch tweeted a photo from her last spacewalk.
"Curb appeal. It's not often I get to see my house from the outside. This photo I snapped on my spacewalk last Friday captures the habitable modules that I have called home for the last eight months," Koch tweeted. "Pretty lucky to be living inside an engineering marvel."
Her Twitter profile description states, "Looking forward to sharing my journey with you!"
Jessica Meir
Meir, 42, is a Swedish-American-Israeli astronaut who was born in Caribou, Maine. She is a physiologist with a bachelor's degree in biology from Brown University, a master's degree in space studies from the International Space University and a doctorate in marine biology from the Scripps Institution of Oceanography.
She did physiology research at Lockheed Martin's Human Research Facility from 2000 to 2003 and was also selected by NASA in 2013. Meir took her first spaceflight for Expedition 61 and 62.
"This is how it feels when in addition to your childhood dream being fulfilled by arriving to @Space_Station, you're greeted by your Astro-brothers and sisters on the other side of the hatch," Meir tweeted on September 29, after arriving in space for the first time.
Meir's Twitter profile description reads: "Comparative physiologist. Explorer. Nature lover. Current resident of the International @Space_Station."
On Wednesday, she expressed enthusiasm about the spacewalk and encouraged Twitter users to tune in.
" Gearing up for Friday's spacewalk to help the ground teams repair one of the battery channels with @Astro_Christina ... first spacesuit selfie, check!" Meir tweeted. "Photos will be much more spectacular once we pass through the hatch. Be sure to watch live."
For those interested in watching the two women on their spacewalk, NASA will begin the live stream on their website at 6:50 a.m. ET
Who are Christina Koch and Jessica Meir? NASA Launches First All-Female Spacewalk | News