Christina Nance Died in a Police Van. Her Family Fear They Will Never Know Why
The family of an Alabama woman found dead in a police van fear they may never know what happened to her, as they continue to question the circumstances around her death.
Christina Nance's body was discovered by a police officer inside the van in the parking lot of the Huntsville Public Safety Complex on October 7.
Madison County Coroner Tyler Berryhill said an autopsy showed no signs of foul play or trauma. Nance's cause of death will be determined after further tests, including toxicology, are complete.
Frank Matthews, a cousin of Nance's and a spokesperson for the family, told Newsweek that the family is concerned they may never get answers about how she died.
"We certainly have worries," he said, adding that the family may have to go ahead with funeral plans without getting the private autopsy they wanted.
He said the family has contacted forensic pathologists in Alabama and other neighboring states, but received no response. "We reached out to four different pathologists in three different states plus Alabama," he said. "None responded to us."
Police have said video footage from a city surveillance camera shows Nance entered the van on September 25. Twelve days later, her body was discovered by an officer who noticed shoes outside the van. The footage was shown to reporters at a news conference on October 15.
In a news release, police chief Mark McMurray said investigators met with Nance's family that morning to show them the video of the moments leading up to Nance's death. "We will continue to work with them through this difficult time," he said in a statement.
Matthews said officers showed the family a different version of the footage to that which was shown during the news conference. He said the version shown to the family was "grainy" and that they were not convinced it was her in the video.
Nance's sister Latausha Nance said she had hoped the video would show what had happened to her sister. "I was thinking everything was going to be clear, there was going to be some type of clear indication... of how she died, and there wasn't," she told a local news station. "Everything was blurry. I don't even know if that was my sister."
Matthews also said he had turned up to watch the footage with Nance's mother and three other relatives that morning, but the officer leading the investigation would initially only allow two people to view it.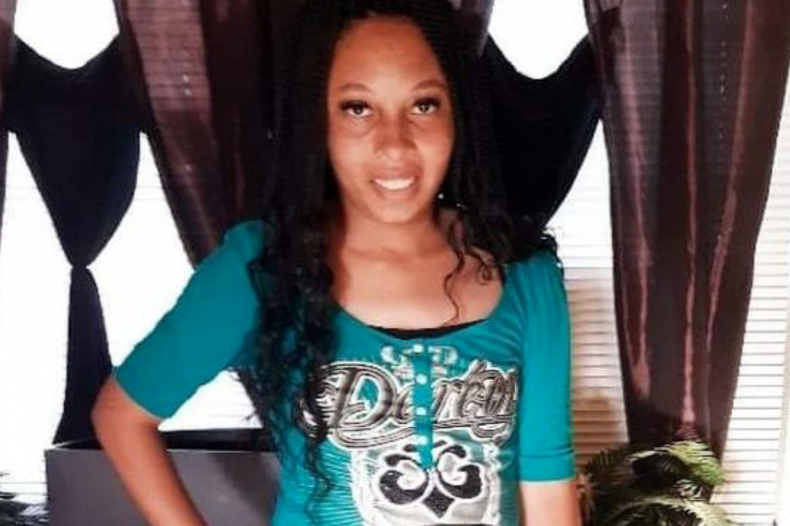 "You wouldn't believe how we've been treated," Matthews said. "He comes out and he says, 'okay, what are all these people doing out here?'... I'm like, 'Sir, you need to be careful how you address us because y'all have been very disrespectful to this family.'"
Matthews described a dispute that became so heated that he and the other family members left the building, before turning back because they decided they needed to watch the footage before it was released to the public. Ultimately, four of the five family members viewed the footage, he said.
Sgt. Rosalind White, the Huntsville Police Department's public information officer, told Newsweek: "Four people from the family viewed the video at Huntsville Police Criminal Investigations Division. Investigators explained to the family, only immediate family members and a legal representative or spiritual leader could be in the room when the video was shown.
"The footage shown to the family is the same footage released publicly. We have posted the unedited footage on the City's website, and anyone can download a copy, including the family."
White said investigators have called the family three separate times since October 15, and the family has not returned any phone calls.
Huntsville police said the video shows Nance walking around the parking lot used by police officers, lying down in the bushes, sitting on the hood of a police car and approaching other vehicles before entering the van through the rear door and trapping herself inside.
Matthews also said that an officer told the family that police had clearer footage, but did not show it to them. "He just kept saying, 'we have a clear video.' If you got a clear video, why aren't we seeing it?"
Matthews said a copy of the video was not given to them. "We do not accept none of what they showed the family," he said. "We request any and all videos, specifically the video they said that they gave to the family... we did not get any video, period."
Matthews said the police department's version of events raises further questions, including why no-one smelled Nance's remains when police said the van windows were open.
He also said he was told that neither the officer who discovered Nance's body nor the officer leading the investigation were wearing masks when they approached the van on October 7.
"I said, did you smell anything?" Matthews said. "He said no. I said the other officer that found the body when you talked to him, did he smell anything? He said, I don't know.
"The area in which the van was during the week, that is a busy area, people walk by the van all the time. After three days, you can smell a body a quarter of a mile away... if the van window was open, and if that many people saying that area is busy during the week, how is it that the chief investigator came on the scene [and] he did not smell a carcass?... That is unnatural. Totally 100 percent impossible."
Police said the van had been bought by the department in 1995 to transport inmates, but was later used to transfer evidence. It had not been used since March, police said.
At the news conference, deputy police chief DeWayne McCarver told reporters that it is department policy to keep those vans locked. "All city vehicles should remain locked any time they are not in use or occupied," he said. "Sometimes, you just have to say that was something that shouldn't have happened. It did."
Asked if any action had been taken to ensure a similar incident doesn't occur in the future, White said: "As stated, it is HPD Policy that all vehicles are locked."