Christine Blasey Ford Said She Was 'Fighting For Her Life' During Alleged Brett Kavanaugh Assault, Friend Recalls
When recounting the night when Brett Kavanaugh allegedly sexually assaulted her, Christine Blasey Ford told a close friend that it felt like she was "fighting for her life."
"She said she had been assaulted. She said hers had been violent as well, physically scary, fighting for her life," Rebecca White, one of Ford's close friends and neighbors, told The Mercury News.
White said that Ford first confided in her about Kavanaugh after White posted her own #MeToo story online about being raped as a teenager.
"She reached out to me afterward, supporting me and my story and that she had something happen to her when she was really young and that the guy was a federal judge," White added.
Ford has alleged that Kavanaugh sexually assaulted her during a high school party over 30 years ago. She has claimed that Kavanaugh, then 17, was "stumbling drunk" and pushed her down onto a bed before groping her and attempting to assault her. At one point, she said, she thought he might kill her. This all happened as one of Kavanaugh's friends, Mark Judge, watched, she said.
Donald Trump's Supreme Court nominee has denied the allegations, telling The New Yorker in a statement, "I did not do this back in high school or at any time."
In an exclusive interview with The Washington Post, Ford said it has been difficult to watch as Kavanaugh has ascended through the judicial system. After Justice Anthony Kennedy announced his retirement from the Supreme Court in June, Ford knew that Kavanaugh would be a contender to replace him.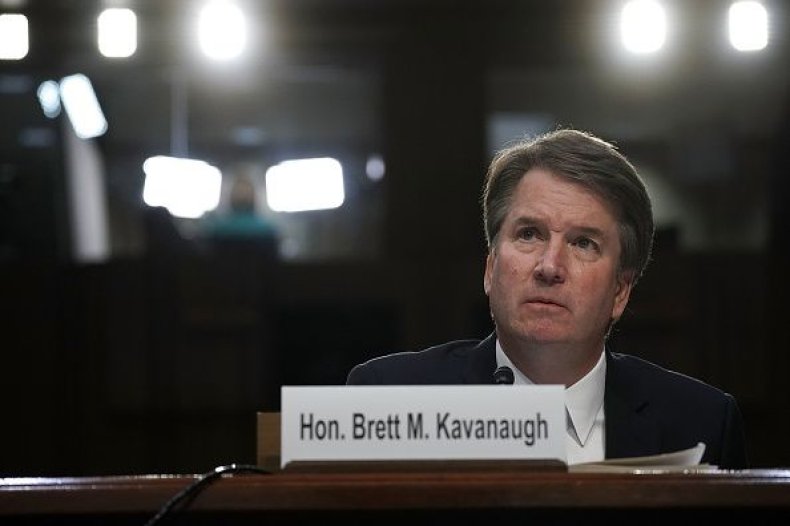 It was then that she wrote a confidential letter to a senior Democratic lawmaker describing the sexual assault. She signed the letter as Christine Blasey, the name she uses professionally, but expected her story to be kept private.
Her story leaked anyway, after The Intercept reported last week that Senator Dianne Feinstein had the letter and was withholding it from her Democratic colleagues on the Senate Judiciary Committee. Feinstein said in a statement that the individual behind the letter "strongly requested confidentiality" and that she had "honored that decision."
Soon afterward, news organizations were reporting the letter's contents but did not reveal Ford's identity. As the story unfolded, Ford began to notice multiple reports with inaccuracies and decided to come forward and tell people what really happened.
Knowing that the validity of her statements would be questioned, Ford willingly took a lie detector test, which she passed. She also released notes from sessions with her therapist, to whom she had confided about the sexual assault in 2012.
Another friend of Ford's said that she almost didn't come forward because she worried that because the alleged sexual assault wasn't "actual rape, it's not going to do any good." Ford was also convinced that even if she told the public about the attack, Kavanaugh would still "go through" the confirmation process and be appointed to the Supreme Court.
"Do I want to put myself through this?" Kirsten Leimroth remembered Ford asking herself before speaking publicly about the incident.
Now, Ford and Kavanaugh will both testify on the assault allegation during a public hearing before the Senate Judiciary Committee next Monday. A White House spokesperson said in a statement that Kavanaugh "looks forward to a hearing where he can clear his name of this false allegation."
Trump has continued to praise his nominee, telling reporters in his first public comments since the allegations surfaced that Kavanaugh is "one of the finest people that I've ever known."
The president added that he supports going through a "full process" of investigating Ford's allegations and insisted that "it will, I'm sure, work out very well."