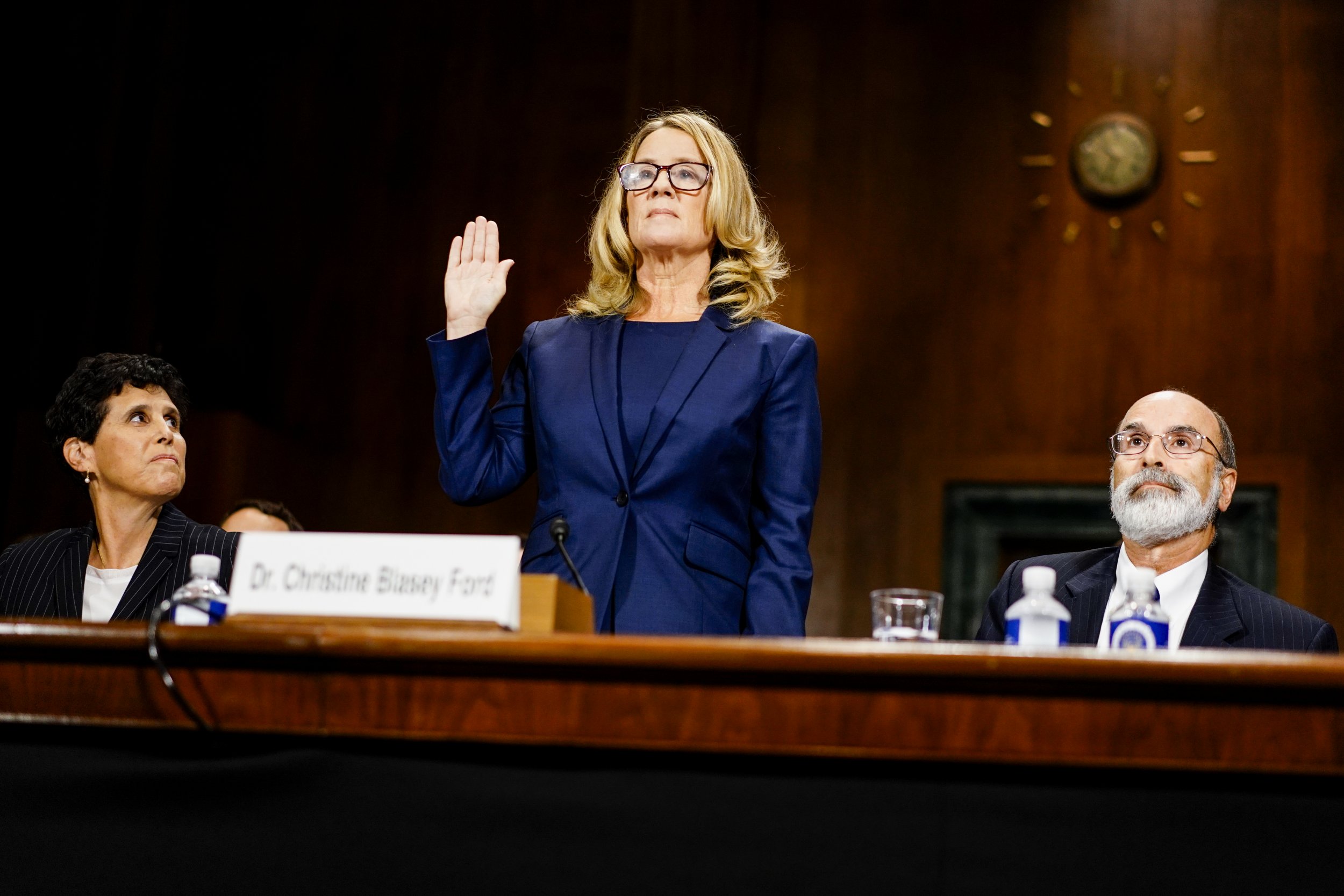 Christine Blasey Ford has been named Person of the Year in a new awards program by an organization called Raliance, whose goal is to end sexual violence.
Last year, Ford testified before the Senate Judiciary Committee after she came forward to accuse Supreme Court nominee Brett Kavanaugh of having sexually assaulted her at a house party more than 30 years earlier.
Despite Ford's testimony, the Senate confirmed Kavanaugh's appointment to the Supreme Court. In the months since she appeared before committee, Ford, a university professor, has faced death threats and harassment, and was forced out of her own home over fears for her safety.
In a statement, Raliance, which issues a series of awards to honor champions against sexual violence, said organizers chose Ford because she was a "passionate and public champion for survivors of sexual assault.
"Her testimony in the confirmation hearings of Justice Brett Kavanaugh had a global impact on how we respond to and support survivors of sexual assault," Raliance said.
"Dr. Ford's sacrifice in sharing her experience, and the difficulties she subsequently endured, brought much-needed attention to the importance of supporting and believing survivors," the organization said in bestowing the award.
Along with Ford, Raliance also honored Representative Gwen Moore, a Wisconsin Democrat, with its Policy Maker Award, celebrating the congresswoman for her work as a "tireless advocate for women's rights and civil rights issues, including sexual assault, domestic violence and women's health.
"She is a strong champion for the ongoing attempt to reauthorize the Violence Against Women Act as well as its previous authorizations in 2005 and 2013," the organization said. "Representative Moore has made a meaningful difference in the movement to prevent sexual assault by pushing for federal legislation that protects all survivors."
The organization also honored Tony West, the chief legal officer at Uber as a Corporate Innovator for helping to lead Uber's "transformation on sexual assault response," with West being the "first to remove the requirement of mandatory arbitration for sexual assault survivors in the rideshare industry."
Indira Henard, the executive director of the D.C. Rape Crisis Center, was also honored for her efforts as a "community leader who has made significant contributions on a national and local level, particularly during Brett Kavanaugh's confirmation hearings."
According to Raliance, Henard provided services and support to "an unprecedented influx of survivors in D.C. and offered her expertise on sexual assault in response to policy and the media.
"As we commemorate Sexual Assault Awareness Month in April, Raliance is proud to celebrate these individuals who have inspired their communities, organizations and institutions to champion changes that make sexual violence prevention possible," Monika Johnson Hostler, Raliance managing partner and president of the National Alliance to End Sexual Violence, said.
"We all play an important role in raising awareness about sexual harassment, misconduct and abuse and educating our communities on how to prevent all types of sexual violence," she said.