Christine Blasey Ford Sends Senators Sworn Statements Backing Sexual Assault Allegations: Report
Christine Blasey Ford has reportedly sent the Senate Judiciary Committee sworn statements from four people to support her claim that Supreme Court nominee Brett Kavanaugh sexually assaulted her in the 1980s.
The statements, which were first reported by USA Today, reportedly include signed documents from Ford's husband and three friends. Attorneys for the California college professor reportedly plan to use the declarations during a hearing before the committee Thursday.
In one letter, Ford's husband reportedly said his wife first disclosed that she was a survivor of sexual assault around the time they got married. He said she later revealed the full details of the alleged incident during therapy sessions in 2012, an assertion that aligns with Ford's own claim.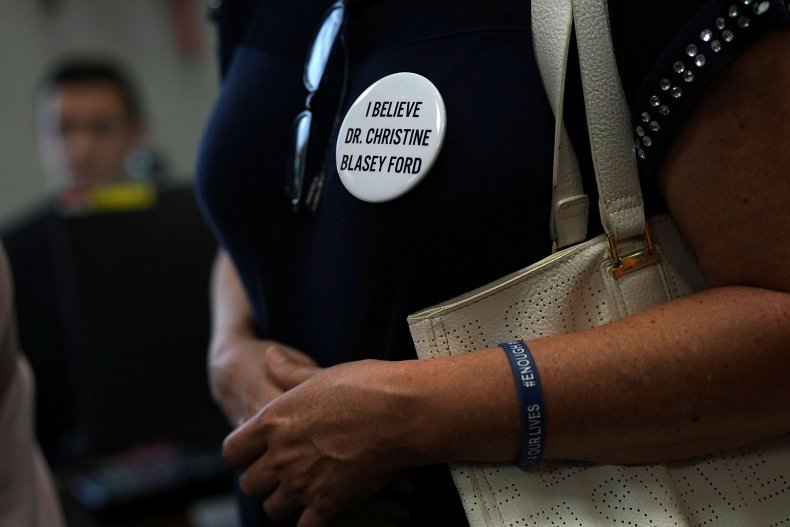 In another statement, a friend of Ford's, Adela Gildo-Mazzon, said she first heard about the alleged incident during a dinner with Ford in 2013.
"During our meal, Christine was visibly upset, so I asked her what was going on," Gildo-Mazzon reportedly said in her declaration.
"Christine told me she had been having a hard day because she was thinking about an assault she experienced when she was much younger. She said she had been almost raped by someone who was now a federal judge. She told me she had been trapped in a room with two drunken guys, and that she had escaped, ran away and hid," Gildo-Mazzon said in her statement.
An email exchange with family friend Keith Koegler reportedly shows that Ford told him about the alleged assault in 2016, in the wake of the sentencing of former Stanford University student Brock Turner, who was found guilty of sexually assaulting a woman on campus.
Koegler, who met Ford while coaching her son's baseball team, said the allegations came up again on June 29, 2018, two days after Justice Anthony Kennedy, who Kavanaugh has been expected to replace, announced his resignation from Supreme Court.
He alleged that Ford had revealed to him in an email that the person who had assaulted her in high school had been named as President Donald Trump's "favorite for SCOTUS."
After Koegler asked her to remind him of the judge's name, Ford reportedly wrote back: "Brett Kavanaugh."
The fourth statement comes from a neighbor and friend of more than six years of Ford's named Rebecca White, who asserted that she had heard about the alleged assault in 2017.
White said she had been walking her dog when she saw Ford outside her house.
When she stopped to speak with her, White said Ford had mentioned a recent social media post White had written on social media about her own experience with sexual assault.
That's when Ford allegedly told White about her own experience, asserting that she had been "sexually assaulted by an older teen."
"I remember her saying that her assailant was now a federal judge," White said.
Ford has alleged that Kavanaugh sexually assaulted her at a house party in the summer of 1982, when both were still in high school. She has said he pinned her to a bed, groped her, held his hand over her mouth and attempted to remove her clothes.
Following Ford's allegations, a woman named Deborah Ramirez accused Kavanaugh of sexual misconduct, alleging that he thrust his genitals in her face at a party in the 1980s when they both were freshmen students at Yale University.
Kavanaugh has vehemently denied both allegations of sexual misconduct against him.
After senators on the committee have heard from both Kavanaugh and Ford on Thursday, the judge's nomination is expected to go to a vote on Friday.
If approved by the committee, Kavanaugh's nomination will then have to win confirmation from the full Senate, which Republicans narrowly control, with 51 seats to the Democrats' 49.
That second vote could come as early as Tuesday, senior Senate Republicans have said, according to Reuters.