Christine Blasey Ford's Case 'Weaker' Than 'He Said, She Said,' Says GOP-Hired Sex Crimes Lawyer
No "reasonable prosecutor" would bring a case based on the testimony of Christine Blasey Ford against Brett Kavanaugh, as the accusations were weaker even than a "he said, she said" scenario, according to the sex crimes prosecutor Republicans tapped to question Ford last week.
Rachel Mitchell, who on September 27 questioned Ford about her allegation of sexual assault against Kavanaugh, wrote to GOP lawmakers in a memo Sunday and explained her findings.
"A 'he said, she said' case is incredibly difficult to prove. But this case is even weaker than that," Mitchell wrote in the five-page memo, according to The Washington Post. "Dr. Ford identified other witnesses to the event, and those witnesses either refuted her allegations or failed to corroborate them."
Mitchell continued, "For the reasons discussed below, I do not think that a reasonable prosecutor would bring this case based on the evidence before the [Senate Judiciary] Committee. Nor do I believe that this evidence is sufficient to satisfy the preponderance-of-the-evidence standard."
The reasons Mitchell noted were Ford being unable to provide a "consistent account of when the alleged assault happened," her struggle to name Kavanaugh when recounting the claimed incident to her therapist and others, as well as "no memory of key details" of the night the attack occurred.
Mitchell also said Ford had not been consistent in her account, particularly with whether Kavanaugh and his friend Mark Judge had turned up the music in the room where the attack allegedly took place; Ford's apparent struggle to detail "recent events," like her interactions with the Post when she went public with her accusations; and the details on how her polygraph test was conducted.
"The activities of congressional Democrats and Dr. Ford's attorneys likely affected Dr. Ford's account," Mitchell wrote, repeating Republican claims about the conduct by Democrats like Senator Dianne Feinstein of California.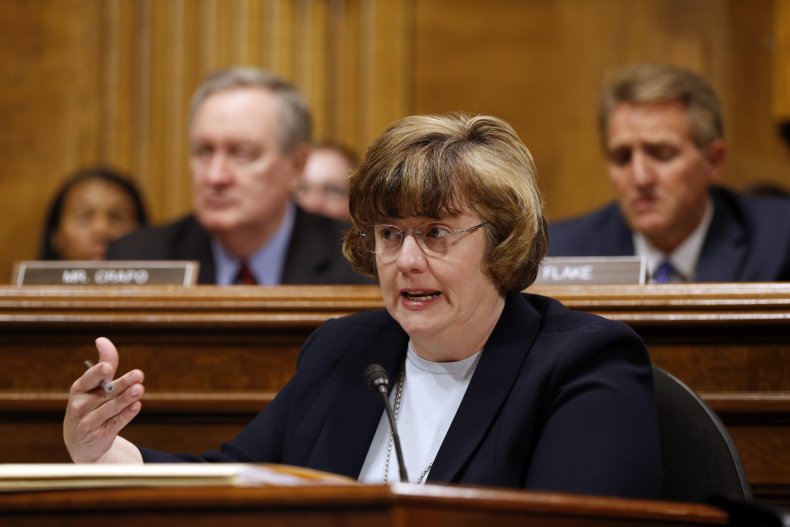 Mitchell's questioning of Ford was widely criticized by GOP members as failing to press Ford about the actual attack and instead focusing on the details surrounding the night in question. Most noted how Republican lawmakers on the Senate Judiciary Committee had moved Mitchell aside so they could question Kavanaugh rather than Mitchell.
But the hiring of Mitchell was also perceived as a tactic by the all-male committee Republicans to avoid a repeat of the questioning of Anita Hill in 1991 during the confirmation hearings of Justice Clarence Thomas.
Despite Mitchell's assessment, most, including President Donald Trump, labeled Ford's testimony as compelling and credible; even Kavanaugh said he believed Ford had experienced an assault.
Kavanaugh categorically denied Ford's accusations when he appeared before the committee Thursday, angrily accusing Democrats of seeking revenge for the 2016 election.