Christine Blasey Ford Was Treated As a 'Hostile Witness,' by Republican Questioner Rachel Mitchell, Former Prosecutor Says
As Christine Blasey Ford detailed her alleged sexual assault by Supreme Court nominee Brett Kavanaugh to the Senate Judiciary Committee Thursday, it appeared as though the GOP's line of questioning was trying to poke holes in Ford's story to paint her as a witness who was not credible.
Barbara McQuade, a former U.S. attorney for the Eastern District of Michigan, described the GOP's approach as more of a"cross-examination of a hostile witness than a quest for the truth."
McQuade and other former federal prosecutors said they viewed Ford's testimony as someone who is credible.
Rachel Mitchell, the female Arizona prosecutor who's taken over questioning on behalf of the 11 Republican men on the committee, has a long history of investigating sex crimes. Mitchell has worked as a prosecutor since 1993, specializing in prosecuting high-profile local sex crime cases. Currently, she's the deputy Maricopa County attorney and head of the special victims division.
During questioning, Mitchell prodded Ford for further details about when the alleged assault happened and how Ford got to and from the house where the attack occurred. Fewer questions were asked about what exactly happened during the alleged assault by Kavanaugh.
Ford alleges that in the early 1980s, Kavanaugh forced her into a bedroom during a small gathering at a house in high school, pinned her to a bed, groped her and attempted to remove her clothes. She also alleges that Kavanaugh was accompanied by a friend, Mark Judge, who watched as Kavanaugh held his hand over Ford's mouth to mute her screams.
Mitchell asked several times about the original Washington Post story from when Ford first publicly came forward, her private therapy sessions, her fear of flying on airplanes, who paid for the polygraph test that Ford willingly took and about the timing of how and when she attempted to alert lawmakers of her story in July in the days before Kavanaugh's nomination.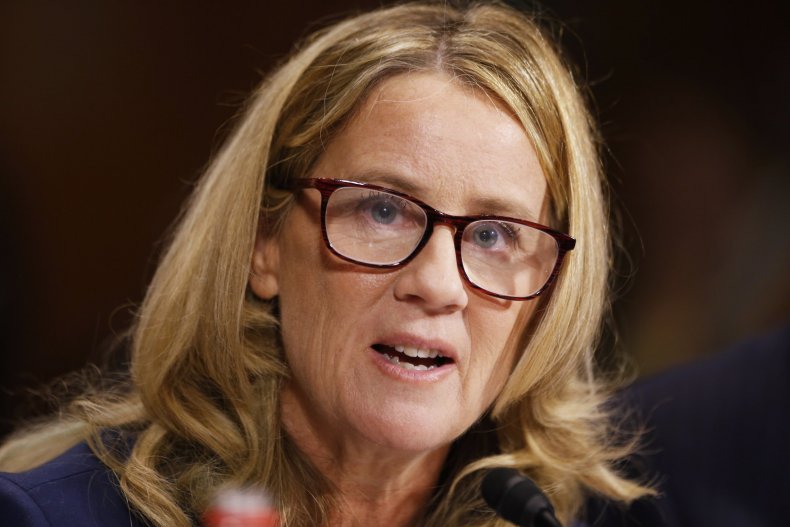 Several former federal prosecutors described Mitchell's line of questioning as attempting to paint Ford as an uncredible witness by highlighting minor inconsistencies in her story.
"She has tried to lock Dr. Ford into prior statements and then point out minor inconsistencies," Barbara McQuade told Newsweek. "She is using the technique of trying to show that if a witness has lied about a small thing, then everything she says is a lie. This can work if the consistencies are significant. So far, she has failed."
Former federal prosecutors Joyce Vance, Mimi Rocah and Dan Goldman all told MSNBC they believed Ford seemed to be a credible witness based on their past experiences.
Studies and experts who work with sexual assault survivors, in addition to those who handle their legal cases, say it's common for survivors to remember vivid details about certain events of their assault while not remembering other details, such as how Ford would have gotten to and from the house.
In an interview with Frontline Magazine in 2011 that was published in 2012, Mitchell said there were three common threads associated with sexual offenses against children: Most people know the person who assaults them, children typically keep the incident "secret for years, sometimes into adulthood," and that assaults "frequently [happen] with others present" in the same house or room. All three align closely with Ford's story.
McQuade said the lack of an independent investigation by an agency like the FBI, which Ford and Democrats requested but was denied by both President Trump and Judiciary Committee Republicans, hindered the committee's ability to investigate Ford's claims. A reopened investigation would have led to interviews with those like Mark Judge and others who Ford said were present at the party. Mitchell then could have used that evidence and those interviews "to ask questions to help corroborate or refute Dr. Ford's testimony," McQuade said.
Michael Avenatti, who represents Julie Swetnick, the third woman who has accused Kavanaugh of being involved in sexual misconduct, told Newsweek he viewed Mitchell's line of questioning as "very weak, which is not surprising she is so credible. The prosecutor [Republicans] brought in has scored no points."
Republican committee members who were willing to talk with reporters following Ford's testimony said they weren't yet ready to offer a final judgment.
Senator Lindsey Graham of South Carolina offered an impassioned statement criticizing Ford's lack of recollection about certain details, categorizing her testimony as a political vendetta by Democrats to postpone the nomination process until after the midterm elections. Graham also reportedly told an unknown woman in front of reporters that she needed to "tell the cops" after she told Graham she was raped in the past.
Offering less hard-line criticism of Ford's testimony, Senators Orrin Hatch and John Cornyn said they found no basis for her story to be not credible.
"I found no reason to find her not credible," Cornyn said. "There were gaps in her story, but people who were traumatized have those sort of gaps."