'The Christmas Chronicles 2': How Goldie Hawn and Kurt Russell Met
The Christmas Chronicles 2 sees Santa Claus (played by Kurt Russell) and Mrs. Claus (Goldie Hawn) return to save the Holidays for Netflix once again. The movie, which is streaming now, is their fifth film together. They first met on a set in 1966, and then started dating on another one in 1983—and they are still together 38 years later, a staggering amount of time in a world of celebrity quickie divorces.
How did Goldie Hawn and Kurt Russell meet?
Their first meeting was on the set of Disney live action movie The One and Only, Genuine, Original Family Band, which started filming when Hawn was 21 and Russell just 16. In an interview with the BBC's Desert Island Discs in 2012, Hawn said of this time: "I was 21 and he was 16. I thought he was adorable, but he was much too young."
In between their first time working together in the 1960s and the second time in the 1980s, Hawn got married twice: First to West Side Story star Gus Trikonis from 1969 to 1976 and then to The Hudson Brothers singer Bill Hudson, the father of Hawn's daughter Kate Hudson, from 1976 to 1982.
Hudson, meanwhile, was married to actor Season Hubley from 1979 to 1983, the year after he and Hawn started dating.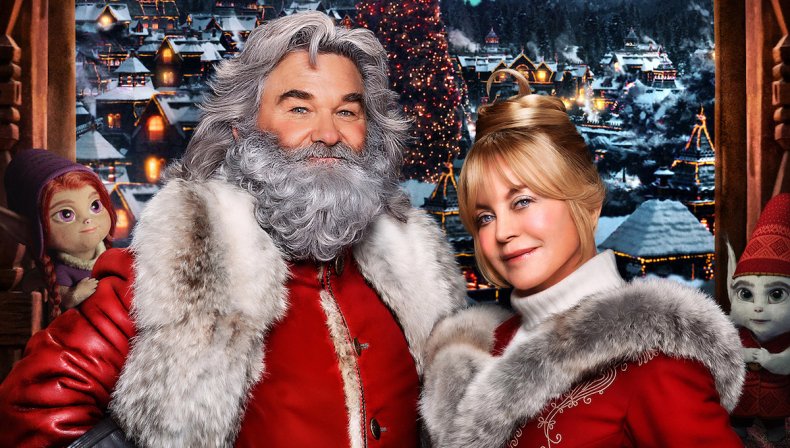 The pair worked together for the second time on the set of war romance Swing Shift, where they started dating. Fittingly, the pair started dating on Valentine's Day.
Recently in a joint interview on Ellen, Hawn said of this time: "I remember about Kurt—not only being really sexy and handsome and all that stuff and fun and whatever, a good co-star—I loved the way he looked at my children. It was really something special. He's good at that. He's good with kids, I kind of went, 'Oh my God, this is amazing.'"
Hawn's daughter Kate Hudson also shared a detail from this time on the Sibling Rivalry podcast. "Mom said that's when she fell in love with Kurt—right away [when] she brought him back to the house and we had already been asleep, and we shared a room, and he sat down next to each of us [Kate and her brother Oliver], he sat down next to you first and watched you sleep and then came by," she said.
Hawn had two children by her previous marriage, while Russell had one. They had their first child Wyatt together in 1986, around the same time that they filmed the nautical romantic comedy Overboard. As of November 2020, the pair are grandparents (or step-grandparents) to seven children.
Despite the fact that they have been together for nearly 40 years, the pair have never gotten married. In a 2014 interview with Porter Magazine, Hawn explained: "I've been married twice...Basically, once you've done it once, once you've done it twice and you realize that marriage, or the act of marrying, has nothing to do with the success... a marriage ends up being a business deal, no matter how long or short it is somebody owes somebody money."
The Christmas Chronicles 2 is streaming now on Netflix.