16 Christmas Cookie Recipes to Satisfy Your Sweet Tooth
Christmas is one of the most wonderful times of the year, packed with sensations such as the sight of twinkling festive decorations, the sound of groups gathering and the touch of tree's needles.
And one of the most unforgettable smells is the warm sweet waft of Christmas cookies being taken fresh from the oven, from the festive notes of cinnamon and ginger to the classic flavors of maple and chocolate.
Read on for some expert cookie recipes so delicious you will have to try them this Christmas.
1. Christmas Gingerbread Cookies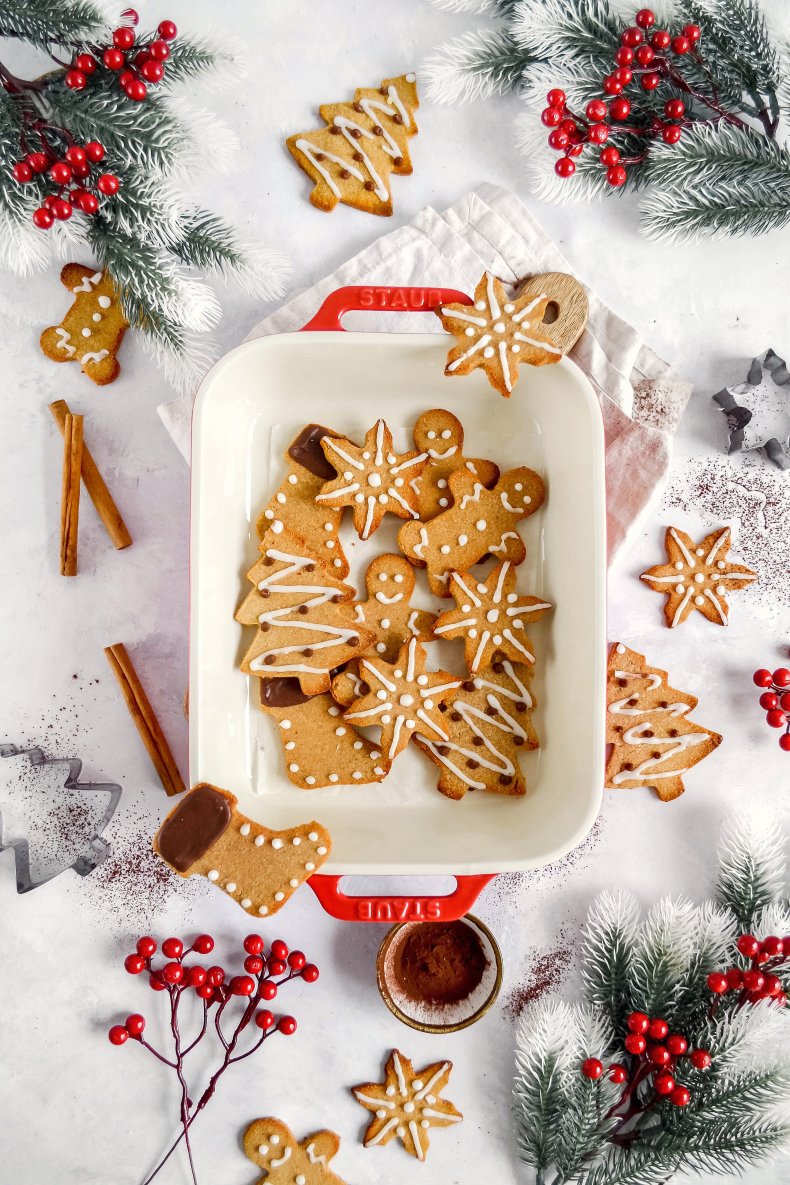 This easy gingerbread recipe from STAUB, ZWILLING and Naturally.B is described as "perfect for baking with children and also makes a thoughtful homemade Christmas present."
They told Newsweek: "The honey could be replaced with agave nectar to make the gingerbread vegan friendly.
"If you are short on time, the dough can be made in advance and then left in the freezer for a couple of days before cutting, baking and decorating!
"Gingerbread is best eaten within the first few days of making but can be kept fresh for up to five times longer with the ZWILLING FRESH & SAVE vacuum food storage solution."
Ingredients
300g Ground Almonds
3 Tbsp Honey
3 Tbsp Vegan Butter
1 Tsp Ground Nutmeg
1 1/2 Tsp Cinnamon
1 1/2 Tsp Ground Ginger
To Decorate
100g Icing Sugar Mixed with 1.5 Tbsp Water
100g Icing Sugar Mixed with and 3 Tbsp Cacao Powder and 2 Tbsp Water
Method
1. In a bowl mix together the honey and vegan butter, until combined, then add the ground almonds and spices and mix together until combined.
2. Place the dough in between two pieces of baking paper and roll it flat.
3. Place in the freezer for 45 minutes, or until the dough is firm.
4. Preheat oven to 180C/160C Fan/Gas 4. Then, remove the top layer of baking paper and use cookie cutters to cut Christmas shapes.
5. Transfer to a large Staub rectangular ceramic baking dish, lined with baking paper, and bake for 8 to 10 minutes, until the edges are golden. Leave to cool completely before decorating.
6. To decorate you will need two piping bags one with the white icing and one with the chocolate icing (If your icing mixture is a little dry add a touch more water).
7. Pipe to decorate and leave to set until you are ready to enjoy them.
2. Adriana Cavita's Galletas con Grageas
​​Ingredients
350g margarine cut in cubes room temperature
150g butter cut in cubes room temperature
380g sugar
5 eggs
1 kg AP flour sifted
15g baking powder
2g salt
To finish them
2 eggs with a bit of water mixed
300g mixed colored sprinkle
Method
1. Mix the margarine, butter and sugar in a mixer until well combined. Add the eggs slowly, one by one until fully incorporated.
2. Finally, sift in the flour and baking powder. Mix everything until combined but make sure not to overwork the dough.
3. Cover the dough with cling film and leave it in the fridge for about 30 min. Preheat the oven to 180C.
4. Cover the table with a thin layer of flour and roll out the dough until it is 1cm thick all over.
5. Use whatever cookie cutter you have to cut out as many biscuits as you can from the dough, rerolling the extra bits from the edge. With a brush add the mix of egg and water cover with the sprinkles.
6. Transfer to a tray with parchment paper and bake for 15 to 20 min depending on the size you choose, let them cool completely before eating.
3. Little Cooks Co Pecan Snowballs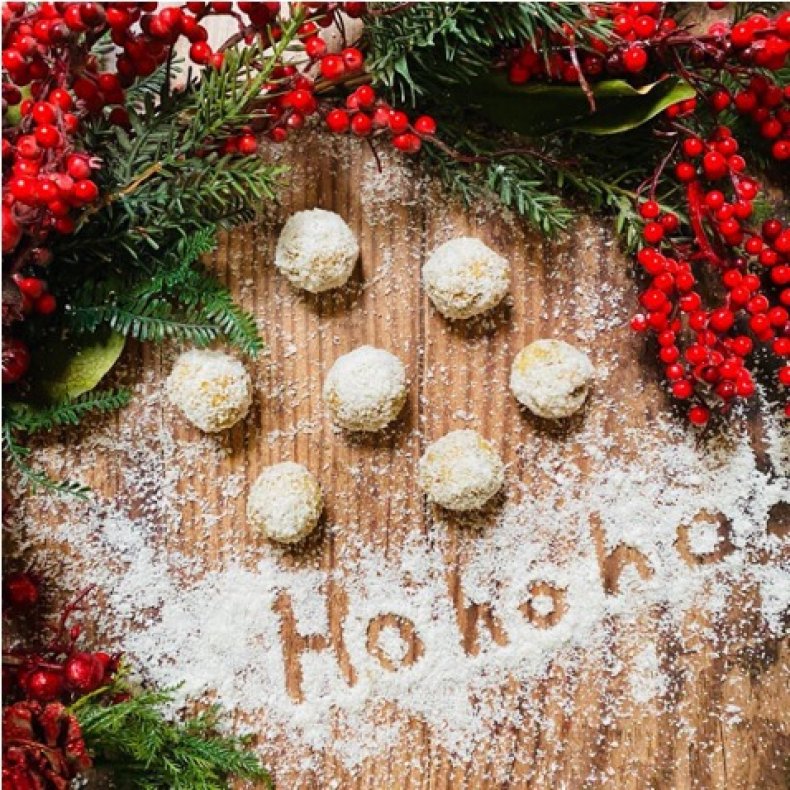 Little Cooks Co told Newsweek: "Chewy and festive, these coconut 'snowballs' are full of fibre, healthy fat and their light sweetness is made all the more Christmassy with the addition of orange and a hint of nutmeg.
"Little Cooks will also have some great festive fun helping to roll the balls!"
Ingredients
3 egg whites
100g desiccated coconut (+20g for topping)
130g oat flour (or oats blended into flour)
1 tbsp cornflour
Pinch sea salt
Zest 1 orange (or zest 3 clementines)
A few good gratings of nutmeg (optional)
105g maple syrup or honey (+2 tsp for brushing)
50g pecans, crushed or roughly chopped
Method
1. Preheat the oven to 180c / 200C (non-fan) / gas mark 6 and line a baking tray with baking paper.
2. Separate the egg whites from the yolks (save the yolks and use them in a fry up or scrambled egg for breakfast!).
3. Using an electric whisk, whisk the egg whites into stiff peaks and set them aside.
4. Combine the desiccated coconut, oat flour, cornflour, sea salt, zest and nutmeg, leaving a well in the centre.
5. Use a rolling pin to bash the pecans into small pieces (in the middle of a clean tea towel works well!).
6. Add the egg whites, honey/maple syrup and crushed pecans to the well and mix to combine.
7. Use a tablespoon to scoop the mixture and form it into balls just bigger than a 50p (it should make around 20). The mixture is a bit sticky, but it rolls well - you can rub oil into your hands to make it a bit less sticky!
8. Place the balls on the lined baking tray. Bake for 10 mins until the tops begin to go golden.
9. Blitz the remaining 20g desiccated coconut in a blender to make 'snow'.
10. Mix 2 teaspoons of honey/maple syrup with a little water ready to roll the balls in.
11. Allow the pecan balls to cool slightly and then roll each one in the honey/maple syrup mix and then in the milled coconut to create a snow effect.
4. Wing Yip's Golden Gingersnap Biscuits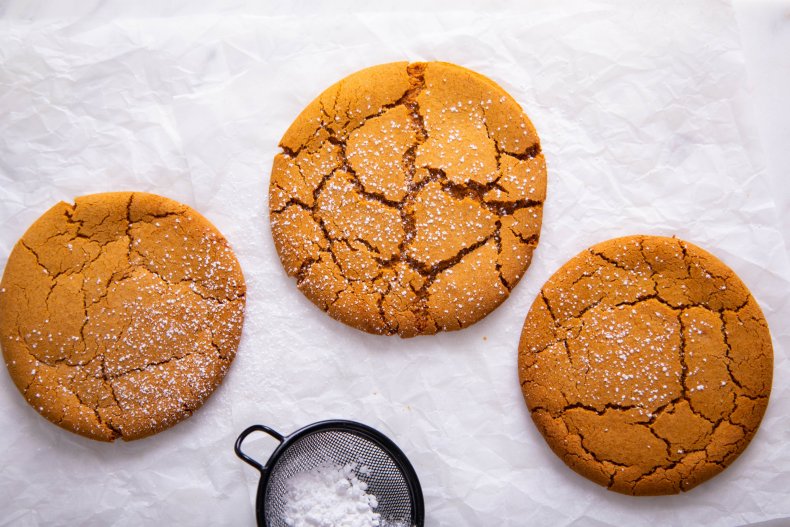 Ingredients
225g plain flour, plus extra for dusting
Half tsp salt
2 tsp bicarbonate of soda
2 tsp ground ginger
100g soft light brown sugar
100g cold butter, cut into cubes
80g golden syrup
Icing sugar for dusting
Method
1. Pre-heat the oven to 180°c and line a couple of baking trays with greaseproof paper. In a large bowl, combine all of the dry ingredients and then rub in the cold butter until it resembles breadcrumbs. Add the golden syrup and mix together until a dough is formed. If necessary, add 1tsp water to help bring the mixture together.
2. Divide the mixture into 24 equal pieces and using your hands, lightly roll each piece into a ball. Place six balls of dough onto each tray and leave plenty of space for them to spread and then lightly squash them down. Keep the remaining dough in the fridge.
3. Bake the biscuits in the oven for 10-12 minutes or until golden and cracked. Remove from the oven and allow to cool for 5 minutes before transferring to a wire rack to cool completely.
4. Repeat with the remaining dough until all 24 biscuits have been baked. To serve, lightly dust with icing sugar.
Note: sprinkle with edible glitter just after they've come out of the oven to add a touch of sparkle to your biscuits.
5. Christmas Tree Rowse Honey and Spice Cookies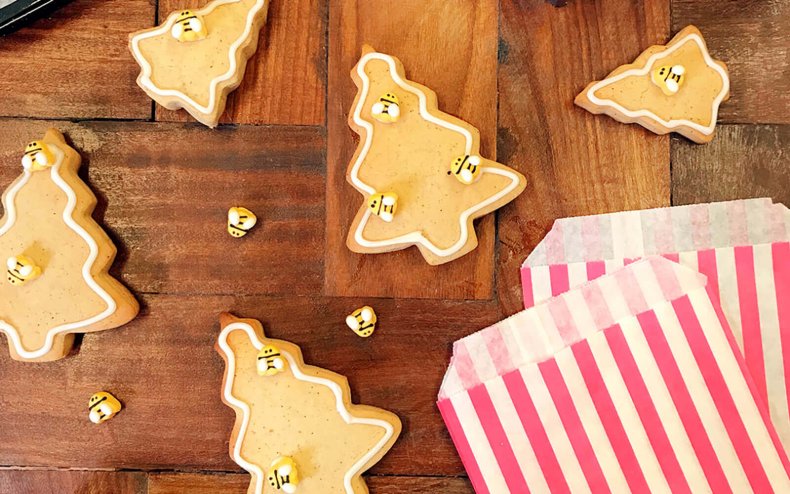 Ingredients
250g plain flour
3 tbsp Rowse Runny Honey
150g butter
1 tbsp baking powder
1 tsp ground ginger
1 tsp cinnamon
50g icing sugar and a few drops of water
A few bees to decorate
Method
1. Gently heat the honey and butter together, then leave to cool slightly. In a bowl, add the rest of the ingredients mixing thoroughly.
2. Roll the dough out on a flour-dusted surface and cut out cookies with a cookie cutter.
3. Bake for around 10 minutes at 180C – watching until the cookies start to go slightly golden, then leave to cool.
6. Dualit's Jewelled Biscuits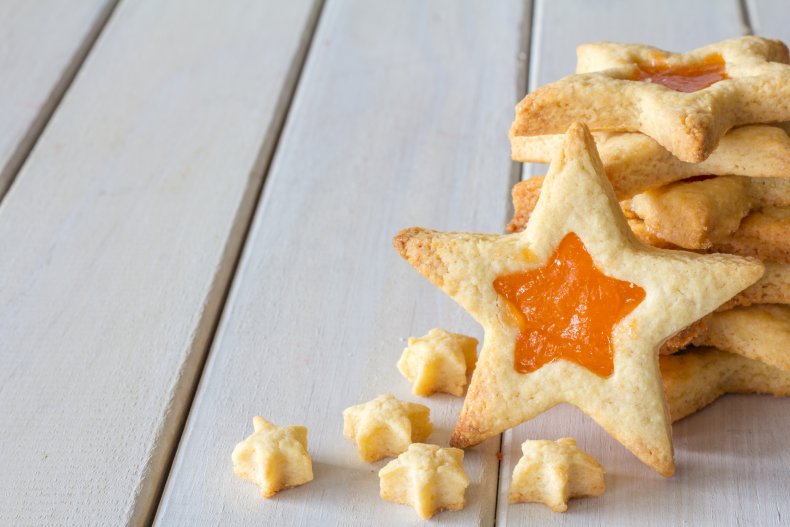 Kitchen appliance designer Dualit told Newsweek: "Kids will love these magical jeweled biscuits! When melted in the oven, the hard-boiled sweets create a stained glass window effect.
"Use different cutters to create jeweled biscuits in a variety of fun shapes."
Ingredients
115g softened butter
55g caster sugar
175g plain flour
1 tsp vanilla extract
1 - 2 tbsp of milk
Fruit flavored boiled sweets
Method
1. Set the oven to 180c / 160c fan or gas mark 4 and line a tray with greaseproof paper or silicone baking mat.
2. Using the Dualit Hand Mixer with Flat Beaters, beat the butter and sugar in a bowl until pale and creamy.
3. Sift in the flour and continue to beat then add the milk, then change to the Dough Hooks and knead the mixture until you form a soft dough.
4. Roll out the dough on a floured surface or straight onto the silicone mat until about 1cm or 1/2in thick.
5. Cut the dough into shapes using cutters. Cut a hole in the middle of the shapes and place a sweet there (half a sweet if the hole is small).
6. Bake in the oven for 10 - 15 minutes until golden, then leave to cool when out of the oven until the melted sweet has hardened. Then transfer to a wire rack to finish cooling.
7. Domestic Gothess' Maple Cookie Wreath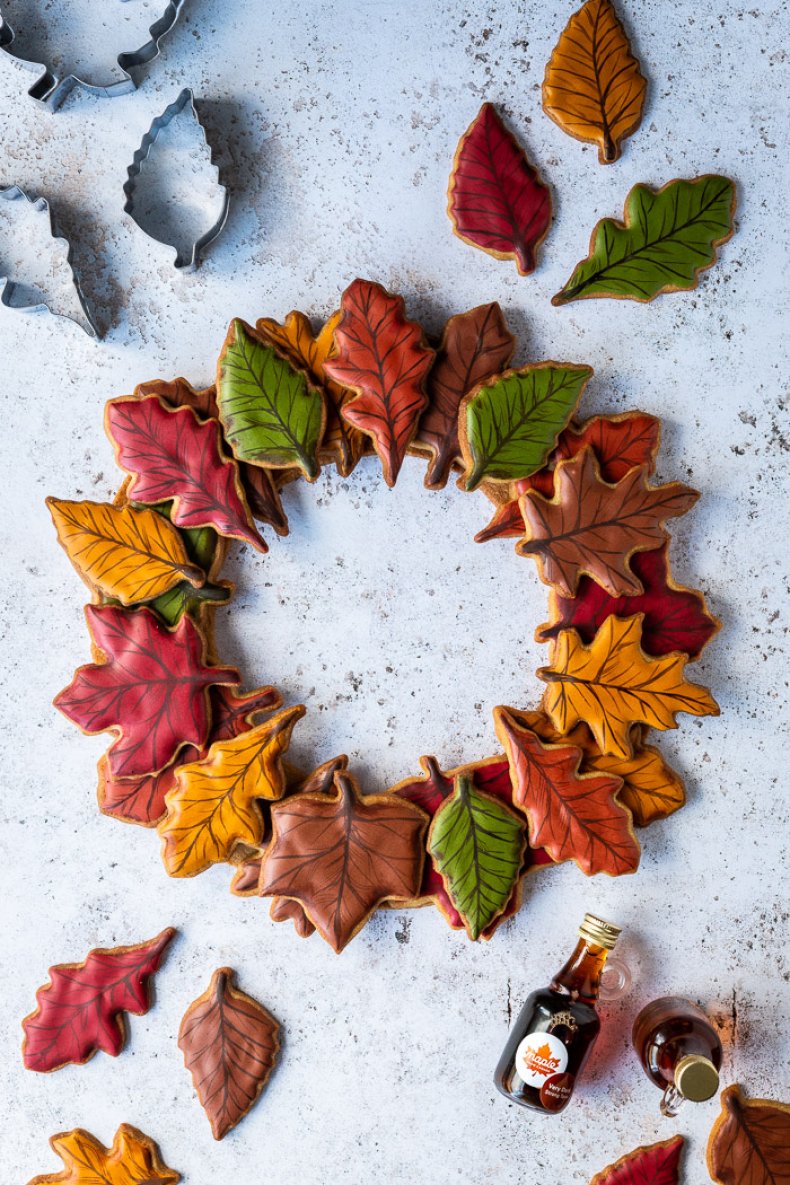 Ingredients
For the cookies
300g vegan block butter, softened
150g light brown soft sugar
150ml maple syrup (preferably amber syrup for its rich taste)
3/4 tsp salt
1/2 tsp baking powder
500g plain (all-purpose) flour
For the icing
45g aquafaba (scant 3 tbsps)
275g icing sugar
2 tsp maple syrup (preferably amber syrup for its rich taste)
Juice of 1/2 lemon
To Decorate
Gel food coloring in red, yellow, green, chestnut brown and dark brown
Method
1. Place the softened vegan block butter and light brown soft sugar in a large bowl and whisk together with an electric mixer for several minutes until fluffy and well combined.
2. Whisk in the maple syrup followed by the salt and baking powder, the mixture may look curdled (this is normal).
3. Add plain flour and stir through until the mixture forms a soft dough then divide into two portions, shape into discs, wrap and place in the fridge for at least a couple of hours until the dough is firm.
4. Once the dough is firm enough to roll out, dust a sheet of baking parchment with flour and place one of the discs of dough on top. Dust with more flour and roll out to a large circle about 3mm/1/8 inch thick.
5. Use the base of an approx. 28cm/11in round cake tin or dinner plate to cut out a large circle then use an approx. 18cm/7in one to cut a smaller circle out of the center, leaving you with a large ring.
6. Slide the sheet of baking parchment onto a baking sheet and pop it in the freezer for 15 minutes (or the fridge for 30) while you preheat the oven. Bake the ring for about 20 minutes until it is golden brown.
7. While the ring is baking, roll out the other disc of dough as above and cut out leaf shapes using your cookie cutters. Place them spaced apart on a couple of baking sheets lined with baking parchment and pop in the freezer for 15 minutes.
8. Bake the chilled cookies for about 10-12 minutes until they are golden around the edges. Once the cookies have cooled place them in an airtight container overnight.
9. For the icing, place the aquafaba in a clean, dry bowl (make sure there is no grease on the bowl, or it can prevent the aquafaba from whipping up properly) and whisk with an electric mixer until it is good and frothy.
10. Sift in the icing sugar and whisk for about 5 minutes until very thick and glossy and the mixture forms soft peaks. When you lift the beaters out of the bowl it should form a droopy peak but not drop off the beater.
11. Whisk in some maple syrup then gradually stir in a little lemon juice, ½ tsp at a time, until the icing becomes a thick but pourable consistency. If you drizzle some of the mixture back into the bowl the pattern should disappear after about 8 seconds. If it becomes too runny you can whisk in a little more icing sugar to thicken it back up again.
12. Divide the icing into 5 small bowls. Use gel food coloring to color one red, one yellow, one orange (red plus yellow coloring), one green and one chestnut brown. Add a little chestnut brown coloring to each of the colored ones to make them more of realistic leaf color.
13. To construct, use a teaspoon to carefully spread some of the icing over the top of each biscuit, making each one a different color. Use the edge of the spoon to gently nudge the icing towards the edge of the biscuit to get a clean line, making sure that you don't push it over the edge.
14. Place the iced biscuits on a couple of baking sheets and place them in a very low oven for about 30 minutes until the icing is dry. (You can leave them to air dry at room temperature instead, but they will take around 3-4 hours).
15. Once the icing has dried, place about ½ tsp gel food coloring in a small bowl – one bowl of dark brown, one chestnut brown and one red. Stir about a teaspoon of water into each one. Use a fine paintbrush to paint veins onto each leaf using the dark brown; then use the chestnut and red to add detail and shading as you like. Set aside to dry.
16. Once the paint has dried, use blobs of the leftover royal icing to stick the leaves to the biscuit ring, placing them in a circle then adding some more on top. You will not need all of the leaves. Set aside for a couple of hours to dry.
17. It is best to make this maple cookie wreath over the course of a couple of days. Make the dough and bake the cookies on the first day, then ice and paint the biscuits and assemble the wreath the following day.
8. Ginger Biscuits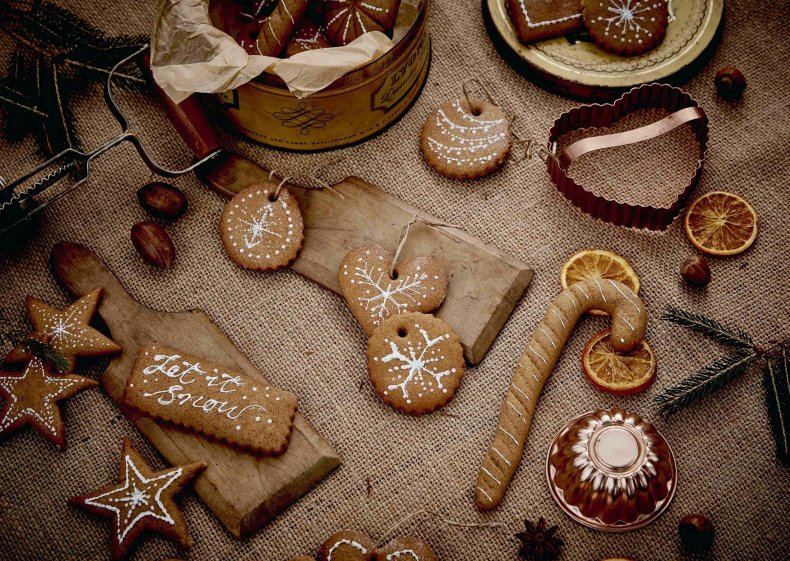 Ingredients
Salted butter 100g
Light brown soft sugar 75g
Fresh ginger 1tbsp
Golden syrup 100g
Self-raising flour 250g
Ground ginger 1.5 tbsp
Bicarbonate of soda 1tsp
1 egg yolk
Belvoir farm ginger gordial 50ml
Method
1. Heat the oven to 190C/170C fan/gas 5. Line two large baking trays with baking parchment. In a saucepan over low heat, melt the butter, sugar, ginger cordial, fresh ginger and golden syrup and leave to cool.
2. Mix the flour, ground ginger and bicarbonate of soda together in a bowl with a wooden spoon. Gradually stir in the cooled sugar mixture and the egg yolk and knead briefly to make a dough.
3. Roll the dough into 20g balls and put on the prepared baking trays with 3cm between each to allow for spreading. Bake for 8-10 mins until golden brown. Leave to cool on the trays for a min, then transfer to a cooling rack to cool completely.
9. Bonne Maman Thumbprint Shortcakes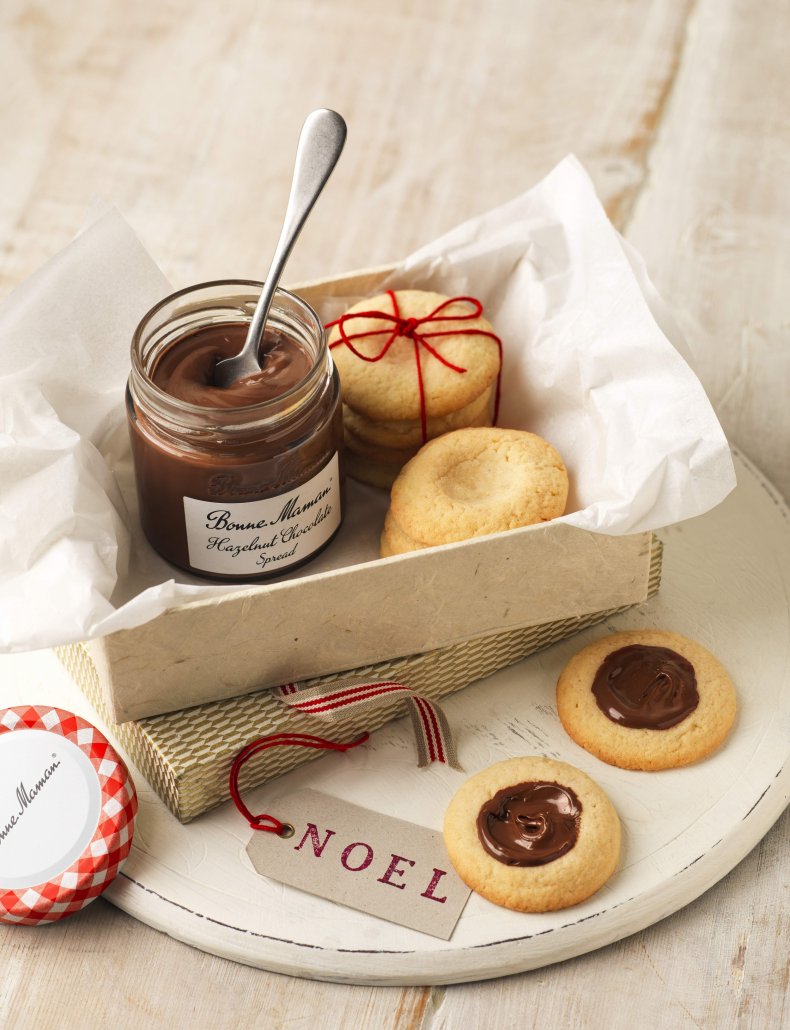 Bonne Maman said: "These Thumbprint Shortcakes and deliciously easy to make and are ideal as a foodie gift for friends and family.
"Just neatly stack them up and tie with a ribbon. Package them with a jar of hazelnut chocolate spread and they are good to go."
Ingredients
225g unsalted butter, softened
150g granulated sugar
1 large egg
Half tsp ground cinnamon or 2 tsp vanilla extract
270g plain flour
Half tsp baking powder
Large pinch salt
250g jar Bonne Maman Hazelnut Chocolate Spread
Method
1. Heat the oven to 180C, 160C fan, gas 4. Line two baking sheets with baking paper.
2. In a large bowl cream together the butter and sugar until pale and fluffy then beat in the egg and cinnamon or vanilla.
3. Add the flour and baking powder and stir together until the mixture forms a soft dough. Cover and chill for 30 minutes.
4. Shape the dough into about 20 balls, depending on the size of the biscuit you would like. Place them evenly on the baking sheets and press down into the center with your thumb or a teaspoon to make a small hollow.
5. Bake for 7-10 minutes depending on size. Leave for a few minutes on the baking sheets to firm up then lift onto a wire rack to cool.
6. Spoon a generous amount of hazelnut chocolate spread into the center of each biscuit before serving. Best eaten within one day or freeze cooked shortcakes and use as needed.
7. To get neat even size biscuits for packing, weigh each ball of dough to the same weight. The shortcakes will freeze, so make a large batch for foodie presents.
10. Miele Der Kern Florentine Biscuits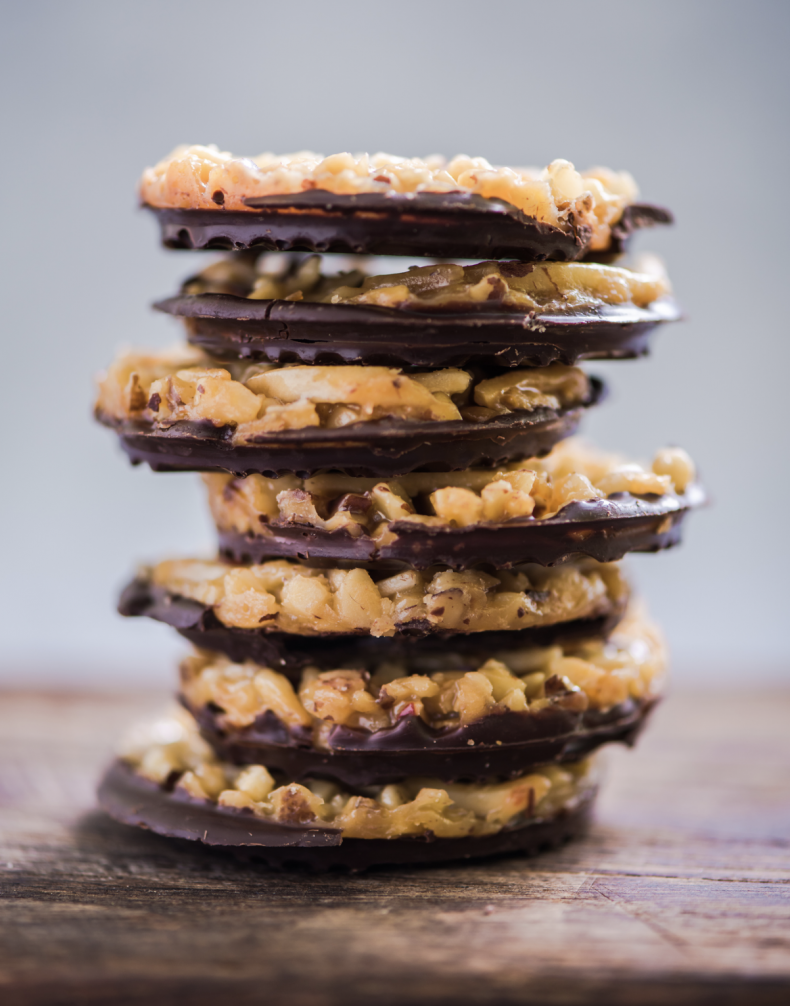 Miele Der Kern said: "These luxurious Florentine biscuits are made with plenty of nuts, fruits and a rich, dark chocolate base for a delicious chewy-yet-crunchy texture.
Ingredients
50g butter
50g demerara sugar
50g golden syrup
50g plain flour
4 glace cherries, finely chopped
25g candied peel, finely chopped
25g golden sultanas
50g mixed almonds and walnuts, finely chopped
175g dark plain chocolate, broken into pieces
Method
1. Preheat an oven on the fan setting at 180ºC and line a tray with non-stick baking paper.
2. Heat the butter, sugar and syrup in a heavy-based saucepan without letting it catch, until the butter has melted. Remove from the heat and add the flour, cherries, candied peel, sultanas and nuts to the pan and stir well to mix.
3. Drop heaped teaspoonfuls of this Florentine mixture onto the non-stick baking sheet, leaving a generous gap between each.
4. Place in the oven to cook for 8 -10 minutes, or until they have spread out flat and the edges have turned golden brown.
5. Remove from the oven and leave to firm up for 2-3 minutes, re-forming them into shape if necessary with a palette knife. When set enough to hold their shape, remove from the tray to a wire rack to cool.
6. Melt the chocolate and paint the undersides of the cooled Florentines with the chocolate using a pastry brush. More than one coat may be necessary for a good thick layer of chocolate.
7. Using a fork, make wavy lines on the chocolate, and leave to dry before serving.
11. Bonne Maman Chocolate Cherry Crinkles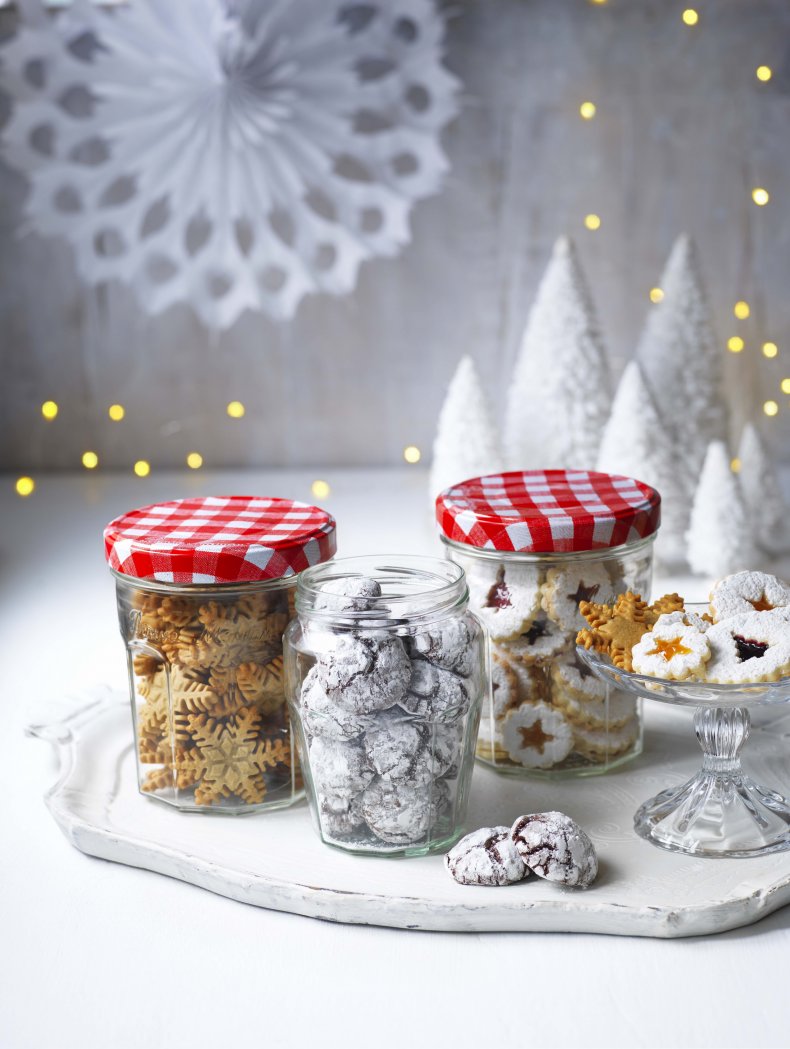 Bonne Maman said: "A spoonful of luscious cherry conserve molded into the dough, gives these fudgy, crinkly cookies an irresistible brownie-textured center.
Ingredients
85g granulated sugar
2 tbsp (30ml) vegetable oil
½ tsp vanilla extract
1egg
75g plain flour
30g cocoa
Half tsp baking powder
Large pinch salt
45g icing sugar
About 3 tbsp Bonne Maman Black Cherry Conserve
Method
1. Put the sugar, oil and vanilla extract in the bowl of a stand mixer and, using the paddle attachment, beat for 2-3 minutes until combined. Alternatively, beat well with a wooden spoon.
2. Add the egg and beat again for 2-3 minutes. Slowly beat in the flour, cocoa, baking powder and salt.
3. The mixture will look like raw cake mix at this stage but that's ok. Cover with clingfilm and chill for at least 2 hours, but preferably overnight, to firm up.
4. When ready to bake, heat the oven to 180C, 160C fan oven, gas mark 4. Line a baking tray with non-stick baking parchment and put the icing sugar in a small bowl.
5. With fingers dusted with icing sugar, pinch off small pieces of dough and roll into walnut-sized balls. Press the balls into flat discs and put a generous ½ tsp of conserve in the middle. Bring up the edges of the dough and pinch together to seal in the conserve.
6. Roll again lightly into a ball and drop into the icing sugar. Roll around in the sugar until thoroughly coated and drop, seam side down, onto the lined tray.
7. Bake the cookies for 7-10 minutes or until they have risen and crinkled. Leave to cool then store in an airtight jar.
8. Make sure that there is plenty of icing sugar on the cookies before baking as some will melt into the dough, but the excess forms the powdered effect on the outside. Don't worry if a little conserve is showing before baking.
9. The mixture will make 6-8 larger cookies, just bake for 3-4 minutes longer. The cookies will keep in an airtight container for up to 4 days.
12. Copycat Chocolate Chip Millie's Cookies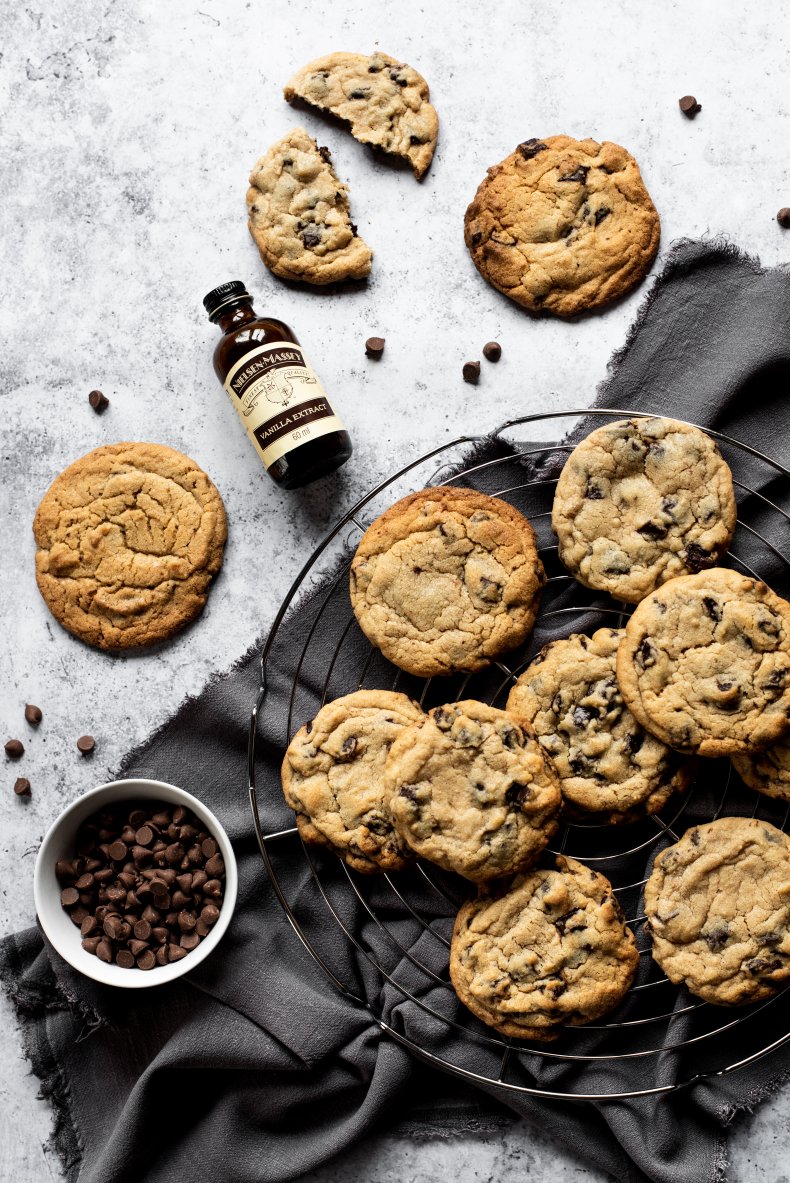 Baking Mad said: "This recipe is as close as we can get to our favorite Millie's cookies."
Ingredients
For The Dough
125g unsalted butter
115g Billington's unrefined light muscovado sugar
110g Silver Spoon white caster sugar
1 medium egg
1 tsp nielsen-massey vanilla extract
220g Allinson's self raising flour
0.5 tsp salt
200g chocolate chips (we used milk chocolate)
Method
1. Preheat the oven to 200°C, (fan 180°C, gas mark 4) and line 2 baking trays with baking parchment.
2. In a large bowl cream together the butter and sugars until pale and fluffy then add the egg and vanilla extract and mix together well.
3. Sift the flour and salt and then add to the egg mixture. Mixing thoroughly until a soft dough forms. Finally, stir in the chocolate chips.
4. Break off walnut-sized pieces of the dough, and roll into balls. Place these on the baking trays leaving space between them as they will spread out during baking.
5. Place in the oven and bake for 7 minutes for the ultimate Millie's experience, or 10 minutes if you prefer a crunch. Leave to cool on the trays for about 10 minutes then transfer onto a cooling wire to cool completely.
6. These store for about 4 days in an airtight container.
13. Chocolate Orange Whoopee Teacakes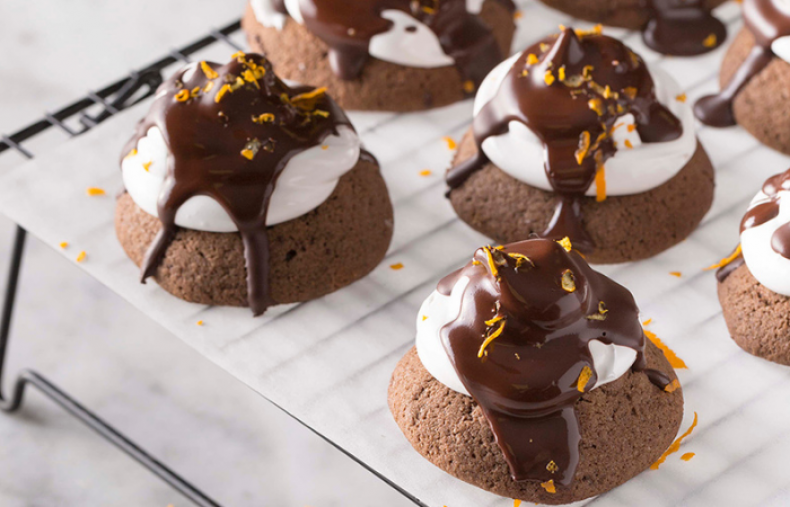 Mason Cash said: "These yummy chocolate orange whoopee teacakes combine all of our favorite things - cookies, marshmallow and chocolate orange! Serve these alongside a hot cup of tea for a mid-afternoon pick-me-up."
Ingredients
220g plain flour
125g unsalted butter (softened)
125g caster sugar
1/2 tsp bicarbonate of soda
1/2 tsp salt
3 tbsp cocoa powder
1 tbsp grated orange zest
1 medium egg, beaten
2 tbsp orange juice
275g caster sugar
4 medium egg whites
1/2 tsp cream of tartar
1 ½ tsp water
A few drops of orange extract
100g dark chocolate (70% cocoa), chopped into fine pieces
2 tsp vegetable oil
2 tbsp grated orange zest
Method
1. Preheat oven to 180°C/350°F. Line a baking sheet with some greaseproof paper.
2. In a 24cm bowl, mix the flour, cocoa, bicarbonate of soda, salt and orange zest together.
3. In a 29cm bowl, beat the butter and sugar together until light and fluffy. Gradually add the egg and orange juice and mix for a few minutes until fully combined. Mix in the dry ingredients until you have a thick cookie paste.
4. Use a dessert spoon to scoop the cookie dough and roll it into a ball in the palm of your hands.
5. Place the dough balls onto your baking sheet and bake for around 12 minutes or until the edges of the cookies go darker brown.
6. Remove them from the oven and let them cool for a few minutes before transferring them to a cooling rack.
7. To make the marshmallow, tip the sugar, egg whites, cream of tartar, and water into a glass bowl.
8. Whisk (with an electronic whisk) until fluffed up, then place over a pan of simmering water and continue to whisk until the mixture stiffens into peaks.
9. Remove from the pan and add the orange extract and whisk for a further 2 minutes until thickened.
10. Once ready, fill a piping bag with the mix and pipe onto the biscuits whilst still on the baking tray to form a swirl and place in the fridge to cool.
11. Meanwhile, melt the chocolate and oil in a glass bowl over a pan of simmering water until smooth and glossy.
12. Allow the chocolate to cool for a few minutes then remove the cookies from the fridge. Drizzle a few teaspoons of the chocolate over each cookie and sprinkle with the orange zest.
14. Easy Peasy Baking's Chocolate Chunk Cookies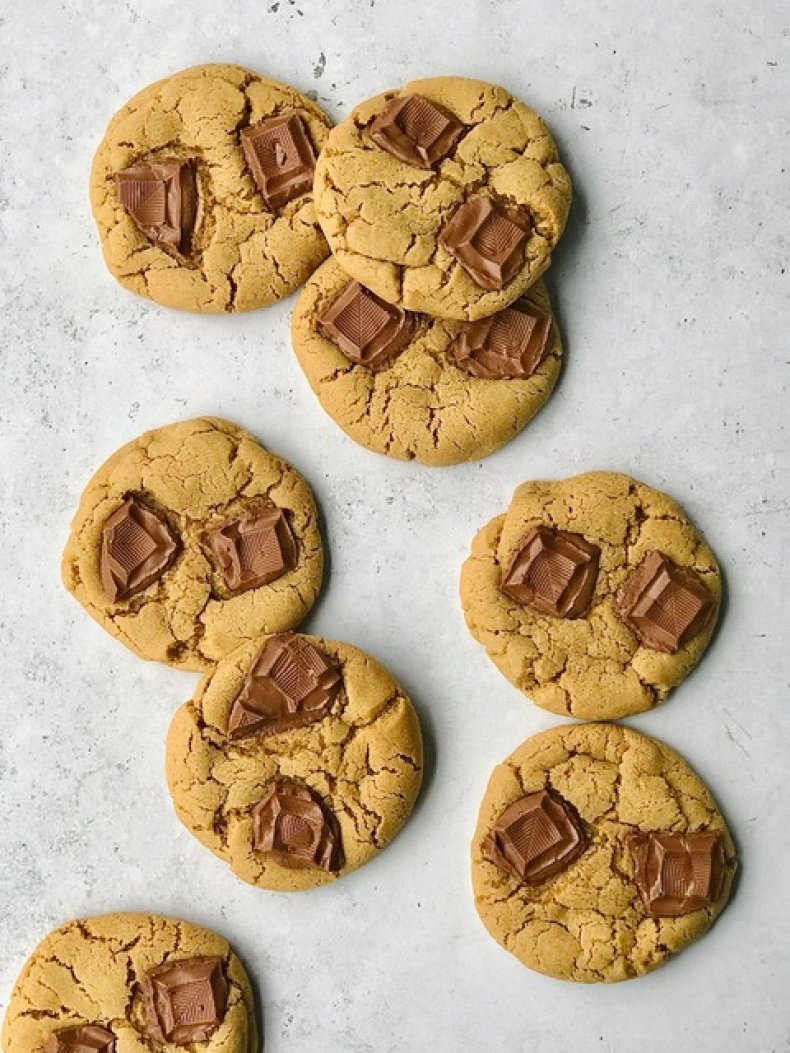 Ingredients
300g plain flour
1/2 tsp bicarbonate of soda
120g salted butter (melted)
225g light brown soft sugar
1 egg
20 squares of milk chocolate (you will need to buy a large bar)
Method
1. Preheat your oven to 160°C. In the mixing bowl, combine the flour and bicarbonate. Set to one side.
2. In the other bowl, melt the butter in the microwave and mix in the sugar before adding the egg. Add this wet mix to the dry flour mix and bring it together with the wooden spoon to form a dough.
3. Divide the dough into 60g balls and place on the lined baking tray, leaving room to spread between each one. Push each ball down slightly then place it in the oven for 6 minutes.
4. After 6 minutes, take the cookies out of the oven, press 2 squares of chocolate into each one, rotate the tray then bake for a further 6 minutes.
5. Allow to cool slightly on the tray before serving.
6. You can keep the 60g dough balls in the freezer and when ready, bake for 12-14 minutes until golden brown – so you always have cookies on hand!
15. Orange Shortbread with Bay Sugar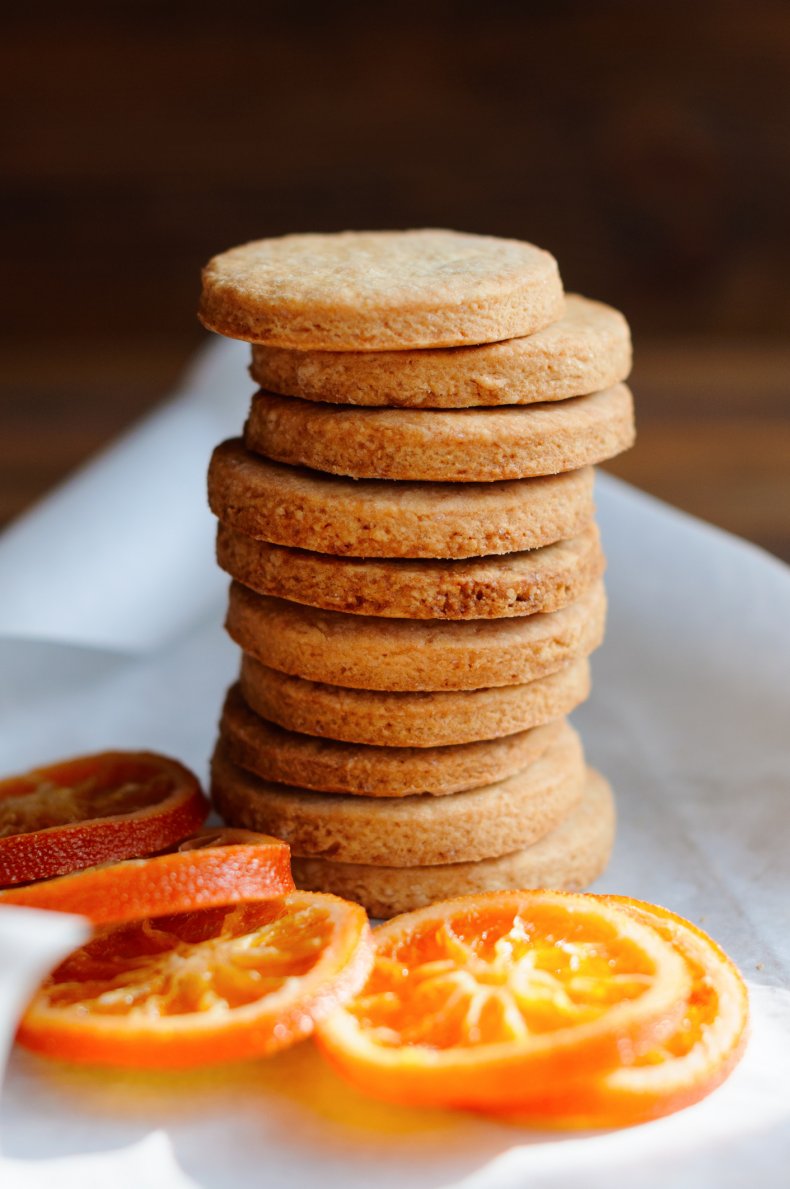 Kitchen appliance maker Miele Der Kern told Newsweek: "These buttery orange shortbread biscuits from are perfect with a cup of tea for a mid-morning treat this Christmas season.
"Made with just four ingredients and in one bowl, this is a great recipe to try with children with the biscuits cut into a variety of shapes."
Ingredients
For the biscuits
500g plain flour
125g icing sugar
375g butter
Finely grated zest of 2 oranges
For the bay leaf sugar
2-3 dried bay leaves
100g granulated sugar
Method
1. Place the flour, icing sugar and orange zest in a large bowl. Rub in the butter to form a breadcrumb-like mixture, then gather together into a soft dough. Form into a large rectangular shape, wrap in cling film and chill in a refrigerator for 1 hour.
2. Roll out to 1cm thick and use a circular cutter of your choice.
3. Preheat an oven on the fan setting at 160°C and cook the biscuits for 25 minutes until lightly golden.
4. Whilst the shortbread is cooking in a food processor, blitz together the bay leaves and sugar. Coat the biscuits in the sugar when they are still warm and then leave to cool slightly before transferring to a wire rack to cool completely.
16. Gluten-Free Chocolate Espresso Stamped Cookies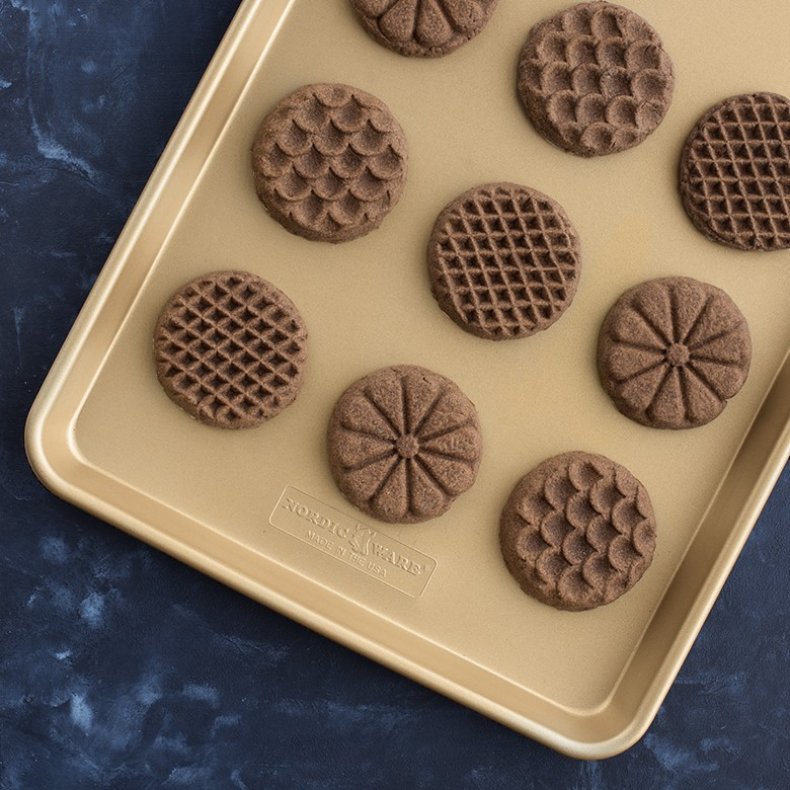 NordicWare said: "For all the chocolate, coffee, and cookie stamp lovers, this recipe is for you! These decadent Gluten Free Chocolate Espresso Cookies are simple and easy to make with any of our Cookie Stamp designs. No decorations and perfect for any occasion!"
Ingredients
1 3/4 cups gluten-free all-purpose flour*
Half a cup of good quality cocoa powder
2 tsp instant coffee
1/4 tsp salt
1 cup brown sugar
3/4 cup unsalted butter, room temperature
1 large egg
1 tsp vanilla
Granulated sugar for rolling
Method
1. In a small bowl, sift together the gluten-free flour, cocoa powder, instant coffee, and salt and set aside. Using a large mixer fitted with a paddle attachment, cream brown sugar and butter.
2. Add the egg and vanilla and mix until fully combined. Slowly add flour mixture and mix on low speed until dough is smooth. Refrigerate for at least 30 minutes to an hour. The dough should be cold for stamping, but not too cold that it can't be rolled.
3. Preheat oven to 350 °F. When the dough is ready, roll dough into balls and roll in a bowl of sugar.
4. Place on a large baking sheet. Take cookie stamps and press down on the dough, until it reaches the edges of the stamp and release.
5. Bake cookies for 10-12 minutes. Cool on the baking sheet for 5-7 minutes and transfer to a cooling rack to cool completely. Makes 12-14 cookies.