Christmas Cookies: 12 Festive Recipes to Bake During the Holidays
Christmas is just around the corner and there´s nothing more fun than breaking out the mixer and baking some classic Christmas cookies.
Newsweek has put together a collection of the 12 best Christmas cookies for you and your loved ones to bake this holiday season. Just be sure to save some for when Santa Claus comes down the chimney with gifts.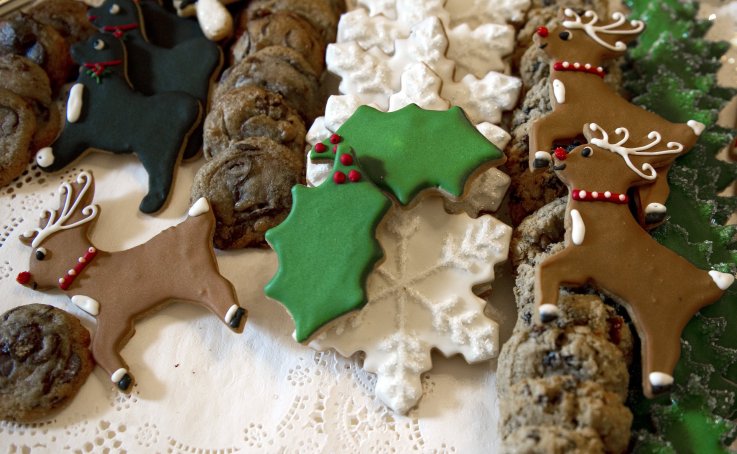 Classic Christmas Sugar Cookies
This classic cookie is a must-do during the holidays. The simple recipe by Betty Crocker includes a simple frosting that you can use to decorate your cut-out cookies. Be warned that this recipe requires the cookie dough to be refrigerated at least 3 hours before being rolled out and cut into assorted shapes.
This versatile cookie can be used to make gingerbread men or some gingerbread decorations for your tree. This recipe from BBC Good Food walks you step by step to make your own gingerbread wreath that you can give as a gift or keep for yourself.
Soft Batch Christmas Sprinkle Cookies
Another fun take on sugar cookies, these sprinkle topped cookies do not require you roll out your dough. The Salty Marshmallow's recipe calls for two secret ingredients to keep them buttery and puffy: cream cheese and cornstarch.
You can´t go wrong with a batch of Italian biscotti for Christmas morning. These Christmas Morning Biscotti from Food & Wine magazine are the perfect combination of sugar and spice. The biscotti include cocoa nibs and anise seeds and great with a steaming cup of hot cocoa.
These easy-to-make almond cookies are perfect for the holiday season. Taste of Home's Cherry Almond Snowdrops take less than an hour to make and can be frozen ahead of a busy Christmas week.
Rachel, the blogger behind My Disorganized Life, has a fun recipe for Christmas Swirl Cookies. The intricate-looking cookie is fairly easy to make and are easier to make than the classic frosted sugar cookie. These can be made with sprinkles on the edges for some added fun.
Snickerdoodles are another holiday classic. These cinnamony cookies are quick and easy and can be stored airtight for up to three days. There are few variations if you'd like to jazz up your snickerdoodles, including mixing in shredded apples for an Appledoodle.
Frosted Chocolate Peanut Butter Reindeer Cookies
Santa can't travel around the world without the help of his trusty reindeers, so your holiday baking should not be without them either. The Baker Chick has a cute peanut butter cookie decorated to look just like Rudolph the Red-Nosed Reindeer.
Here's a twist on a traditional M&Ms cookie. Betty Crocker put together a flavorful cookie recipe that includes festive red and green M&Ms and white chocolate chips. This fun cookie recipe can be used for any holiday by adjusting the colors of the M&M candies.
No-Bake Christmas Tree Cookies
Not a fan of baking or just don't have the time, then the no-bake Christmas Tree Cookies by The Recipe Rebel are the ones for you. Be warned, these coconut and chocolate cookies take a bit of time to cool in the refrigerator but the end result is well worth it.
Now you can drink and eat your favorite holiday drink. Life Made Sweeter has a delicious Soft Frosted Eggnog Cookies that have tons of holiday spices and, you guessed it, eggnog. Your loved ones and Santa are sure to love these festive treats.
Cranberry Orange Shortbread Cookies
These cookies by Mom on Timeout are not your average shortbread cookies. The cookies's tart cranberries are balanced out by the orange zest. Best part? These cookies only require six ingredients!
Christmas Cookies: 12 Festive Recipes to Bake During the Holidays | U.S.