Christmas Day at the Movies: Top 10 Movies Playing in Theaters During Holidays
After all of the presents are opened and the Christmas brunch is devoured, entertain the family with a trip to the movies. There are plenty of titles already showing at theaters all across the country with even more slated to premiere on Christmas Day.
We've rounded up a few of the top titles worth watching in theaters below.
Little Women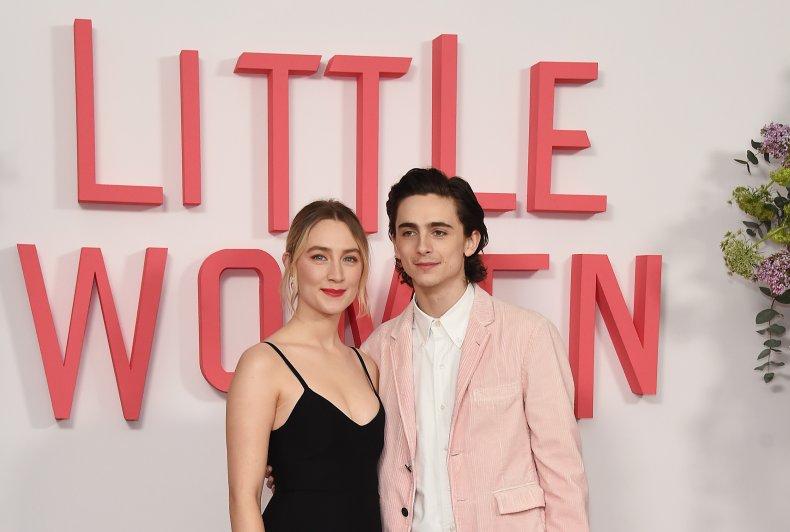 If it's American nostalgia and an all-star cast you're hoping for on Christmas, then look no further than Greta Gerwig's adaptation of the beloved Louisa May Alcott book, Little Women. This updated take on the renowned novel features an A-list cast lineup with stars such as Saoirse Ronan, Emma Watson, Timothée Chalamet, Meryl Streep and more. Little Women releases nationwide on Christmas Day.
Uncut Gems
Adam Sandler is known and loved for his many hilarious roles in dozens of comedy movies, but it's rare when we see the actor perform outside of the genre. That will soon change with the release of his latest thriller, Uncut Gems, in which Sandler plays a fast-talking New York City jeweler with a dangerous gambling habit. The movie, which releases on Christmas day, stars Lakieth Stanfield, Idina Menzel, Kevin Garnett, The Weeknd, Julia Fox and Mike Francesca, among others.
1917
In 1917, which hits theaters Wednesday, George MacKay and Dean-Charles Chapman star as two World War I soldiers on an important but deadly mission. They must cross enemy territory to deliver a message that could save the lives of 1,600 men. Richard Madden, Benedict Cumberbatch and Colin Firth also star in the movie.
Just Mercy
Michael B. Jordan embodies a young Bryan Stevenson in Just Mercy, based on the real-life injustices of the Walter McMillian trial in 1987. McMillian, played by Jamie Foxx, was wrongfully accused of the murder of an 18-year-old white girl and spent six years on death row — despite the ample evidence that proved his innocence — until Harvard graduate Stevenson decided to take McMillian on as a client. Brie Larson, O'Shea Jackson Jr, Tim Blake Nelson and Rafe Spall also star in the cast. Just Mercy hits theaters Christmas Day.
Cats
The movie adaptation of the Broadway hit tanked at the box office and received less than stellar reviews in its opening weekend, but the star-studded cast of the new musical makes the film worth considering. The cast lineup includes Judi Dench, Ian McKellen, Jennifer Hudson, James Corden, Taylor Swift, Jason Derulo, Rebel Wilson, Idris Elba and Francesca Hayward among others. The movie premiered in theaters on December 20.
Star Wars: The Rise of Skywalker
The final action-packed installment of the Skywalker saga, which was released December 20, follows Rey, Poe and Finn's last journey with the Resistance as they attempt to take down The First Order. The film stars Daisy Ridley, John Boyega, Oscar Isaac and Adam Driver. The new movie also features some archival moments from the late Carrie Fisher.
Jumanji: The Next Level
If Kevin Hart and Dwayne Johnson left you doubled over with laughter in their first Jumanji movie, then you owe it to yourself to crack up once again with the duo's second installment of the franchise, Jumanji: The Next Level. Jack Black, Karen Gillan and Nick Jonas also return to their roles in the new movie, which opened in theaters December 20.
Black Christmas
Could your holiday use a little blood, gore and revenge? If the answer is yes, then Black Christmas is the slasher flick for you. Starring Imogen Poots, Aleyse Shannon, Lily Donoghue and Brittany O'Grady, the 2019 update of the 1974 original follows a group of sorority sisters who take action against a stalker terrorizing their group. The film hit theaters on December 13.
Bombshell
Based on the happenings that led to former Fox News CEO Roger Ailes' downfall, Bombshell stars Charlize Theron, Margot Robbie, and Nicole Kidman as top journalists at the cable network as they expose the toxic masculinity and its perpetrators within the media company. The movie debuted on December 13 in limited release and was released nationwide on December 20.
Richard Jewel
Directed by Clint Eastwood, the movie uncovers the chain of events that resulted in Richard Jewel becoming the FBI's number one suspect in a bombing during the 1996 Summer Olympics in Atlanta, despite Jewel's discovery of a suspicious bag and saves many lives by helping evacuate Centennial Park. Paul Walter Hauser stars as Jewel while other cast members include Kathy Bates, Olivia Wilde and Jon Hamm. The film released in theaters December 13.