Christmas Eve Travel Chaos as United, Delta, Alaska Cancel Hundreds of Flights
Airlines plunged Christmas Eve travel plans into disarray on Thursday, canceling hundreds of flights and potentially stranding millions of Americans.
United, the third-largest airline in the world, announced Thursday that it had grounded 112 Christmas Eve flights out of an abundance of caution, as cases of Omicron continue to skyrocket across the country.
"The nationwide spike in Omicron cases this week has had a direct impact on our flight crews and the people who run our operation," the airline said in a statement. "As a result, we've unfortunately had to cancel some flights and are notifying impacted customers in advance of them coming to the airport."
"We're sorry for the disruption and are working hard to rebook as many people as possible and get them on their way for the holidays."
Delta Airlines, another transportation giant, echoed a similar sentiment in a statement, announcing that it had preemptively canceled 82 flights on Christmas Eve, citing Omicron as well as potentially issues with the weather.
"Delta teams have exhausted all options and resources - including rerouting and substitutions of aircraft and crews to cover scheduled flying - before canceling around 90 flights for Friday," Delta's statement said. "Delta people are working hard to get [travelers] to where they need to be as quickly and safely as possible on the next available flight."
Alaska Airlines has also reportedly canceled a number of flights for similar reasons, though the exact number of grounded planes has not been identified.
However, it appears that not every airline is seeing similar effects from the busy holiday season, and not all of them will be grounding flights due to the spike of Omicron.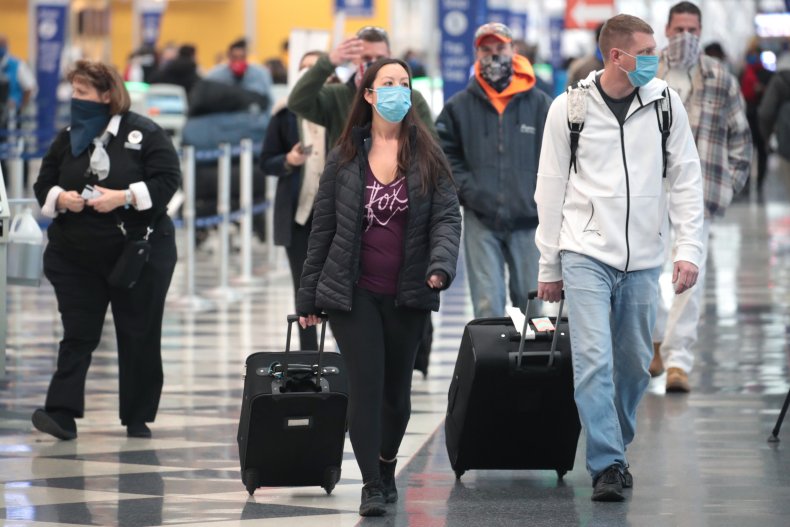 A spokesperson for American Airlines told Newsweek that "American Airlines is not currently seeing anything out of the ordinary in relation to Christmas Eve."
American, like United and Delta, is one of the world's largest airlines, and reportedly handled over 200 million global passengers in 2019. But is seems that they are not anticipated anything out of the ordinary for their holiday season, and the airline told CNN that it expects to carry around 420,000 passengers daily.
Despite American's optimistic approach, as Christmas Eve approaches, many other aspects of the airline industry continue to struggle with the influx of travelers as the number of people flying approaches pre-pandemic levels. The Transportation Security Administration (TSA) stated that it screened over 2 million people through U.S. airports each day from December 16 to 20.
This is reportedly double the amount of flyers seen during the height of the pandemic in 2020. TSA Administrator David Pekoske also stated that another influx is on the horizon, as the Sunday and Monday after Christmas will likely see "a convergence of travelers returning home from Christmas trips and heading out for New Year's vacations."
Delays were being reported Thursday night at numerous hubs across the country, including Denver International Airport and Seattle-Tacoma International Airport.
The travel rush is also being compounded by the fact that a recent Axios poll found most Americans were not planning on making changes to their travel plans because of COVID-19.
Additional staff shortages are also being seen due to airline employees taking the weekend off for the holidays, leading to a variety of staffing shortages.
In general, it seems that, despite the rampaging Omicron variant and the slashing of flights on some of the largest airlines, many Americans are deadset on being home for the holidays, despite the stress at the gate.
Update (12/23/2021, 8:30 p.m. ET): This story has been updated with additional information.